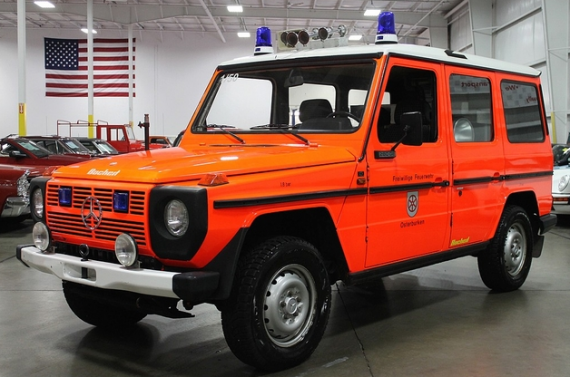 Seemingly-endless work stress and hours have me daydreaming of following a friend's recent tack of selling everything, buying a Westfalia, and striking out on the road indefinitely. The Westy is a great choice, but I also entertain the idea of converting a vintage G-wagen or the like into a go-anywhere, do-anything camper. The modular versatility of these machines makes them perfect for all kinds of usage thanks to their military background. Today's 280GE is a beautiful example of a non-blinged G-wagen, but it still contains its fire brigade hardware, so I'll have to keep looking for my camper. Having covered less than 15k miles, it would be awesome for… well, I'm not actually sure what this would be good for, but I know it's awesome!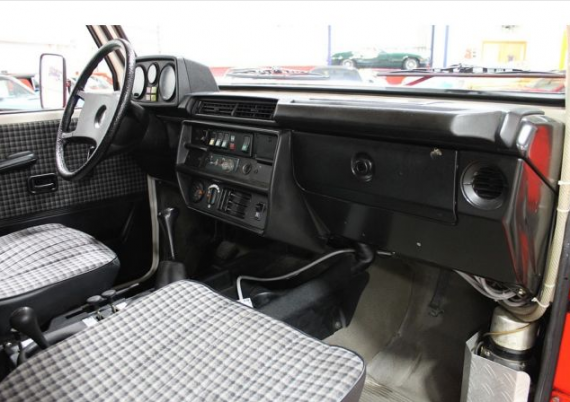 Year: 1983
Model: 280GE Fire Command
Engine: 2.8 liter inline-6
Transmission: 4-speed manual
Mileage: 14,097 mi
Price: Reserve-on auction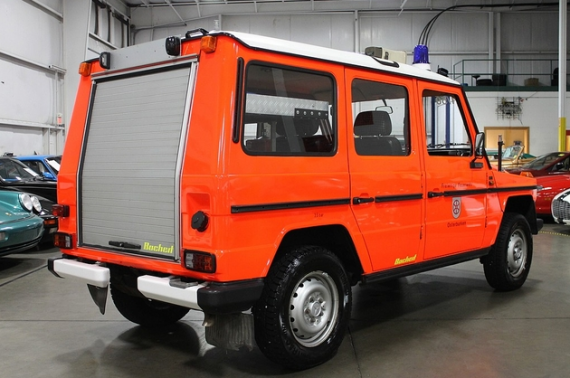 Video link:

GR Auto Gallery is pleased to present this 1983 Mercedes-Benz 280 GE German Fire Command Apparatus for purchase. The G-wagon vehicles were produced by Mercedes-Benz and Puch to be the ultimate go anywhere and survive all conditions vehicles. Their durability over the years is legendary, and simply calling these vehicles all-terrain SUV's is an incredible insult. This is a 1983 280 GE 4×4 model adapted for firefighting service in Osterburken, Germany (with the logo still on the side). The words above the Osterburken logo, "Freiwillige Feuerwehr", essentially translate to English as "volunteer fire department".

It's powered by the original 2.8L inline 6 cylinder engine with a 4-speed manual transmission. The odometer reads 22,687km which is equivalent to only 14,097 miles. This vehicle is in excellent condition as an always stored inside well maintained fire vehicle. It has three seats, 2, fire extinguishers, working lights & siren, a large capacity generator, roll-up mechanical rear door, spare tire, spot light, and tire chains. This is a very easy vehicle to drive. It shows great for a collection, but don't forget this is an all-terrain 4×4 G-wagon that you could have some fun with. Please call or email for more details!

VIN number is: WDB4602331702713
This is one of the nicest vintage German fire/utility trucks I've seen. Again, it's hard to see it being much use beyond a cool eccentricity at a car show, but I certainly hope someone sees its value and keeps it running and out in the world. Or maybe you live in a rich enclave with a volunteer fire department (I'm looking at you, Tahoe). This would be the best volunteer firetruck ever!
-NR