Warning!
This post is in our archives. Links in this post have been updated to point to similar cars available to bid on eBay.
I haven't written up (or lusted after) a Corrado in a while, but that just changed. Many thanks to reader/seller Wes for sending in his ad on VWVortex for his 1990 Corrado. It's the best kind of Corrado: well taken care of, low mileage, with some tasteful add-ons that make it fast and furious, but not Fast and Furious. Gorgeous in black with a clean cloth interior, it comes with oodles of parts and two sets of wheels, as if just getting a Corrado this nice weren't enough.
Seriously, Wes: you did this thing right.
1990 VW Corrado G60 for sale on VWVortex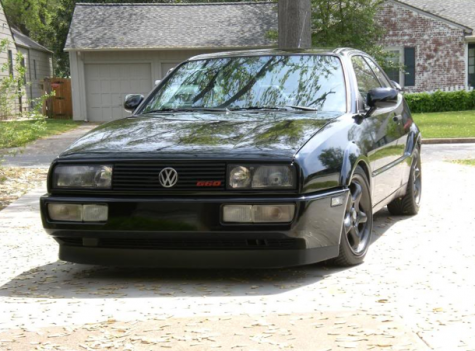 Wes has a great description of the car, and follows up with a list of parts whose mere length shows how thorough he and his mechanic were:
More Details:
Engine/Transmission:
All new OEM mounts (front, rear, and transmission)
New Thermostat, Coolant Temperature Sensors, Fuel Filter, Bosch Spark Plugs, Distributor Cap, Gasket, Rotor, Slave Cylinder, OEM Oil Pan, OEM Oil Pump (2010), Ignition Switch.
Redline MT90 Transmission Fluid
Diesel Geek Short Shift Kit (Left to Right Reduction not installed, but have parts and still have original shifter)
Later OEM Shift Weight
268/260 Cam
Autotech Shock Therapy 10.4mm Spark Plug Wires
EuroWires Ground Kit
New Rod Bearings and ARP Connecting Rod Bolts (2009)
Aluminum Idler Pulleys
BBM Adjustable Belt Tension Cap
Autotech Sport Windage Tray
Eurospec Rally Cylinder head. Ported and Polished with +2mm oversize valves.
Tectonics Adjustable Camshaft Sprocket
BBM Aluminum Crank Pulley
3.5 bar FPR
ARP Head Studs.
30 lb Injectors.
Scientific Rabbit Stage III Ported Intake Manifold.
Techtonics High-Flow Catalytic Convertor.
Techtonics 2.5" Aluminized Exhaust with Borla Muffler and JRE Black Powder Coated Tip
Powder Coated Valve Cover
BBM Stage IV "High Rev" Chip
ARP Head Studs
Low Temperature Thermostat and Radiator Fan Switch
J-Caps Coolant and Oil Caps
I also have a ported throttle body that I never got around to installing.

Brakes (done in August, 2009):
ATE Super Blue Racing Fluid
Autotech Stainless Steel Braided Brake Lines
Zimmerman Cross-Drilled Rotors Front and Rear (new bearings in rear)
Mintex Pads Front/Rear
Painted Brake Calipers

SuperCharger (Work done May, 2008):
BBM Howitzer Intake
BBM Intercooler Tubes (Built in ISV reroute)
OE Spec Rebuild (Case was painted Black)
GT70 Intake Porting
RS/RSR Porting, Stage IV
BBM Super Wide Belt Conversion
68mm Power Pulley
RSR Outlet Kit
Forge Blow Off Valve

Roof Rack:
Thule 400xtr Rapid Aero Foot Pack
Thule 43″ Rapid Aero Load Bars
Fit Kit 94
38″ Fairing
Thule 544 Lock Cores, 4 Pack (Not Installed)
Yakima 7012 Basketcase Roof-top Luggage Carrier
Yakima Universal Mighty Mounts
2 Volkswagen Barracuda Bike Holders
Hella 500 Driving Lamp Kit with custom light bar. (Lights are not wired up).

Interior:
Heater Core Replaced in 2010.
European Manual Seat Belts
MOMO Anatomic Short Shift Knob
MOMO Performance Shift Boot (Short/Black)
MOMO Race 3000 Steering Wheel with MOMO Hub Adaptor
Neuspeed 2 Gauge Center Console Panel with VDO Boost Gauge and VDO Oil Pressure Gauge
Redline Accessories Emergency Brake Boot (Later model leather covered Ebrake handle)
Keyless Entry Module
Lloyd Heavyweight Carpeted Mats front and rear
VW Aluminum Pedal Covers
DDI Aluminum Gauge Rings
DDI Corrado Door Sill Covers
Duostyling In-Dash Air-Fuel Gauge
Black Headliner
No rips or tears in any of the seats.

Stereo:
Kenwood Excelon KDC-X991
Alpine SPX-13REF Component Speakers in Doors
Alpine 4×6 Euro-Fit Speakers in Rear Towers
Boston Acoustics S45 4" Dash Speakers
Polk Audio MM651 6.5" Speakers in Deck Lid (Also have uncut deck lid)
Rockford Fosgate T112D4 12" Subwoofer in custom enclosure.
Polk Audio PA200.4 Amplifier (Normal Speakers)
Polk Audio PA400.1 Amplifier (Subwoofer)
Amps in Custom Enclosure in Trunk
Stereo Capacitor (Forget how many farads)

Exterior:
2 Grilles (OEM and Badgeless)
3 Spoilers (Black, Slate Grey Metallic, and Red)
Hella Clear Turn Signals
DDI Wide Angle Side Mirrors
Eurocullen Smoked/Clear Side Marker lights.
European Headlights with Manual Adjusters and EuroWires Headlight Relay Harness
Roof Strips replaced in 2009 with brand new pieces.
Resprayed OEM Black in 2008. No Dents or Dings in bodywork.
90mm Euro Chin Spolier (also have US 50mm spoiler)

Suspension:
H&R Height-Adjustable Coilovers
VR6 Strut Bearings
Eurosport Front Upper Stress Bar
Eurosport Front Lower 3-point Stress Bar
Eurosport Rear Upper Stress Bar
H&R Front 28mm Sway Bay.
Wheel Bearings, Tie Rods, Ball Joints, and Control Arm Bushings were replaced by previous owner in 2004.

Wheels:
4 TSW Trophy 16×7, 4×100 et40 Painted Porsche Slate Grey Metallic with 205/45 ZR16 Sumitomo HTRZII
4 Enkei SC05 17×7, 4×100 et40 (Enkei Tuning Stickers are removable) with 205/40ZR17 Yokohama S.Drive Tires
Various size H&R Trak wheel spacers and lug bolts.

Extras
Comes with the boxes of extra parts that every Corrado owner ends up. Tons of screws, bolts, nuts, clips, etc. and other stuff like an alternator, extra throttle body, probably a CO Pot in their somewhere, and on and on. There's a set of fiberglass side skirts that are new and unpainted that I never got around to putting on the car also. There's a few boxes worth of stuff. Bentley manual and Owner's manual also included.
I think that simply a clean Corrado G60 with 112k miles that looks great wouldn't be too far off the $6,800 asking price. Add in the well-thought-out mods and myriad extra parts that come with it and this is a fantastic deal. It nearly makes me drop all E28 dreams and snatch this G60 up. Anybody looking for a nice price on a fun Corrado should stop what they're doing and call Wes immediately.
-NR