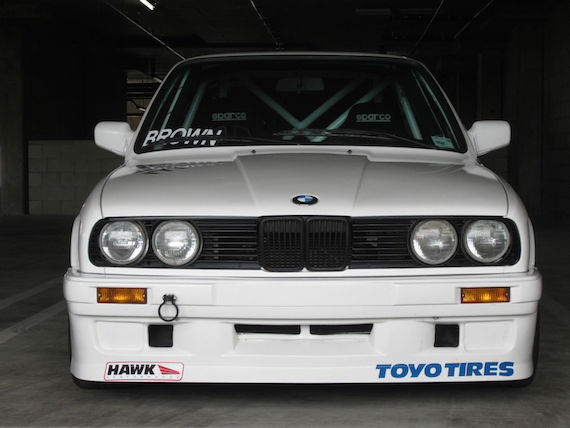 Most of us who are car enthusiasts have a desire at some point or another to go racing. Ever since watching my uncle work the Sports Car Club of America ITE circuit with this '88 Corvette, I was hooked. The constraints of urban living make having a dedicated race machine a bit impossible, but one can dream. This 1986 BMW 325 built to National Auto Sport Association specifications seems like a good place to start satisfying the urge for those who have track day visions.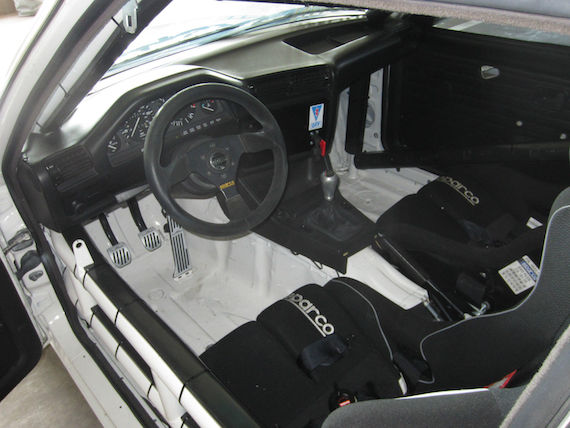 Year: 1986
Model: 325
Engine: 2.5 liter inline-6
Transmission: 5-speed manual
Mileage: 184,335 mi
Price: $12,500 Buy It Now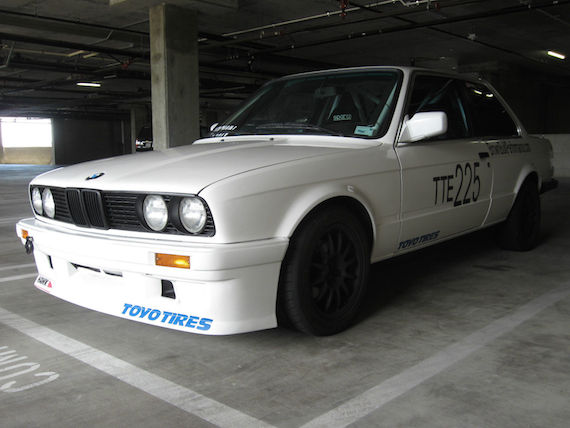 This is an ideal car for anyone looking for a weekend track car or dedicated Spec E30 race car. I just finished the build in February of 2014 to current NASA Spec E30 rules. It has never been raced! I did one test and tune session in the car in March of 2014 to make sure the car was good to go. I've also done one autocross day in July of 2014. Unfortunately with changing financial circumstances I won't be able to race the car. The car is a blast to drive, my loss your gain. You would have a hard time buying all the parts I have on this car and building it for my listing price. The car was just serviced at Bavarian Workshop in West Hills. Oil was changed with AMS Oil full synthetic 20w/50, new oil pan, V-belt adjustment and brand new Bosch starter. Car is ready for whatever you want to throw at it.

Wheels, Brakes, Tires:
Used Kumho Ecsta XS 205/50/15
Hawk HT-10 pads
Rebuilt calipers — front and rear
Goodridge stainless steel brake lines
15×7″ Team Dynamics Matte Black Pro Race 1.2 – 15mm offset (5)
All new wheel bearings, snap rings, lock plates, and spindle nuts

Front Suspension:
Suspension Techniques sway bar, mounting reinforcements, and new end links
H&R Race Springs
Bilstein Sport Shocks
Custom Fabricated strut tower brace

Rear Suspension:
Suspension Techniques sway bar and spherical bearing end links
H&R Race Springs
Bilstein Sport Shocks
AKG spherical bearing rear shock mounts

Transmission and Driveline:
Clutch (disk, pressure plate, and throw-out bearing)
Fork spring and pivot pin
Slave cylinder
Master cylinder
Resurfaced flywheel
Flywheel bolts
Clutch bolts
Bell-housing bolts
Trans seals (front, shifter, and rear)
Redline Trans Fluid
B&M shifter
Center driveshaft bearing
Redline gear fluid in diff

Interior and Safety:
NASA spec 6 point weld in roll cage – DOM 1.75 OD X .095 (boxed floor mounts, pop out x door bars, rear down bars go to trunk above sum-frame mounts, and foot protection)
Sparco EVO 2 Driver and Passenger seats with mounts
RaceQuip 6 point harness with all proper RaceQuip mounts, snap hooks and eye bolts — Driver and passenger
Sparco Steering wheel
RJS Mesh Driver Window net
AC Schintzer pedals
Wires are covered in black plastic convoluted tubing
Fire extinguisher

Spec E30 motor:
M20B25 – I motor
Port, Polished and Fully restored to factory specs
Currently running Dinan Chip on ECU
All new gaskets
Spec e30 Exhaust system

Random spares:
After gutting car and getting extra parts for the build from Pick a Part, I have two boxes full of stuff. All goes with the buyer of the car including spare front bumper and ECU.

What it needs to be Spec E30 Legal:
Interior Center Net
(4) Toyo RA-1 Tires

Body:
Bav Auto Front Bumper
Folding Tow Hook
Euro e30 rear bumper
Sunroof removed
ECS Matte Black Kidney Grille
BMW Euro Headlight surronds

This is a damn good E30 it is built very well and runs great on the track or road. This car is registered till 10/12/14. Just had the car smogged in July and have the certificate that is good for 3 months. You can drive this car to the track, run it hard, not be afraid to ruin your $5k paint job and drive it home!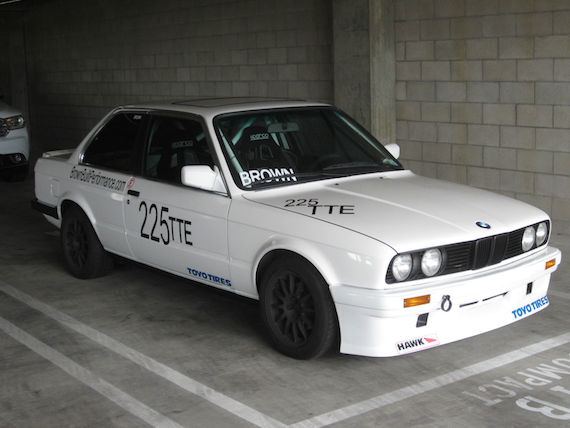 This is definitely the kind of car I'd go looking for the minute I was ready to go racing. Something that is not only well sorted and prepared out of the box, but brings back memories of cars past, in this case, my 1988 325is. Given current E30 prices and the level of prep we see here, I think the ask is fairly reasonable all things considered. Now, time to finally get that garage I always wanted…
-Paul