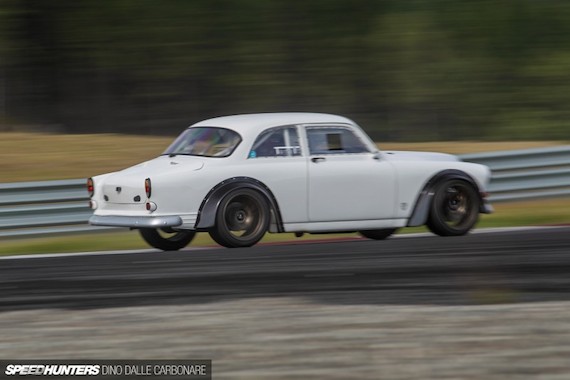 We're going to finish off Motorsports Monday with a hybrid. Not a hybrid in the sense you are probably thinking, but a Swedish/German creation with looks to strike fear in the eyes of who come across it on the street and track. The Volvo Amazon was the face of Volvo in the 1960s, and even a few performance models appeared, such as the 122S and 123GT. This custom build for sale in Sweden, however, pushes the performance envelope to the extreme, with a BMW V8 under the hood producing close to 700 horsepower mated to a Nissan 5-speed manual transmission. Add in a full roll cage, Sparco racing seats and digital dashboard, this is one way to stand out from the crowd on the starting grid.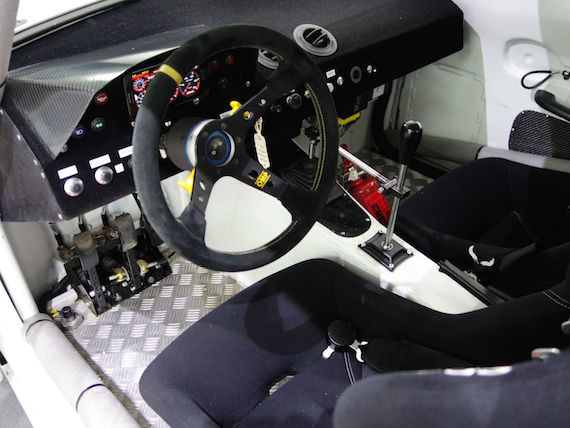 Year: 1967
Model: Amazon
Engine: 4.0 liter V8
Transmission: 5-speed manual
Mileage: 1,500 mi
Price: Reserve auction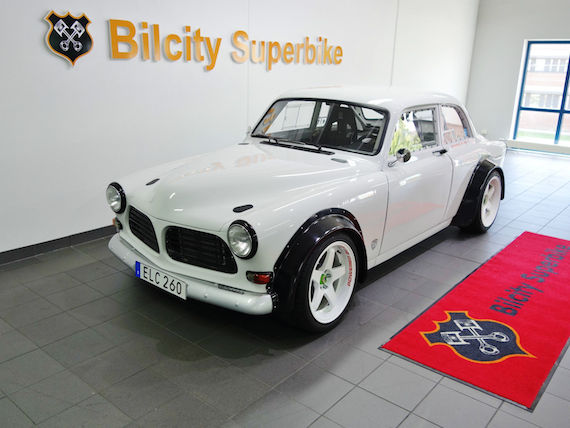 1967 Volvo 'Super' Amazon Build 2014 register for street with titel
Numbers
680hp at rear wheels

Engine
BMW M60 4.0L V8, custom engine mounts, custom exhaust manifold, Garrett GT42RR ball bearing race turbocharger, external wastegate, 4-inch custom down pipe, custom exhaust, custom intake pipe connected without intercooler to reversed stock BMW intake plenum, intake pipe fitted blow-off valve, Summit Racing fuel tank, 2x Bosch Motorsport 044 fuel pumps, 8x Bosch 1200cc/min injectors, rear-mounted radiator setup, 2x grille-mounted oil coolers, MaxxECU engine management system

Driveline
Nissan BNR32 5-speed gearbox connected to BMW motor with welded on BMW bell housing, BNR32 Skyline GT-R driveline, Nissan ATTESA pump and controller in trunk, G-sensor based AWD controller

Suspension
BNR32 Skyline GT-R front and rear subframes, BNR32 Skyline GT-R complete front/rear suspension, HSD Monopro adjustable dampers, front adjustable camber arms, BNR34 Skyline GT-R spec Brembo brakes front/rear, EBC Yellowstuff pads

Wheels / Tyres
XXR 530 18×8.75-inch (front), 18×9.75-inch (rear), Hankook Ventus slicks 260/660-18 (front), 280/660-18 (rear)
Exterior
Heggen Composit by Henrik fiberglass front fenders, fiberglass bonnet with +25 mm lifted budge to clear engine, fiberglass doors, fiberglass trunk, +14 cm front over-fenders, +16 cm rear over-fenders

Interior
Custom fabricated floor, custom fabricated front/rear rectangular tube frame, custom suspension pick-up points, custom multi-point roll cage, custom flocked metal dashboard, custom carbon instrument housing, Samsung GALAXY Note II running a MaxxECU digital display, custom switchgear, OBP pedal box, OMP steering wheel, Sparco Sprint bucket seats, Sparco seat belts

This is it right here. Pure, unadulterated car culture. This is what being into cars is all about. Working on projects, experimenting, learning along the way and at the end – after months or even years of hardship and tribulation – completing a one-of-a-kind creation. Looking at Filip Malm's Volvo Amazon I almost feel like I'm cheating with my own car…
A few trips to Scandinavia and Gatebil events will quickly make you realise that there are two very distinct ways of building up cars. Suddenly, selecting upgrades out of a catalogue becomes trivial, almost akin to taking a shortcut to boost power and performance.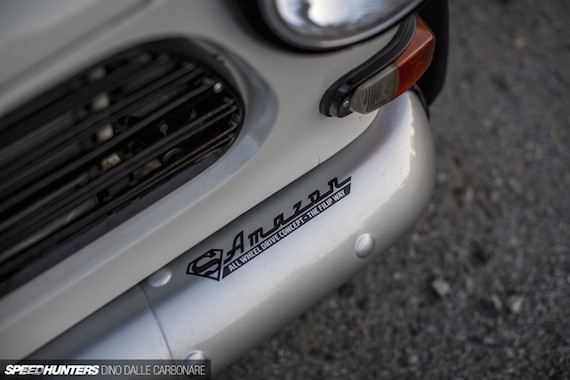 Sometimes I think flared fenders look good on almost any machine and that's especially the case on this Volvo. It completes the aggressive look to match the performance under the hood. It's pretty amazing this car can be registered for street use in Sweden. Depending on the state, I could envision one might have some issues registering this car as such in the US. What's something like this worth? Who is to say, really. Sure, there is a number associated with how much it cost to build, but such custom jobs rarely fetch exactly what they are worth, whether it be less or more than the sum of its parts. Hopefully wherever this car winds up, it will be used to its full potential.
-Paul