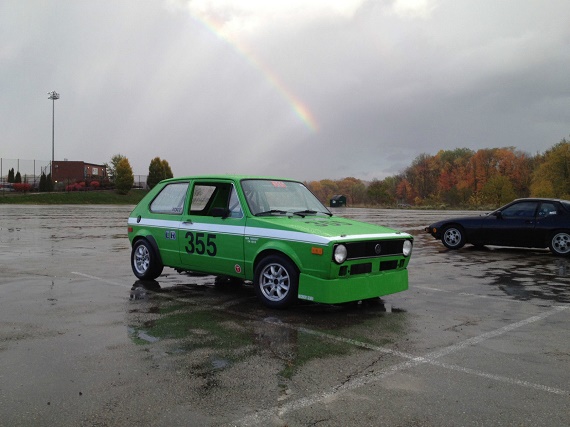 There are very few race cars that I instantly fall in love with. A vast majority of them I see as very cool or with unique aspects, but often I'm left feeling as though I would do something – or many things – very different than the builder. But the moment I laid my eyes on this Rabbit, I fell instantly in love. Now, truth told I had already been thinking about an early Volkswagen race car – this time around, my thoughts lingered on some of the Scirocco SCCA racers. Hunkered down with all-too-awesome gold BBS magnesium wheels and a deep air dam, they just look spectacular to me. That feeling instantly transferred to this Rabbit. One of the earliest imported to the U.S., it's the desirable Swallowtail model which looks much closer to the original Giugiaro design than the later U.S. built examples. There's something that's so pretty, so delicate about the early Golf/Rabbit design. It was refreshingly different from what Volkswagen had produced up to that point, but it was also purposeful in its design. With light weight and a dose of sport, these early Rabbits paved the way for what would become the performance arm of Volkswagen, centered around the A1 based GTi. But even before the GTi hit these shores there were plenty of racers that saw the opportunity to race the Rabbit on a budget. This early build was competitive right through the 1980s; in fact, I bet with the right driver it would still be close to the front today: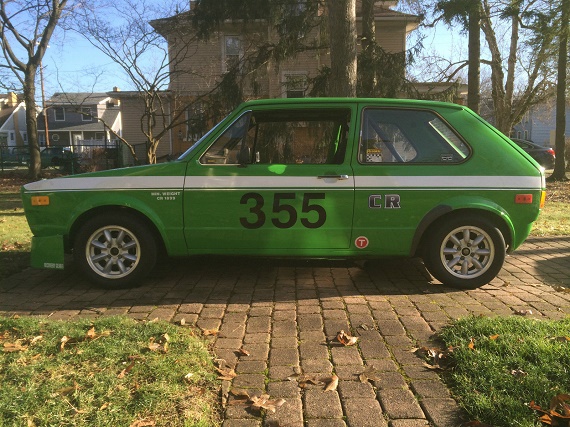 Year: 1975
Model: Rabbit
Engine: 1.6 liter inline-4
Transmission: 5-speed manual
Mileage: Not Listed
Price: Reserve Auction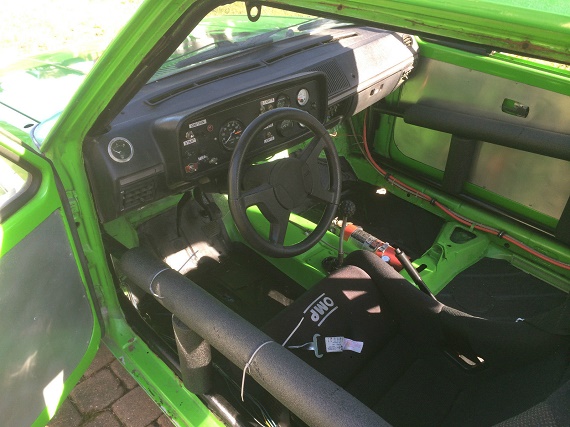 Up for sale is my Rallye Green 1975 Volkswagen Rabbit Race Car.
This is a very rare first year Rabbit with a 1974 built date. The 1974 to 1976 rabbits are known as Swallowtail bodies due to the unique body lines that these years had. This car was bought in 1975 by Gray Wheeler owner of the Rabbit Hutch (in Tualatin OR) a VW water cooled performance shop that built SCCA Rabbit race cars in the late 70's and early 90's. This was Gray's personal race car that was used to win numerous ICSCC races on the west coast from the mid 70's to the early 90's. The car was really fast and was able to run at the top of the ITB class full of Volvos and BMW's. This Rabbit is still set up very close to the way Rabbit Hutch built it.
Specs:
1.6L built to ICSCC specs, Webber downdraft carb, long tube headers, 5spd trans, TT short shift, Bilstein adjustable with H&R race springs, disc brakes front and rear, SS braided lines, full SCCA cage, battery relocated to back of car, power shot off, OMP race seat, push button start, 5 point harness and original Panda Sport racing wheels. The body and paint still look good with few minor bumps and bruises.

This little Rabbit won its class at the SCCA West Coast Runoff's at Sear's Point in California three years in a row 1985, 86 and 87

I just put new Blue Hawk pad up front and bled the breaks with new racing fluid. Head lights, tail lights, marker lights all work. Front head lights have Plexiglas covers.

This Rabbit is ready to race, runs great and a blast to drive. My plan was to vintage race it but I just never found the time.

GTI Scirocco GLI 240Z 280Z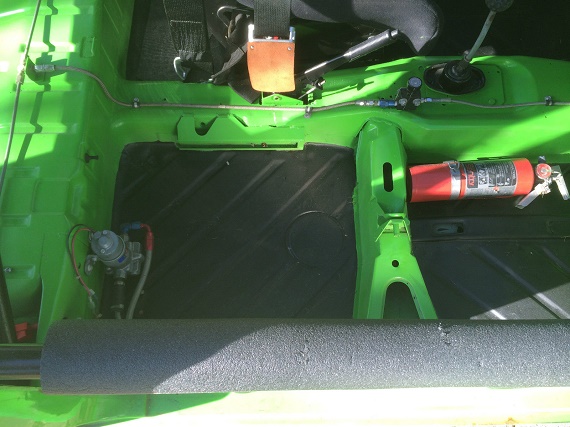 What really struck me about this car is how clean it is; really, almost impossibly clean for a 1970s race car. Most have been beaten to within an inch of their life, left to linger outside or discarded and taken apart. That's especially true when it comes to class cars in regional championships such as this one. It is so infrequent that you see a racer of this nature that it's much like the Rabbit itself – refreshing, a splash of color in what is otherwise a sea of mediocrity. That may be overstatement, but this car is still seriously awesome – and I wish I had room to get it. The interior is well laid out, with adjustable brake proportioning at the hands of the driver – as is the 5-speed transmission, upgraded from the original 4. The car is suspended by a very clean set of H&R coilovers on what appear to be Ground Control perches; this setup is nearly identical to my own Audi's setup and it works well. Then there's the color – it may not be perfect, but that Rallye Green is so perfect. The only thing I'd change would be to track down a set of those BBS 3-piece magnesium wheels. This time piece still looks as purposeful as the day it was built; a reminder of simpler times and cars, it's just plain beautiful.
-Carter