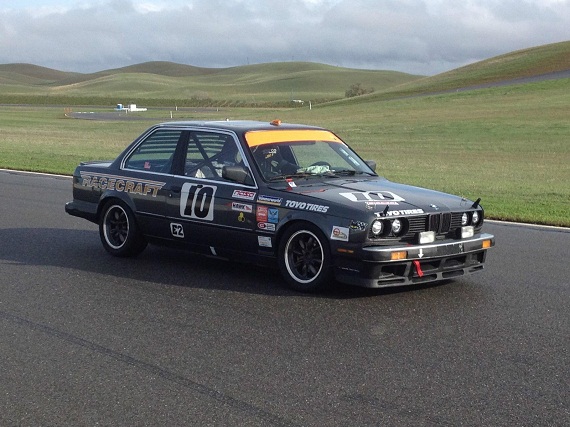 Let's be honest; going to the track is a bit of an addiction. Few make it out the other side without having at least contemplated heavy and expensive upgrades to their cars. The symptoms of the illness vary from patient to patient, but most exhibit similar characteristics; starting with a somewhat sporty road car, the owners quickly engage in a series of modifications that will make them "faster". These modifications nearly always degrade the everyday usefulness of your road-going machine, and ultimately no matter how much you modify a street car, it will still be a compromised design. You simply can't create a track weapon that is road-legal without some compromise. The result, then, is bobble-headed enthusiasts driving their barely-suspended, over cambered and too loud cars around looking – let's be truthful – a bit of a fool. What's a smarter option? Well, if you really want to drive faster on track, you find a slow car that someone has already made into a racer. First off, you're getting into a more pure track car. They're not road legal generally, so all of the goodies that make life bearable on the street are gone making them lighter. If the build was done right and well, you're probably saving a lot of money, too. But the real benefit of getting a slower car is that you're doing more of the driving – ask any racer, and most will say that extracting maximum performance from a slow car is more rewarding than allowing the computers in your GT-R to obliterate the pavement for you. Two of the most popular German cars to hit the track in are here today – the venerable E30 in 325is form, and the iconic Porsche 944. Which will hit the finish line first?
Year: 1987
Model: 325is
Engine: 2.5 liter inline-6
Transmission: 5-speed manual
Mileage: Not Listed
Price: $13,500 Buy It Now
1987 BMW 325is built into a race car approximately 6 years ago from a very nice and clean, accident free 325is street car. It has been built to meet current ICSCC Pro3 rules and with a couple minor changes would be legal for NASA Spec E30 rules. First track use was in 2008 and from then until 2011 it ran in a couple of test days and 1 ICSSC Pro3 event. Then the car sat unused until I bought the car in December of 2013. It was raced through the 2014 season in 1 ICSCC Pro3 event and a couple enduro events with NASA. The engine was freshened in 2008 and still runs excellent. Over the last year of ownership it has been professionally maintained and thoroughly gone through to address worn out items such as rear hub bearings, new LF lower control arm, new LF steering link, refurbished 4.10 LSD diff, rebuilt front and rear brake calipers, new "frozen" rotors, new seat belts, new windshield, new fuel cell and remote make-up/return fuel reservoir, new battery, alignment and corner balance, etc. All receipts for the last year are included as well as some records from previous owners. It is a very reliable, well sorted and race ready car. It includes an AMB transponder, ICSCC logbook, 3 sets of 15×7″ wheels (two with used Toyo RR's mounted, one with used Toyo RA-1's mounted). Also included is a box of various spare parts such as a rear differential, new front brake pads, new front rotors, belts, hoses and other misc. items.

Option #1 – If the buyer chooses the "buy-it-now" option I will include a 4 new Toyo "RR" 225-45-15″ tires and 4 new Toyo "RA-1″ 225-50-15" tires.

Option #2 – PLEASE NOTE: The LED head lights in the photos are not included with the sale price but can be purchased separately.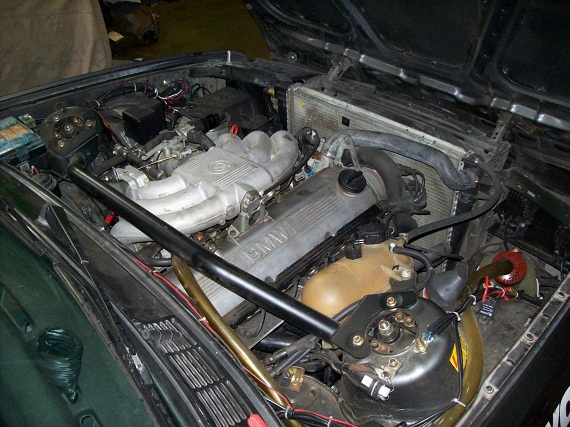 The E30 has experienced a resurgence as a popular track car; much like the Miata and 944, series dedicated to the E30 have popped up and limit modifications and costs, making the driver paramount to success. This particular E30 looks to be well built and ready for multiple race series. The popularity also means that parts are reasonably cheap, body pieces are plentiful and the well balanced nature of the E30 makes them great drivers. With spares and multiple sets of wheels the tires included at $13,500, it's not the cheapest Spec E30 I've seen but it's also not the most expensive. In reality, $8,000-$13,000 range buys you a lot of track cars, so a careful inspection of this one would be warranted to justify the price – especially since the motor is now 7 years since build. Still, there's not a lot to go wrong and this package is considerably cheaper than building one yourself.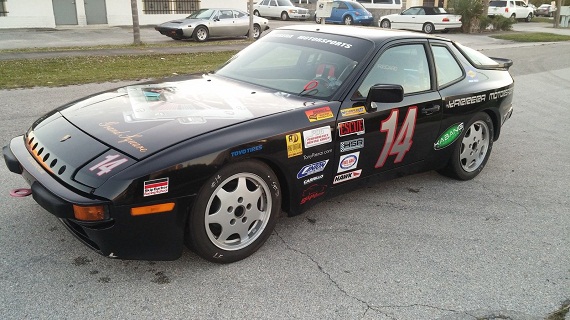 Year: Not Listed
Model: 944
Engine: 2.5 liter inline-4
Transmission: 5-speed manual
Mileage: Not Listed
Price: No Reserve Auction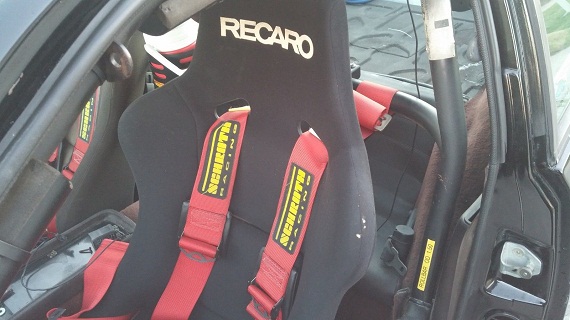 Make: Porsche Model:
944
IM SELLING MY PORSCHE 944 RACECAR …WITH " NO RESERVE " I HAVE NO ROOM AND NO MORE TIME , MY PARTNER AND I HAVE WAY TOO MANY CARS AND 2 OTHER 944 CUP CARS , THIS CAR HAS NOT BEEN USED IN FOR 2 YEARS AND NEEDS SOME LOVE ….I HAD IT PAINTED 2 YEARS AGO , AND AT THAT TIME WE INSTALLED A NEW HEADGASKET , NEW ENGINE OIL COOLER , NEW VALVE SPRINGS AND FRESH CYLINDER HEADJOB …IM AM RUNNNING HAWK BRAKE PADS ALL THE WAY ON ALL 4 CORNERS ……CAR HAS INSTALLED A FULL 8 POINT ROLLCAGE WITH A PCA LOGBOOK , I HAVE 2 SPARE WHEELS THAT ARE 6 INCH , IM CURRENTLY RUNNINNG 8 INCH WHEELS ALL THE WAY AROUND THE CAR SO I CAN RUN THE SAME SIZE TIRE ,CAR HAS A HEADER AND STRAIGHT EXHAUST ALL THE WAY TO THE BACK , SOLID BUSHINGS AND CHARLIE ARMS ON THE FRONT AND IT STILL HAS POWER STEERING ..WITH ADJUSTABLE YELLOW KONIS ALL THE WAY AROUND …CAR HAS BEEN ALOT OF FUN , NEVER A DNF , AND NO ACCIDENTS ….ITS A BIT UNDERPOWERED BUT THE BRAKES MAKE UP FOR IT ESPECIALLY AGAINST HEAVIER AND FASTER CARS , UNFORTUNATELY WE HAVE NO SPACE ITS STARTING TO LIVE OUTSIDE AND WE HAVE WAY TOO MANY OTHER PROJECTS TO FINISH ….I ALSO HAVE A E30 4DR BMW …FULLY BUILT RACECAR ALSO ……..CAR RUNS AND DRIVES WELL ITS PRETTY STIFF , IF YOU WANTED TO DRIVE IT ON THE STREET AND IT DEFINITELY HAS TO HAVE THE RACE MUFFLER INSTALLED IF YOU WANNTED TO DRIVE IT ON THE STREET …. IM SELLING IT WITHOUT A RESERVE ,CAR WILL BE SOLD ON A BILL OF SALE …IF YOU NEED THE TITLE YOU WILL HAVE TO PAY THE TAXES ON THE CAR IN SOUTH CAROLINA …CAR WILL BE SOLD AS IS …I CAN SEND YOU A VIDEO OF ME DRIVING THE CAR DOWN THE STREET IF YOU NEED ONE ………I HAVE A PHOTOCOPY OF THE OLD TITLE FROM THE PREVIOUS OWNER BEFORE IT WAS MADE INTO A TRACK CAR ..BELTS ARE OUT OF DATE FOR RACING AND SO IS THE SEAT …….CALL ME OR TEXT ME AT 5613586745 ASK FOR ROGER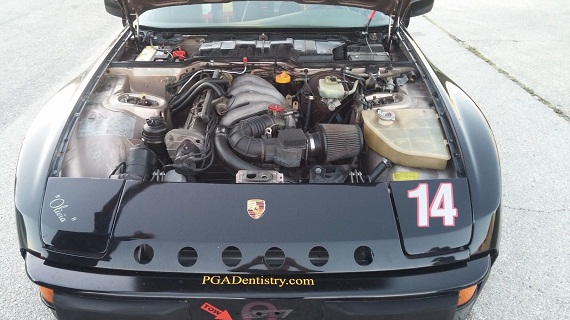 Very much like the E30, the 944 Cup series has created a popular and competitive series for Porsches that keeps costs well under most engine builds on 911s. The 944 itself is perhaps even a bit better balanced than the E30, with a result of a bit less natural oversteer. It's very much a driver's car, and the cup rules mean you're limited to the 150-odd horsepower that the 2.5 inline-4 originally developed. This car appears to be pretty well built and has a PCA logbook – like the E30, the accident-free, reliable platform is a big draw. But it's still a Porsche, so parts can be a lot more expensive than you might expect. Visually, I think the 944 looks a bit more racey, and I like the placement of the accusump in the nose to help cool it. My father had his installed in the rear for weight distribution, but the downside is that you have to rely on increased volume for heat savings. This car needs some updating to be ready to race, but could function just fine as a Driver's Eduction car right now.
Which is the winner? For a turn key racer, it would have to be the E30. The extra wheels and tires, spare parts and current log mean that it's ready to go as soon as you are. However, right now the Porsche could be had for a tick over $6,500 – making it substantially cheaper than the E30 with room to update the belts and seat and still have money for entry fees. In this case, I think it would be the one I would chose, but either way leaves you with a great driving lesson on a reasonable budget. Which would you choose?
-Carter