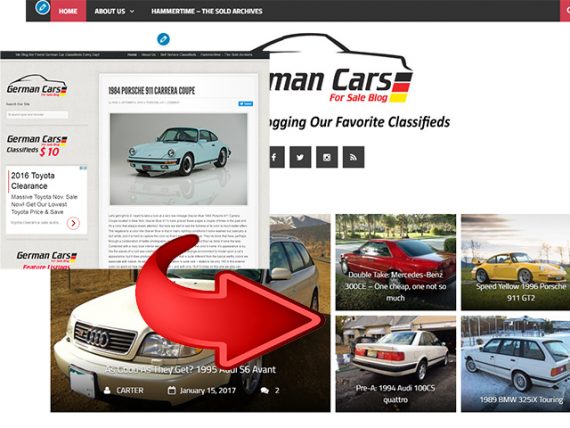 Good morning,
As you've probably noticed, we've made some changes at GCFSB!  Most noticeably is a new theme for the site, which has a much more contemporary and visually engaging homepage.  It also scales well for different screen sizes, such as tablet viewing.  What hasn't changed is the same great enthusiast writing in each selection made by our talented crew – you guys rock!
We have also elevated our Featured Listings in the layout.  This serves to highlight cars for sale by those who are supporting the site with a paid post.  For 2017, we offer Feature Listings for $59 per 3 months.  We only select very good to excellent examples for this service, and they are often being sold by our most faithful readers.  Thank you very much for supporting the site!  Do you have a special car that would benefit from getting an enthusiast write up, posted in front of our annual 500k viewers, 25k+ Facebook fans, and over 1,000 savvy email subscribers?  Shoot us an email to see if your car qualifies:  web@germancarsforsaleblog.com
Along the same lines, we have been receiving interest from specialty brokers and dealers reaching out to us for exposure as well.  We would be eager to talk further with parties about site sponsorship to replace our generic banner ads.
Please feel free to share your feedback on our recent changes by directly emailing, or leaving a comment on this post.  Thank you very much for reading as we celebrate over 8 years online and look forward in blogging the most interesting German Cars For Sale!
Sincerely,
Dan Crouch
*Please note that GermanCarsForSaleBlog.com do not represent any cars listed for sale on the site and all posts express our enthusiast opinion only.