Some day, E30 M3s will be found in garages and, regardless of condition, sell for a hundred thousand dollars. Luckily, that day is not today. While the market for these box-fendered beasts has been on an astronomical rise, they still have a modicum of attainability. Today's M3 has a lot of attractive qualities, not least of which is a no-reserve auction. Also on the plus side is a low 80k miles and the ever-appropriate red paint. The alluring pros come with significant cons, however, as this car has been sitting for 12 years and some rough spots following an accident in its history. Regardless, no-reserve M3s don't come up very often, and bidding is hot with 19 bids after just a day of bidding.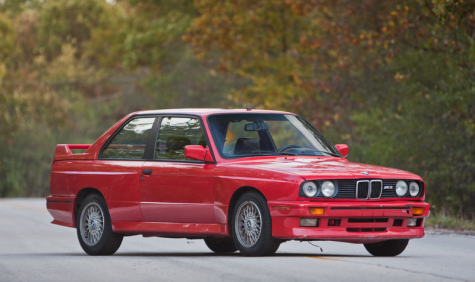 A question-and-answer, lost-and-found history from the seller:
NO RESERVE….Have I lost my FREAKIN mind?

You will not believe the last time this car was driven….

Guess

Guess

Keep Guessing…….

1999! Yep, that right. the last time this E30 M3 was on the road was 1999.

on 11/01/1999 it failed emissions, the owner drove it home, parked it in the garage and never drove it again.

A few days ago I receieved a call asking if I was interested in viewing the car. Hell, I didnt need to view it. I knew I wanted it. When was the last time someone called you and asked if you wanted to see an E30 M3? HHHHMMMMM….NEVER!

I am not going to sugar coat it, the car is a little rough around the edges. But afterall, what 25 year old car isnt? So I pick the car up yesterday, load it into my truck, bring it back to Northbrook and roll it into my garage. For sh*ts and giggles, I hook a jump pack up to it and try to fire it up…Guess what? It didnt start. So I call my dear friend Bill Caswell, all you BMW fanatics know Bill, and ask him what to do….He immediately tells me its the fuel pump. So in the few hours it took me to run to Bills house and get a pump he had lying around in his personal parts department my mechanic changed the oil, oil filter, drained the gas and put a new fuel filter in….We put the new fuel pump in, hook up a booster pack and guess what…..

IT STARTED!

After a few minutes of tinkering around we decide to drop it down and see how she runs and drives….And as I hoped, she runs like a raped ape! Better than anyone could ever imagine.. no clunks no rattles. no squeeks no wobbles.. it drives like it should have less than 50k miles shifter is crisp and precise, brakes are great for not being touched in 10+ years.

Great story huh?

Well, here is where it takes a slight twist….Remember I mentioned the car was a little rough? I will do my best to describe just how rough she is….

First and foremost, she was deemed a salvage in 1992 in New Jersey buti t currently has a clean Wisconsin title By the looks of it, she was hit in the front left corner and driver door. The repairs look to be decent, not great. I own one of the largest custom/body shops in the country and had my employees pick it apart a little bit. The radiator support was/is tweaked a little bit but can be straightened. The driver door is a little waavy. The driver rocker is damaged. The front bumper is trashed and it looks like Stevie Wonder painted it. The car is all there though. IT does need a little TLC, as would most 25 year old cars. some other issues(although minor) include

-Needs new tires(they are 10+ years old and look good in the pictures because of the pimp juice)
-Rust hole in cowl below passenger side wiper, needs a patch panel welded in but it hasnt spread to any other panels.
-Runs and drives way better than we had anticipated(nearly perfect). my mechanic reccomends a complete engine tune up and drivetrain tuneup.
-Cracked windshield(needs to be removed to fix cowl anyways)
-power steering rack is leaky(i believe normal e30 units are the same)
-Drivers seat finish is a bit rough, but other than that the interior is in VERY good shape. headliner and surrounding bits are a near 9.8 out of 10, dash is nearly the same shape with no cracks. The lower dash pieces are missing in the photos but are included with the car. All the electronics seem to work.. both windows and sunroof work with no issues (sunroof needs new felt gasket).. all lights seem to be in good working order. Remember this car has been sitting for 10+ years in a garage so you can expect some TLC is needed on the interior as well

I am here selling this car because I want it to go to a good home. We want to bring this car to the public so it will be appreciated for the spectacular car that it is. I couldnt have lived with myself knowing i passed on this and it may have spent another ten years rotting away. The car is a PERFECT candidate for whatever you want to do with it. Its not BAD its not Perfect but its all there and you know how hard it is to get one of these… Driver, Restoration, race car or whatever… its your choice!!
Honesty is the best policy, and there's plenty not to like about this car. The Bill Caswell name drop lends some credence though, and the solid running condition makes this a promising deal. The surprising nature of the M3 market these days makes this a hard one to call, but low mileage and clearable hurdles will definitely drive the bids past the current $7,100 to something closer to $15k.
-NR