Warning!
This post is in our archives. Links in this post have been updated to point to similar cars available to bid on eBay.
You know how post on a Corrado here on GCFSB, we comment on how great it is to see unmodified examples? Well, here's why. Like the clean lines of a forward-thinking, early-90s German sports car? Why not totally obscure them with a two-toned paint job and lots of vents! Like that sports car with the utility of a hatchback? Why not fill the whole trunk with two 12-inch woofers! Like being able to step into your car like a normal human? Why not throw some Lambo doors on it so you have to contort and squeeze in through half the normal aperture! Everybody's got their own tastes, some just include underbody neon lights.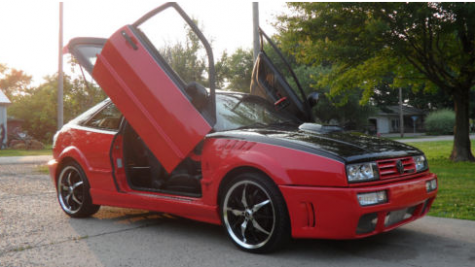 From the seller:
93 Volkswagon Corrado LAMBO DOORS

hey well sad to say i have my volkswagon for sale with a baby on the way i have to part with it and get more of a family oriented car. I have had the car since 06 i got it with 86,000 miles on it. The car now has 118,000 miles on it the car was just painted last summer with black metalic on top and red on the bottom. The interior is pretty much stock but i have racing buckets seats that will be included in this auction along with the original set of rims and tires. I have put around 13,000 to 15,000 into this car i have receipts for absolutely everything i not only made it look amazing but i have also maintained everything along the way.

list of upgrades
new paint black/red
Lambo doors
high performance exhaust
body kit
bullet fenders
carbon fiber hood with working hood scoop
rims black and silver 18′ with three new tires the one didnt need replaced
bucket seats red and black have not been put in the car but come with the auction
kenwood flip screen dvd brand new
underbody red lights and interior red lights that have sequence lighting
halo lights
euro tail lights
euro fog and turn signals
2 12inch square kickers with 1,000 watt kenwood amp
k and n air filter
I have tons of odds and ins for this car if you need more i can get more
all mechanical stuff is done by a foreign car mechanic in southern IL name of the mechanics shop LAZY 8 i can get all the receipts for the thousands of stuff i have maintened over the last couple years. whoever buys this car will not be disappointed i am only saling because i need a four door car
No bids at the $6,500 opening price, but somewhere between that and the $8,000 Buy-it-Now, it could be yours! I'd pay $6,500 for a very clean and original Corrado, but my personal tastes would force me to spend another few grand on this undoing all of the modifications so that I could have a clean, 120k-mile VR6 Corrado.
-NR