Today we have one of 30 E28 M5s brought to the US with a black interior. For those who need a reminder, the other 1,270 had Natur, and the 70 sent to Canada all came with in Full Vader. With a dealer sticker for $50,500, this E28 rates very high in originality and rarity. Interior, exterior, and engine all demonstrate a well-cared for life that has covered a relatively-low 129,000 miles. I do have a few questions regarding originality, mainly focused on this E28 possessing a little extra tupperware on the rear and side valences that are not stock North American M5 and are reminiscent of the M535i; how did they get there? And while improving the stereo is on the list for my M5, the aftermarket speakers in the footwell are a huge minus for me.
Ok, I've aired my grievances! This is a beautiful black-on-black M5 that E28 fiends would love to get their hands on, as evidenced by the 22 bids pushing it to a reserve-on $13k with 5 days left.
Year: 1988
Model: M5
Engine: 3.5 liter inline six
Transmission: 5-Speed manual
Mileage: 128,950
Price: Reserve auction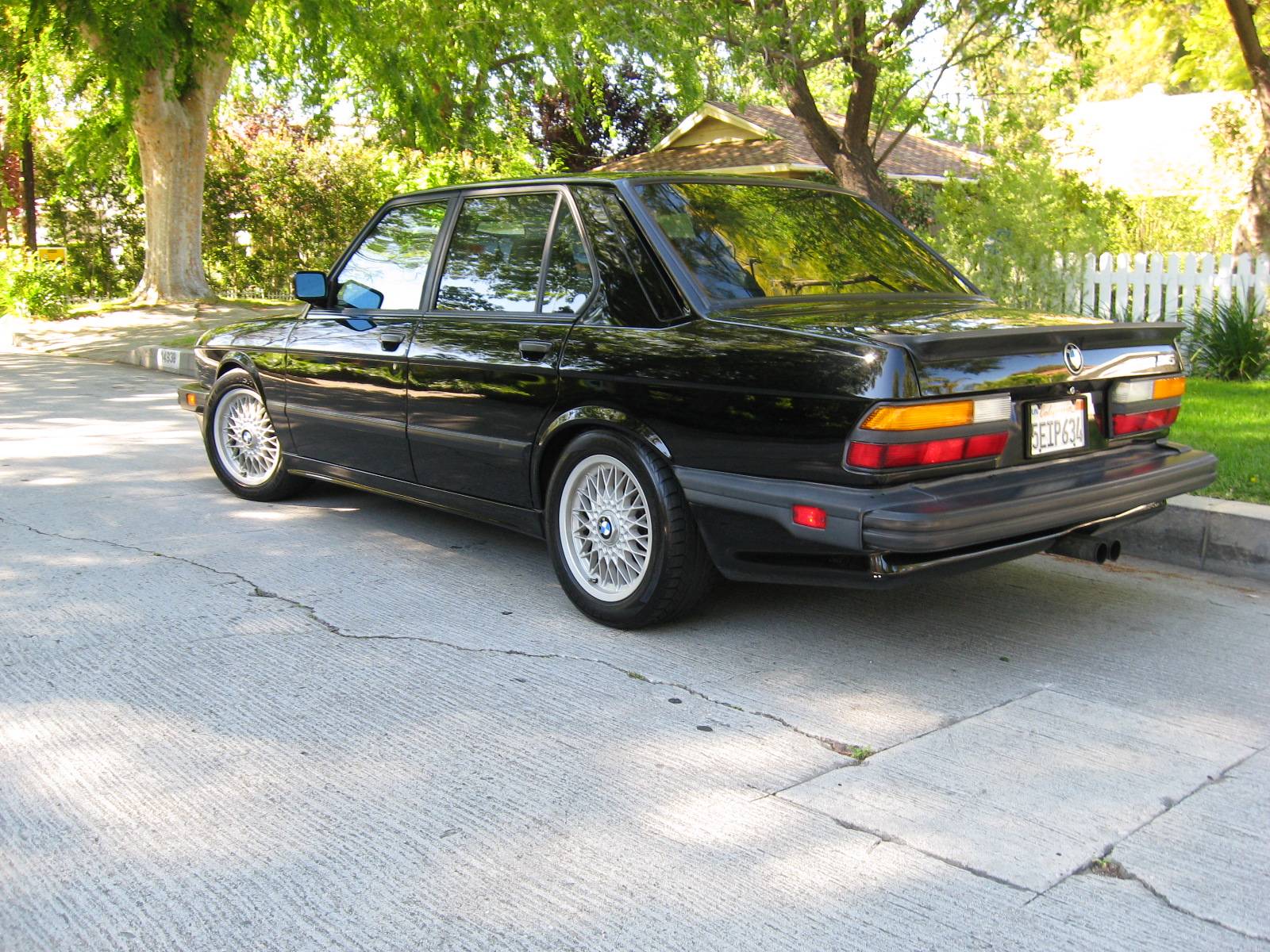 In 1988, the M5 was the world's fastest production sedan. Based on the 535i chassis. It boasted a 256 Hp version of the M1 power plant from BMW's racing success. Even today enthusiasts continue to rave about the purity of this machine's tight performance. Built between 11/86 and 11/87, only 1,370 of these cars were sent to North America after being hand assembled at the BMW Motorsport facility in Germany. All came with a black exterior. Almost all of these M5's were available only with the Natural Tan leather interior. There were however, 30 sent to the USA with an interior of Buffalo leather in Black. There is even a website just to verify and register these 30 prized collector vehicles.

This is a High-performance 5 Series – 24-valve DOHC, I6, six throttle bodies, Bosch Motronic integrated fuel injection. At its launch in 1984, the European specification E28 M5 was the fastest production sedan in the world at that time. Nothing is more satisfying than driving this baby in a Sunday afternoon on the canyon roads. A real head turner in the city. A rust-free California car with low miles just 2 noticeable dents.

Original paint all around.(VIN # on all the doors exists)
Original windshield and glasses with BMW sign on them.
Euro head lights and grill.
Original factory BBS rims in perfect condition.
The beauty of this car is the fact that it is completely original.
The drive is fantastic. Drifts smoothly around the corners. It definitely kept all the horses.
Mechanical is absolutely spot on.
No Noise when it starts or drives.
The hydraulic suspension system is intact.
Fully tuned up. New oil and Air filter.
The engine oil circuit has been oil-washed and flushed twice.
The Coolant had been flushed twice last month.
New expansion tank.
New spark plugs.
New Belts.
Sun/Moon roof works great.
A/C Blows cool air
Interior is original and has been reconditioned (9 out of 10).
It has an after market Blaupunkt with Bluetooth and plugs for Ipod, MP3 reader and a harddrive.
Upgraded sound system.
Original bill of sale from 1988 included.
Car never been in an accident. Clean Title. Clean CARFAX.

In and out the cleanest, rarest first generation M5 in US. Bid with confidence. The car is in perfect condition but is being sold As-Is due to the nature of its age (25 years). What you see is what you get. This car also come with a set of keys, the owner's manual and BavarianSport car cover. I have all the receipts for all the parts and labor. Feel free to message me if there's any question. The kidney chrome piece in front is also brand new. Euro lights are brand new and design of the front noise is just legendary.
129k miles is no man's land between cream puffs and high-mileage drivers, but the overall cleanliness of the car is supported by the details like the paper detailing spare-tire care. little details like that are the kind of specialties that take you right back to 1988 when this car stepped the supersedan game up to 11. The E28 M5 market is still trying to decide how fast it wants to climb; on the low end, $15k would make this a great deal, but rarity and provenance could push it as high as $17-18k.
-NR