A good friend and supporter of the site is giving up his very sharp Dolphin Grey on black S4 Avant. And not only is it the Avant, it also has the 6 speed manual! He has the car well priced and here is a copy of his Craigslist listing:
Update 1.30.2011: SOLD!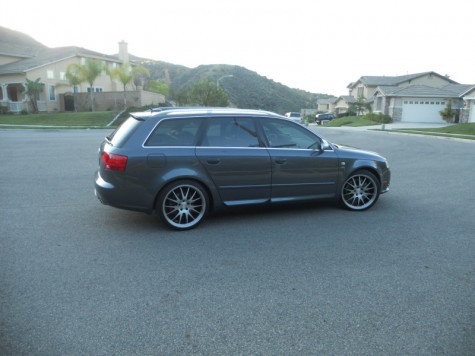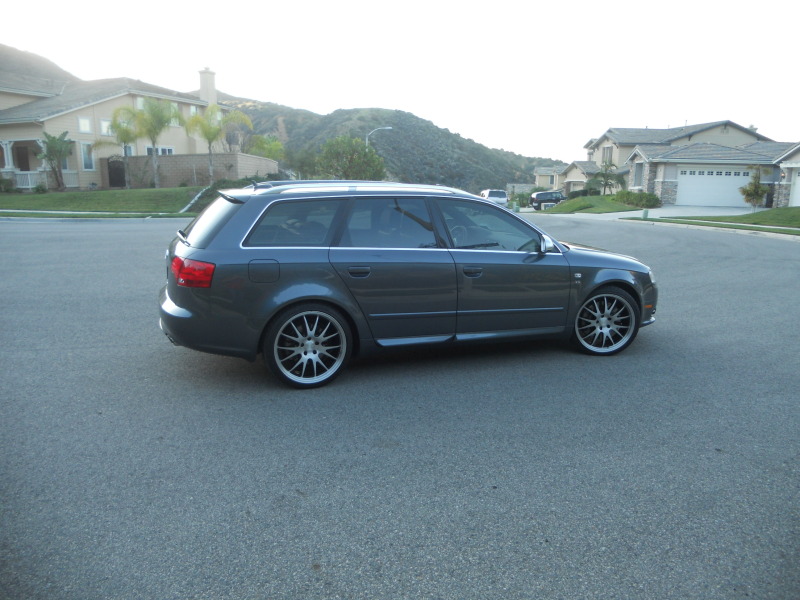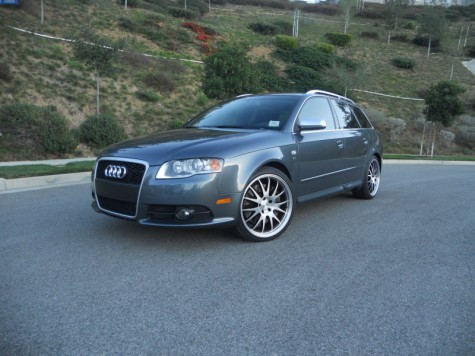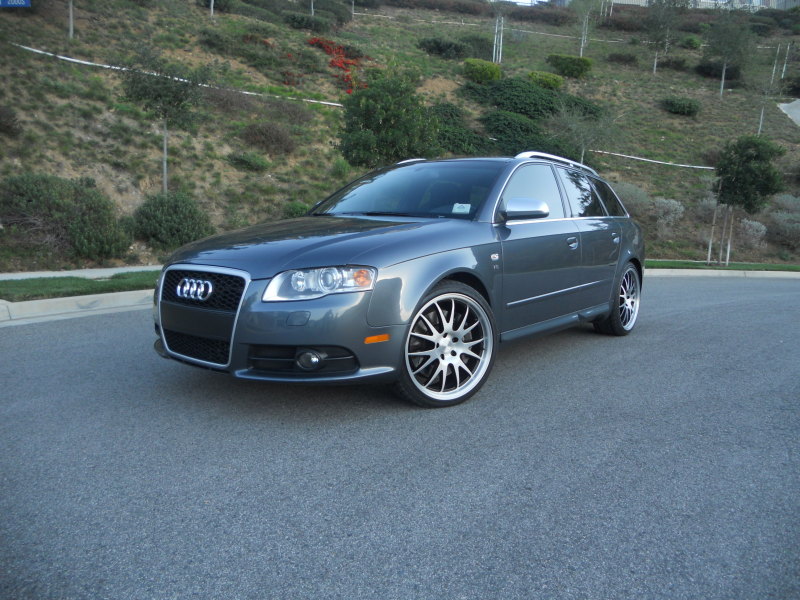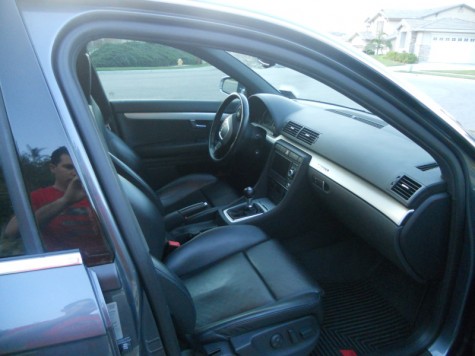 I am selling my 2006 Audi S4 6spd Avant that is Dolphin Grey with Black Leather with 60K miles. I am the 3rd owner and purchased it from a very good friend of mine.

The car is in excellent condition and is essentially stock, however it does have the following upgrades:

– B7 RS4 Black Grill
– 19×8.5 Rotiform MIA Wheels with Machined face and new Nitto 555 Tires
– Factory RNS-E Radio/Navigation with factory Blue Tooth and iPod connection

The car has a California Salvage Title on it due to having the engine replaced. This vehicle has never been involved in any kind of accident and I have a clean CarFax to prove this.

I purchased the car from a friend that was an avid Audi owner. The previous owner unfortunately damaged the original engine while driving in the rain in January of 2010. He drove through a puddle and sucked up a small amount of water which hydrolocked the engine. This was unfortunately due to him not having in place the passenger side fender liner, and that is where the air box sucks in air.

His insurance company, AAA, ended up total losing the car since a new motor could not be sourced from Audi as they no longer make complete engines. I purchased the car from him in March of 2010 and took it to a shop in Long Beach, CA that specializes in Audi vehicle repairs called Raven Motorsports. (www.ravenms.com)

The technicians at Raven had available a fresh engine from a 2005 S4 that had 45K miles on it, and sold it to me with a 6 month warranty. While the engine was replaced, they also did the following

– New Plugs
– New Coil Packs
– New Belts
– New AC Compressor
– New Oil Temperature Sensor
– New Oil Pressure Sensor

The car was completed in April with its new motor and it has been my wifes car ever since. We have now recently purchased a 2011 S4, so this car must go.

The car comes will all the receipts and maintenance records going back to new, along with all the receipts for the new engine. Also included is all the documentation from the prior owners insurance company detailing why it was a total loss.

The car has been garage kept its entire life and was just recently detailed. The inside and outside is in truly exceptional shape.

I am asking $22,500 which is an excellent price considering other B7 S4 Avants go for $28K to $30K+

I am located in Orange County and am available to show the car anytime.
I've had the pleasure of driving an S4 sedan with the 6 speed and it's a complete blast! The all-wheel drive, lusty v8, and 6 speed make every run to the corner store a real pleasure. And after the corner store, you're on your way to track day!
His asking price is $22,500 but has offered to give our readers an immediate discount at $21500. The buyer has also made the CARFAX available for interested parties.
Tell him you saw it on German Cars For Sale Blog!
dc