Reader Paul sent us his well-modified BMW E36/5 sporting the popular engine swap of an E36 M3 3.0L inline 6 for the original 1.9L four. If the potential of this swap weren't clear enough, it's worth it to note the S50's 240hp is a stunning 75 percent increase. Logically followed up with a LSD, springs, etc., this little compact is a serious contender. While the hatchback might scare some away, less weight and shorter overhangs with the same wheelbase makes a lot of sense and must be a ton of fun. The murdered-out OEM+ look suits it well, and Paul seems ready to sell it to whomever makes a decent offer.
1995 BMW 318ti w/ S50 swap for sale on e46fanatics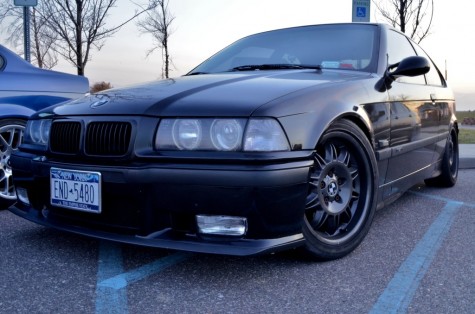 A list of goodies:
– Shell was bought here last year, swap manual used from J!M and also had him come over and help in person. 140k on the shell.
– Complete and running swap, I have put just under 10K miles on it in about 15 months.
Matching Cluster DME and Motor, with 58xxx on the dash, car still has the original Ignition coils.
– Brand new; Clutch TOB Fork OEM(Done at Final Touch Motor Sports which rodney will vouch for also have receipt.), rear main seal,Starter, alternator, motor mounts OE, Trans mounts OE, Guibo OE, Fresh Plugs and Belts, valve cover gasket, O2 sensor AND MUCH MUCH MORE.
– Full Front end rebuild Control arms/ball joints, Tie rods and OEM FCAB's less than 1k miles now
– All new Vacuum hoses and fitting as well as a Clean ICV, and manifold/ TB gaskets. New plugs/
Belts as of 3400 ish miles ago.
– No A/C Compressor and mounts condenser and lines have all been removed only the coil in the dash remains.
– Brand new Pioneer Deh 6300-ub headunit, with all NEW OEM speakers. Inifnity Basslink Subwoofer.
– This car also has No-sunroof. It was going to be my dedicated track car. Needs small amount of body work Car has never been in an accident. small dents and scratches which would be expected car looks awesome none the less.
///M Front Bumper, ///M Moldings,///M Mirrors. Oem fogs with 6k HID.
– Depo Headlights with Angel eyes and 6k HIDS
– Comes with AC Schnitzer Replica Spoiler.
– Car is Stock Minus OBD2 Headers and Conforti Chip and Exhasut.
– 3.73 E30 LSD with E30 half shafts.
– DS2 Wheels with tires Staggered OEM Sizes. Painted Gunmetal
– Car is currently on Rokkor Coils In front and the spring in the back with NEW OEM M coupe Struts and new RSM's . Has an Ebay strut bar.
– Water pump<1k thermostat ALL hoses and radiator have all been replaced just under 7-10 k ago. - - Aluminum T stat Housing. - Valve Retainers are done. Still needs the oil pump nut to be welded. No problems with this car turn key, and go! Solid idle no missing no check engine! Air bag light is ON! Pulls Strong smooth and quiet. NO VANOS NOISE! Active autowerke Replica track pipe. Ebay SSK. B&M rep. Also have all the booklets that came with the car in the leather case. 2 keys. You would be VERY hard pressed to find a better example of a 318ti as well as an S50 from a 1995 M3.
Originally priced at $10,500, Paul is heading out to sea with the Merchant Marine Academy and has reiterated several times that he is "quite flexible" on the price. The Vader-and-Angel-Eyes is not for everyone, but if it's your style, this appears as well-sorted as a modded-and-swapped car could be and is poised to be a great deal.
-NR