John dropped me a note to let me know about his lovely and low miles e46 M3 convertible that has just been listed. Sporting a very low 24k miles with Titanium Silver on Imola Red leather, check it out on Autotrader for an asking of $25,500: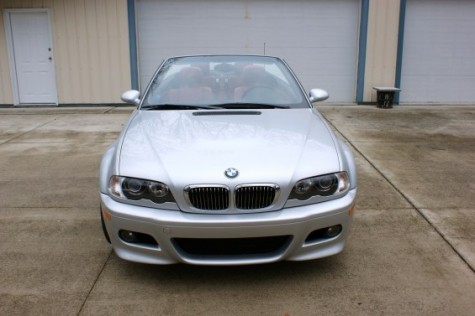 quote from his listing:
Out of my private collection. I am a collector of rare American muscle and high performance cars and am the original owner of this car. Unlike multiple owner M3s or dealer offered, you can be confident of the following. This car has NEVER seen rain/snow, NEVER been valet parked, NEVER tracked or raced, NEVER touched by a detailer or buffer, NEVER run through a car wash, NEVER smoked or eaten in, NEVER parked within doors reach of another car, NEVER damaged or modified, NEVER spent a night outside and NEVER serviced by anyone except a BMW dealer. I bought this car new from Joe Perillo BMW in Chicago. It lives in my climate controlled building and is only driven on nice days, in season. I have never had the car detailed and have done all the care my self. Hand washing, waxing, and clay barring. The battery is maintained on a smart system and it has always been stored properly from fuel to tires. All original with the exception of Fresh OE rubber. It is practically flawless with the exception of a few blemishes on the front and a minor scuff on the outside edge of one rim. This is truly an opportunity to purchase a car that has been pampered, never beat on (as many of them are) and has low mileage, of which the preponderance, are recreational country drives. I do not need to sell this car, I am considering changing up my collection. Please don't quote me values, as NADA or KBB cannot sell you a car, let alone one of this pedigree and condition. I have the original window sticker as well as all records (including insurance receipts for withdrawal of use every season) The car was built with the following options. Heated seats Bi-xenon headlights Harmon Kardon sound system The phenomenal SMG transmission (I'm an F1 nut bought this car for the tranny and it rocks!) Includes OE BMW windscreen (pictured) If you have been looking for an M3, this is THE right one.
We're always happy to help our readers get more exposure, especially with examples as nice as this. Good luck with the sale John!
If you have an exception German Car For Sale, email me to get it listed here.
dc