It's been a while since we've featured a garden variety 190E on GCFSB and not the hotter Cosworth version and that's mainly because good, honest examples are fast disappearing. While just as sturdy as the legendary W123, the W201 was never loved quite as much, which is interesting to me, given that we had a 190E 2.6 in the family and it was perhaps one of the best cars ever to pass through our garage. They are compact cars, yet drive like something much bigger and more refined and the inline six is as smooth as silk.
Here's a clean example with 88,000 miles for sale in California.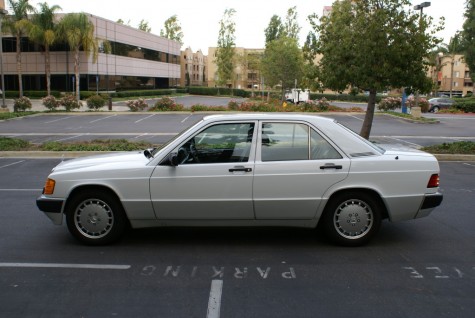 Up for auction is a 1991 Mercedes 190e that was manufactured in July of 1990. This vehicle was purchased by the original owner in 1991 who owned the vehicle for almost 20 years. I bought the vehicle from a specialty dealer who specializes in excellent condition classic cars. I am the second owner of this vehicle.

In my opinion, Mercedes was still making the most solid, bullet-proof vehicles during these years. After the mid 90s, their cars just didn't have the same feel about them. The 190e has some of the most classic looks of a typical Mercedes Benz which gives it a timeless look.

The particular 190e 2.6 is finished in Artic White with a Blue MB Tex interior. In addition, the car has the optional headlight wipers that finish off the vehicle very nicely. Being equipped with the 2.6L M103 engine, this 190e has a smooth, linear power band that makes driving very effortless. Other notable features include a power sunroof, cruise control, central locking, and power windows.

Having only traveled 88,000 miles, this is car is a very rare find. In addition, this vehicle is fully documented, and includes maintenance records, original window sticker, and all manuals and books. This car is truly a rare find – especially for being over 20 years old.

The exterior of this car has extremely shiny paint, and the vehicle has never been any accident. There is all original paint on all the body panels with all vin stickers intact. Always being garaged, there is no rotting or shrinking of rubber trim. The exterior condition of this vehicle communicates the loving care it has had all of its life.

The interior of the car is exceptional condition as well. All power options work, cruise control works, everything is fully functional. The seats look like new, the carpet is stain free, and there are no smells or odors. The dashboard is crack free and the vents are still tight. The interior is exactly like stepping back into time to 1991!

Mechanically, this vehicle is great running condition. This car has oil changes religiously every 3k miles – and has every stamp in the maintenance booklet. This vehicle performs excellently – transmission shifts wonderfully, engine is leak free, smoke free, and makes great power. The tires, brakes, and suspension feel great. Furthermore, this vehicle has had the following maintenance items done in the last 3k miles:

Water pump
Thermostat
Coolant with distilled water mixture
Drive belts
Spark plugs
Wiper Blade
Air Filter
Oil Change
Front brakes with ceramic brake pads
All instrument cluster light bulbs

All of the originals tools, manuals, and accessories are included. These are:

Original owner manuals
Window sticker
Maintenance records
First aid kit
Tool kit
Full size spare tire
Original emergency jack

This vehicle deserves your attention and it is sure to provide you with years of reliable service, while transporting you in the lap of luxury. This is once in a lifetime find, and I am very proud to offer this car for sale. I also have a clean carfax and autocheck report as well.

The only reason I am selling this car is due to my unique situation with my job. I am temporarily working in San Diego, and I will be moving overseas for work in the next six months. As much as I would like to keep this vehicle, it just doesn't make sense for me right now. I bought this vehicle with the intention of keeping it for life, but unfortunately I do not have that chance.

Please ask any questions that you may have. I have included a lot of pictures to clearly show you the fine condition of this spectacular Mercedes Benz.
Having a comprehensive history with few owners surely makes this an attractive Mercedes. With no reserve this auction is sure to get a lot of action. The only thing holding it back for me is the blue interior. I never did like that dark shade of blue Mercedes used years ago, but if you're going to have that color interior, white or blue works best for the exterior, so all is not lost.
-Paul