Here we have a one of a kind restored M3. This Aston Martin green gem has had a complete overhaul. While the cosmetic touches, such as the paint and smoked lights on the outside and the custom work on the interior, make this a real looker, it is what is under the hood that makes this extra special. This car has the special S50 B32 inline six out of the Euro spec E36 M3. That engine comes mated to the six speed also from the E36.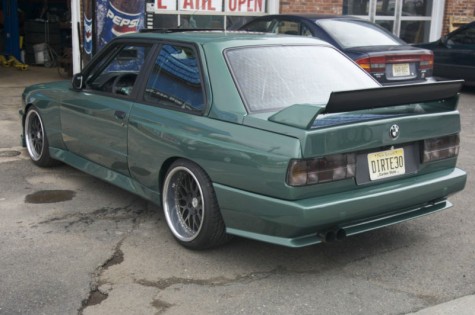 While the car was stripped down to a shell a cage was welded in place, which may help with stiffness, but this car looks way too nice to take to the track. It is so fresh right now that is at that point where it is scary to drive because you know it is going to pick up that first stone chip at any moment.
Clearly a car that will be fantastic to drive and one that has been built up right. No hodge podge aftermarket parts bucket here. The seller won't let this one go cheap. Currently bidding is over $20,000 with the reserve not met. The car is listed as having 40,000 miles, but it isn't clear if that is on the engine or the chassis or how many miles have been covered since the conversion.
The seller offers many pictures of the build in the auction.
~Evan