What a shark we caught today, readers! This E24 comes directly from reader Lawrence, who is parting with this extremely clean, extremely rare piece of Teutonic perfection. Alpina's always get me going, as I think they accentuate the best elements of BMWs, especially those from the 80s. Distinctive, simple wheels, Tron-like decals, and sharky body kits are where it's at. Add in some healthy power upgrades and BMW's GT becomes an 80's supercar.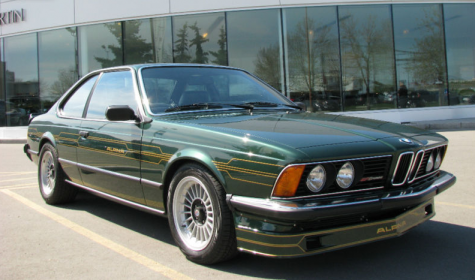 Lawrence's pages have some great info, so I'll let him give the B7S Turbo Coupe history:
The Alpina B7S Turbo Coupe is most powerful (330hp), the fastest (0-100km/hr in 5.8 sec and 280km/hr top speed), and the rarest of all the Alpina 80's cars. Very few Alpina cars ever made it to North America, as they had to be federalized like the Porsche Turbos and Ferrari Boxers. Alpina made a special edition of their 5 and 6 series cars in 1982, offering 60 B7S Sedans in Alpina Blue with a Blue Cloth/Leather interior and 30 B7S Turbo Coupes, all in Alpina dark green metallic with a green tartan cloth/leather interior. There were only a few cars that differed from the B7S colours-a pair of B7S, a coupe an sedan were painted in Anthracite Grey for members of the Quant family, and there is this car which kept the Alpina green, but had a very special interior in full leather with the top of the line Recaro Ortho C seats.
#14 of just 30, this is a very special BMW. Lawrence provides a great, detailed history of the car worth reading for those interested, but it's well-summarized thusly:
This Alpina BMW is a unique car. It is the only example of the B7S Turbo fitted with a full leather interior, and the only example fitted with the top-of-the-line Recaro Ortho seats. This is the only B7S that was sold new into North America, and to the collected wisdom of the Alpina community, it is still the only B7S on this continent. Apart from the Alpina race cars, it is arguably the rarest and most collectible of all the Alpina BMW's.

It has unquestioned provenance, matching numbers and Alpina authentication. Being a California car for most of its life, and given a comprehensive body restoration, it is completely dry and rust free.; It has had a fresh cosmetic restoration done to a very high standard. Mechanically the car was given signifiant upgrades in the mid-90's at a cost of $17,000. It has just had another $25,000 spent on cosmetics. The car runs and drives perfectly. The Pierburg injection system functions properly and shows no signs of fuel leakage or any other problems. The car has run reliably for the last 10 years and 10,000 miles according to the previous owner, who has only needed to give the car normal servicing-It has done several long distance trips without fault. It remains a truly fast car today, and a very capable Grand Touring machine.
It says a lot that this 1982 6-series, normally a cool car but worth single-digit-thousands, is pictured with Ferraris and Bentleys and currently sitting at $35k. With the provenance, rarity, and restorations, the seller is probably looking for a bit more than that. Too rich for my blood, but an amazing and unique example of German tuner culture in the 80s. The next owner will belong to an entirely different club than the guy in the 550i he rolls up to at the stop light, a club that appreciated sharky clean lines, mechanical purity, and gold and green as a color combo. I like that guy.
-NR