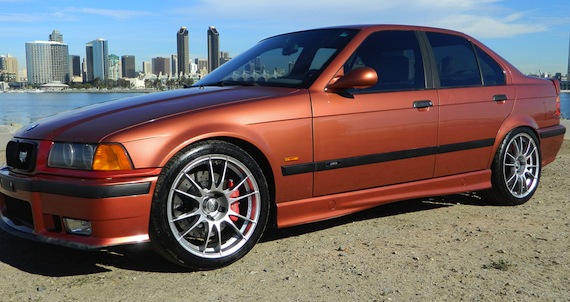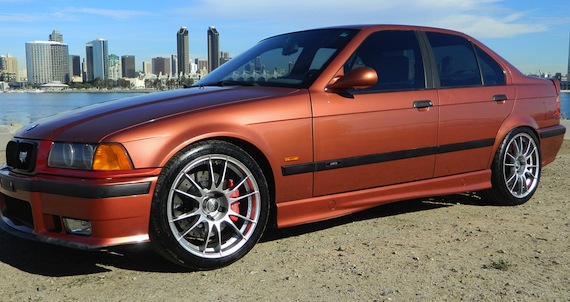 It's no secret that I have a big ol' soft spot for the E36 M3 sedan. Beyond my personal experiences, I still see it as a very sharp BMW, a confluence of simple basic design and subtly aggressive modifications. We've featured some modified E36s here and superchargers are a common add-on, but this one comes with a more thorough description and a bit more power than the usual supercharger options thanks to Eurosport twinscrew. With a claimed 361 horsepower at the rear wheels, this E36 is putting E92 M3-levels of power at the crank. Some cool factory rarities like the Byzanz paint with no sunroof and a manual combine with the serious mechanical upgrades, light OZ wheels, and an interesting AC Schnitzer spoiler to make one of the cooler total-package E36s I've seen in a while.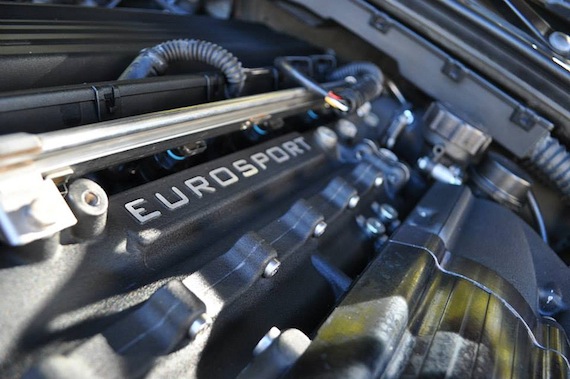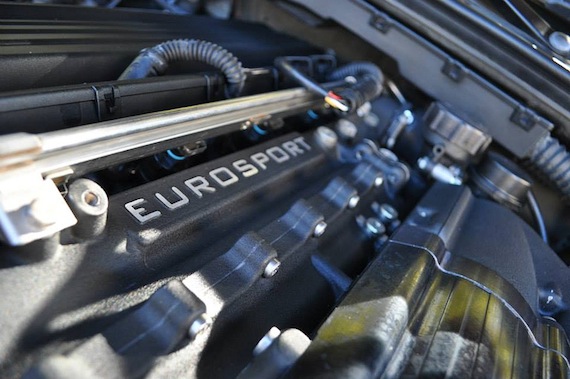 Year: 1997
Model: M3 Sedan
Engine: Supercharged 3.2l inline-6
Transmission: 5-speed manual
Mileage: 154,000
Price: Auction starting at $14,000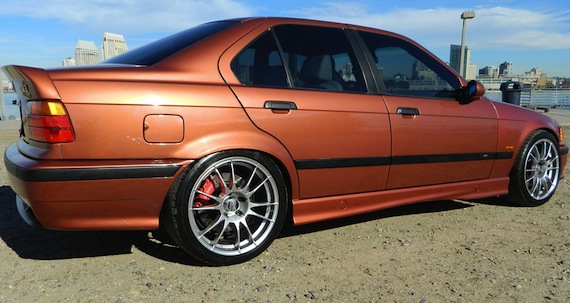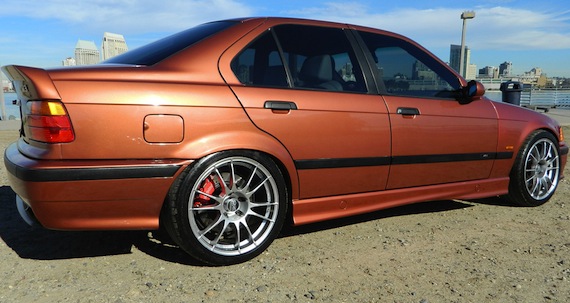 This is your chance to own a literally one-of-a-kind E36 M3. As many Bimmerphiles know, Byzanz was only offered as a color option on 1997 M3 sedans. Furthermore, only 37 were sold with a manual transmission. However, even rarer is the fact that, of those 37 manuals, this one is the only slick-top (i.e., no sunroof). It's also one of the few that was sold without the luxury package. To top it off, it's equipped with the most powerful E36 supercharger available – a Eurosport twinscrew – that elevates the performance to a new level.

I'm a real BMW enthusiast who's owned 12 Bimmers over the course of the last 30+ years. Including this M3, I currently own four. My passion for these cars is reflected in the maintenance and care I have invested into it.

Private-party inspections welcomed (and encouraged)!

Exterior: Byzanz
Interior: Dove gray
Body: Sedan
Transmission: 5-speed manual
Mileage: ~154,000
Trim package/options:
· Non-lux
· No sunroof
· Harman Kardon stereo with factory 6-CD changer
· Full OBC
· Folding rear seats
Production date: 5/5/97

Modifications (all added during my ownership):
· Eurosport 1.7L Opcon autorotor twinscrew supercharger (rated at 361rwhp/304rwtq) rebuilt by Opcon prior to installation in October 2007 at about 110,000 miles
· Laminova intercooler
· Euro spec M3 oil cooler
· Zionsville Autosport alloy radiator
· EMP/Stewart Performance water pump
· Euro E36 7-blade cooling fan
· UUC lightweight Stage 2 flywheel & M5 organic clutch
· Active Autowerke GEN III exhaust
· Bilstein PSS9 coil-over suspension
· JDM rear shock mounts
· Racing Dynamics front/rear sway bars
· Chassis x-brace
· Wilwood big brake kit with drilled rotors and SS lines
Front – Superlite 6 (6-piston/14" rotors)
Rear – Dynalite Pro (4-piston/12" rotors)
· Vorshlag camber plates
· OZ Ultraleggera 18×9 wheels (with a spare OZ Superleggera 18×9 mounted with a Michelin Pilot Sport)
· Michelin Pilot Super Sport 255/35ZR18 tires (used 9,000 miles – no auto-x or HPDE)
· AC Schnitzer Type-II rear spoiler
· VDO gauges (water temp/oil temp/oil pressure)
· ZHP weighted short-shift knob
· iPod interface cable
· ZKW HID angel-eye headlights (6000K)
· Depo crystal HID fog lights (6000K)

Accident: In May 2013, the car was involved in a low-speed accident. The following repairs were required (and performed):
· replace the bumper and front panel
· repair a dent to the right front fender
· replace both front fender liners
· replace right turn indicator
There was absolutely no damage to the frame (I have alignment report to verify) nor was there any damage to any engine component. I'm happy to share the body shop report and demonstrate that all noted items were addressed. I've put over 4,000 miles on the car since the accident, and it drives perfectly. With the exception of the bumper (which was unrepairable), all VINs match.

Exterior: I'd rate it an 8/10. Please keep in mind that this car is over 16 years old. Just completely detailed; from 10 feet, the paint looks beautiful. There is not a speck of rust anywhere on the car. However, as depicted in the photos, there are numerous rock chips on the hood, the left passenger door has a few dings, there are several scratches over the body, and there were scratches (although touched-up) to the rear wheel wells from snow chains; the newly-painted front bumper, grille and quarter panel repaired in the accident noted above could have been better matched. There are still many, many years left on the paint, but a complete paint job now would turn this into a real stunner!

Wheels have some road rash.

Interior: I'd rate it a 9.5/10. Driver seat bolster shows lighter than normal wear. Passenger seat in great condition; rear seats in excellent condition. No cracks on dashboard. Headliner was recently professionally re-adhered and is in excellent shape. All electrical components are fully functional; no dead pixels on any of the displays. As shown in pictures, airbag light is illuminated. Peake tool indicates fault with the driver side belt tensioner; will be repaired prior to sale.

Drivetrain/Maintenance: All maintenance up to date with receipts for all work done since I purchased the car. Engine oil changes have been performed every 3K miles; doesn't burn a drop. Twinscrew oil changed every 15,000 miles. A/C blows ice cold. The car needs absolutely nothing right now. All maintenance and repairs are up-to-date. Recent maintenance includes:

152,000 miles
replaced spark plugs (NGK BKR6EIX)
replenished air filter

149,000 miles
replaced rear trailing arm bushings
replaced power steering pressure hose
replaced windshield washer pump

148,000 miles
brake fluid flushed

147,000 miles
windshield replaced

143,000 miles
headliner professionally re-adhered

140,000 miles
replaced thermostat (71°) and thermostat housing
coolant flushed
replaced flex disc/guibo
changed supercharger oil

137,000 miles
replaced spark plugs (NGK BKR6EIX)
replaced fuel filters
brake fluid flushed

133,000 miles
replaced foam air filter
replaced expansion tank
replaced auxiliary fan
replaced A/C belt tensioner

126,000 miles
replaced intake manifold gasket
brake fluid flushed
differential fluid flushed
transmission fluid flushed
replaced spark plugs (NGK BKR6EIX)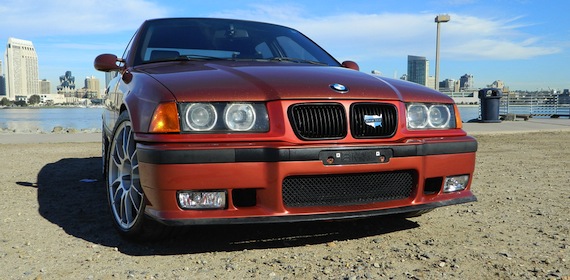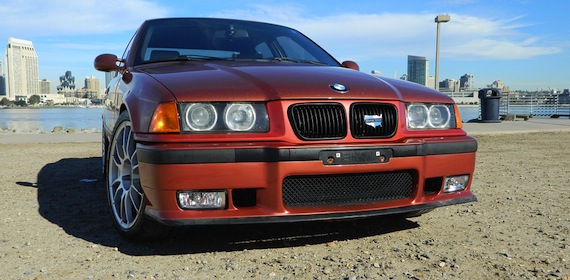 There are a few detractions here: heavily chipped hood (putting that power to use, eh?), a few interior stains, and quite a few miles for a modified car. For me, the overall combination outweighs these flaws. Unique color, cool mods, all in the great E36 sedan. The starting bid of $14k is low-mile E36 M3 territory, but I'm into drivers, and this is an M3 that must be a hell of drive.
-NR