Warning!
This post is in our archives. Links in this post may have been updated to point to similar cars available to bid on eBay.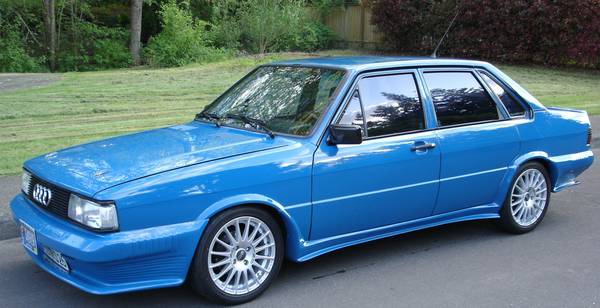 We've been lucky enough to see a string recently of very nice condition 4000 quattros, with the nicest and highest priced breaking the $10,000 glass ceiling on these models. That's apparently signaled to other 4000 owners that the market is prime to get out at current top dollar, ignoring the confluence of factors that combined to create that record sale. A super well documented, fully sorted and all original example, that car also found the right buyer at the right time. In contrast, today we have a decidedly unoriginal 4000S quattro with an asking price unsurprisingly right around the sale amount for that 1985 model. Will a modded 4000 bring stronger money than the average? Take a look and see what you think: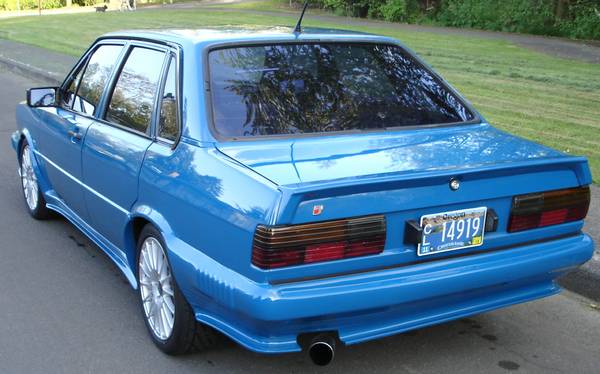 Year: 1984
Model: 4000S Quattro
Engine: 2.2 liter turbocharged inline-5
Transmission: 5-speed manual
Mileage: 159,620 mi
Price: $12,500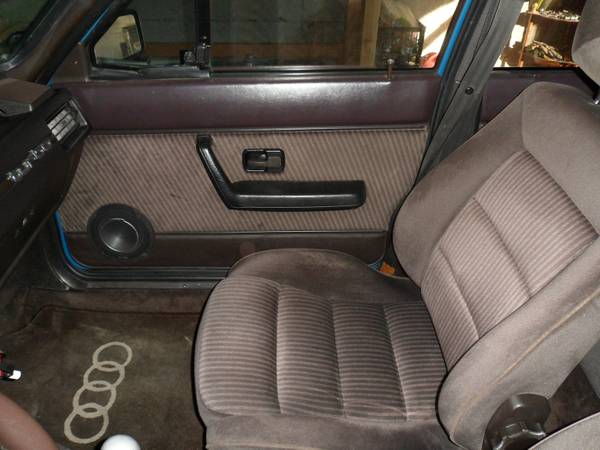 Selling my one of a kind baby! 1984 first year and only year body and bumpers 4000 Quattro.85-87 used different front and rear bumpers and added side-skirts and also had smaller rear axles and some lighter body panels. 1984 Official Winter Olympics Car. 1990 200 10vt with 25k on a complete rebuild. New Radiator($335), Polished head, Bigger valves, 2Bennett 10VT multi-piece Exhaust Manifold($835), 2Bennett Cam, 2bennett tuned e.c.u., 20V Metal head gasket, new everything. Polished Valve Cover. Interstate Battery($150), New Clutch and clutch slave 2 years ago($1200), 300HP. 5000CS Turbo Transmission/Differential(better match with the power than the 4.11 gearing-original transmission and rear diff are available with the car if wanted). 2bennett coil-overs($1250), ABT body kit(only one in USA). Original factory taxicab dash for gauges($500). Extremely High Quality Base + Clear Laguna Seca Blue Color($4000). Perfect O.Z. Superturismo GT 7x16ET43 Wheels($600) with Yokohama Prada Spec 2 Tires($450). Wheels Spacers. 2Bennett Upper Strut Shock Tower Brace($285). Pioneer DEH-P7200HD Deck with Infinity Speakers(6)($700). Sub and Amp wiring ran to trunk but nothing installed yet. One Piece Euro sloped Headlights with daytime lights($700). Tinted windows. Nicest Brown Cloth original interior I have seen. Adjustable Boost control in glove box. Battery in trunk. Original Floor mats. Drilled rotors all around. Stainless Steel Rear Muffler and 3 inch tip. Rare imported Chocolate Brown Leather Ivantolani Steering Wheel with 4 horn buttons($450-VERY RARE)matches interior perfectly. Momo Hub makes it look and work like original. Comes with Original Owners Manual, lots of receipts for above upgrades, etc.
Pics are at photo-bucket. Here is the link, or copy and paste it.
http://s120.photobucket.com/user/hoopster21/library/
find folder with the pics.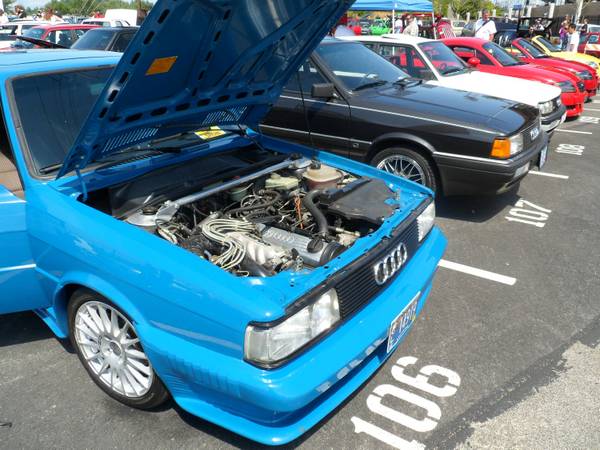 The car certainly has some desirable and some rare modifications; I'm not sure what the documentation on the claimed 1 of 1 Abt body pieces is, but they are certainly rare items. Despite generally being a fan of the Abt items, I can't say that I really get on board with this kit on the 4000 quattro; it looks to me out of place and overdone. Speaking of overdone, the BMW-spec color is great – on BMWs. Laguna Seca is a neat color, but again looks to me quite out of place on this 4000. The owner has shaved the rear door handles and added some badge engineering for those extra few ponies. Inside, we find the original chocolate cloth interior in good shape overall, and a rare and period correct steering wheel. The locking differential panel has been modified as well and now holds gauges. Those gauges and the "turbo" badge added to the interior hint towards what lies under the hood – a 1990 MC-2 spec 10 valve turbo from a 200 quattro with some tweaks mated to a 5000 quattro transmission for more highway-friendly gearing. With a 2Bennett coilover suspension the car sits lower than stock, and rolls on some OZ Superturismo wheels; again, nice wheels but out of place in my mind.
With nearly 160,000 miles on the clock, this 4000 isn't broken in by 4000 standards but it's also not the lowest mile example we've seen; and it's far from the most original. The seller has had several rare Audis come up for sale that we've shown, including the Ginster Yellow Coupe Quattro and Graphite Metallic Commemorative Edition GT; and like those cars, this 4000 is to me quite overpriced even considering the recent market re-alignment. Yes, it has some neat details, but to replicate the real Abt cars originally it would be running Centras or something period correct and be in a factory shade; that combination alone would boost the price. Though it's full of neat details, to me this car missed the mark by a long way and in the present state I would expect it's no more than a $6,000 car.
-Carter