I know, I know, this isn't German SUVs For Sale Blog, but this was too cool to not post. Short for Geländewagen (German for cross-country vehicle), the G-class was developed as a military vehicle, and served as the vehicle of choice for dozens of governments, and even Pope John Paul II. The G-wagen is recognizable by its boxy styling, which has remained essentially unchanged in its 30 year tenure. Featuring full frame construction, a torque monster 2.8L I6, low range gearbox, and three fully locking differentials, it makes for one of the most capable off road vehicles ever.
The G-wagen was eventually offered to the civilian market in 1979 and was offered in three models, the four cylinder 230G, the six cylinder 280GE, the four cylinder diesel 240GD, and the five cylinder diesel 300GD.  All of the power plants were based on the offerings from the W123 line. They were available in three different body styles; a two door open model, five door, and three door like this 280GE for sale in Bloomfield Hills, MI.
1984 Mercedes-Benz 280GE on eBay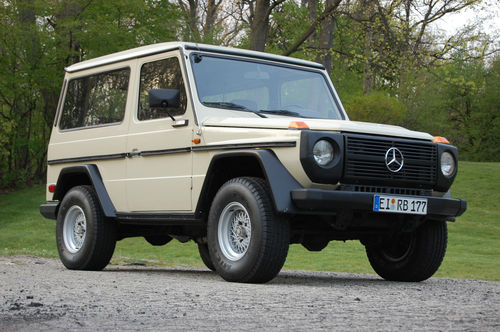 1981 Mercedes-Benz 280 GE

New Brakes
New Shocks
New Muffler
New Fuel Lines
New Brake Lines
New Battery
New Tires
New Mirrors

Reconditioned Original BBS Wheels
Aftermarket CD Player and Speakers
Refinished Exterior
Original Interior 4 Speed Manual Transmission No A/C

This is my personal 280 GE that I bought in February 2007. All of the paint work was done professionally at my shop Autobahn Collision. My wife wants to remodel our house so my truck has to go. Speedometer is not currently working. Feel free to message me with any additional questions you may have.

VIN: WDB46023217008913
While admittedly most of us here are not SUV fans, there are certain trucks we bend the rules for; classic Land Rover Defenders, G-Wagens and the Lamborghini LM002 just to name a few. This G-wagen is exactly as it should be, not a status symbol like the newer trucks, but an off roader like it was intended to be. The condition of this truck is cleaner than you'd expect from a 27 year old truck, with newer paint, and many other new parts, this SUV has been well cared for.
Average retail on these at about $12,000, with high retail around $17,000. Taking into account the maintenance work, new paint, and the rarity of these trucks, I could see this G-wagen going in the $14,500 range. No matter how you feel about SUVs, this truck is cool and is definitely a great alternative to a modern SUV. Besides, if it's good enough for the Pope, it's good enough for me.
-Brian