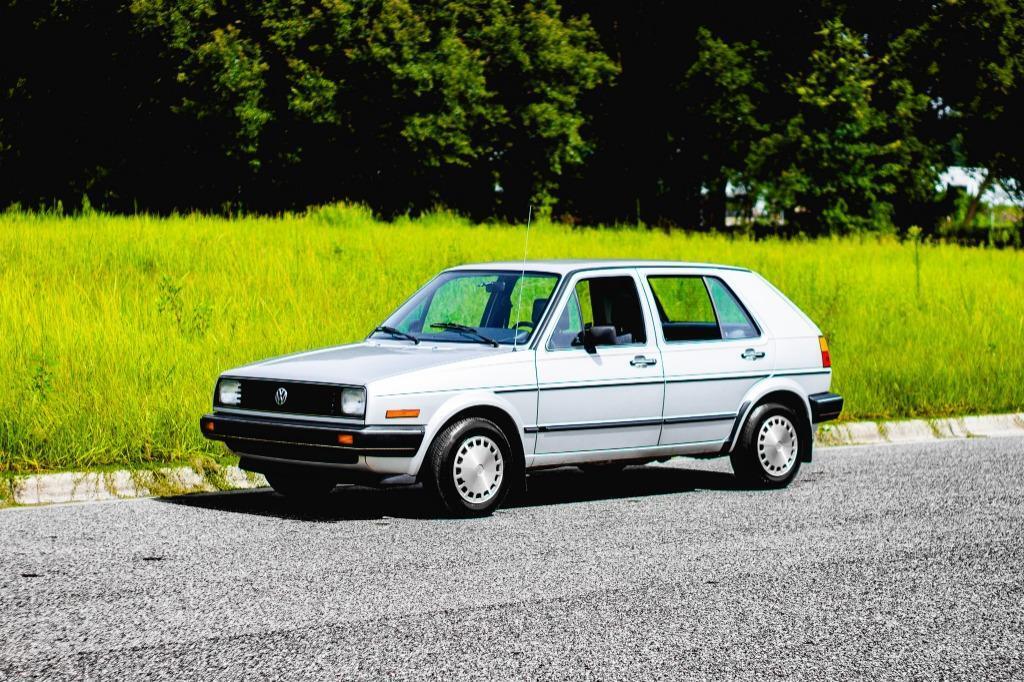 The '85 and '86 model-year Volkswagen Golfs were a bit unique, since the base and diesel models were manufactured in Westmoreland, Pennsylvania. There were minor trim differences, but the easiest way to spot them was the Rabbit-inspired sealed-beam headlights and unique grille. Unlike today's market, where the Golf has gone upscale, the launch of the A2 chassis for the US market saw the diesel Golf as the cheapest way to buy a VW – and the gas unit was only a hair more money. But they were fairly basic transportation; the 1.8 liter inline-4 GX motor was rated at 85 horsepower for adequate acceleration and fuel mileage. Interiors were basic tweed in a few colors, you had to option in things like a radio and power anything (including steering!), and they came with 13″ steel wheels. If you wanted more upscale, you either spent another $1,000 and bought a Jetta, or in 1986 Volkswagen added the Wolfsburg package to make you feel a bit more special.
Today's car is a fairly basic first-year US Golf that was ordered with an automatic gearbox and air conditioning. But the big story here is the low mileage, with under 30k since new. This isn't an everyday occurrence, since these cars were workhorses from new and not collector cars. And it sounded familiar to me, so after some looking sure enough – I checked it out a little over four years ago.
With only a few more miles on the clock since that time, but with the market for 80s classics having reached a new level, what does 2018's $10k asking price look like today?
1 Comment