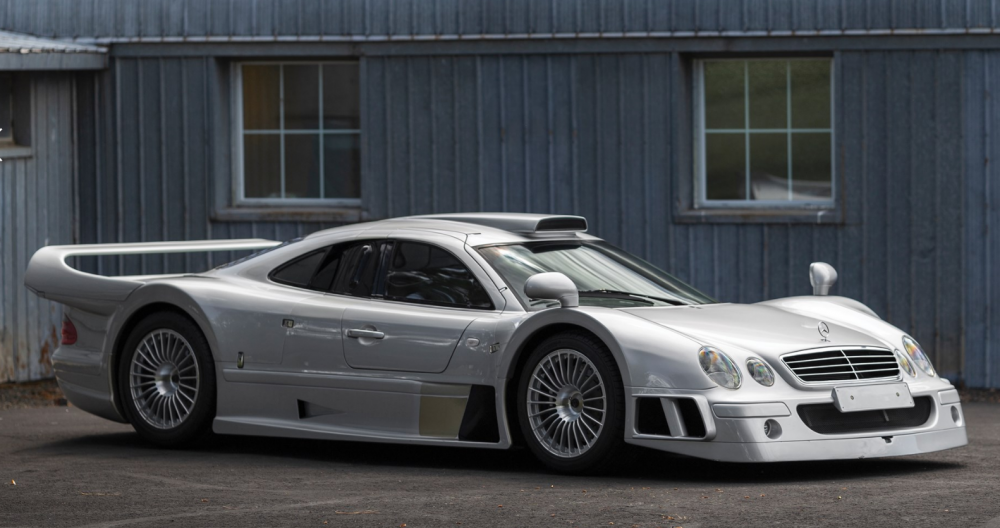 "The champ is here!"
This is it. The big one. One of the craziest road legal Mercedes-Benz ever produced and a car we probably won't see anything like ever again. The CLK GTR. The result of a homologation requirement from the 1997 FIA GT Championship, this CLK GTR, along with the Porsche 911 GT1, literally took grand touring cars and made them road legal. Only 35 CLK GTRs were ever produced by Mercedes and AMG. 26 of them being production cars, seven racing cars for the GT Championship and two prototypes. Out of those 26 production cars, six were roadsters that looked even wilder. All of them were powered by the M120 V12 borrowed from the W140/R129 chassis with 21 cars being 6.9 liter variants that made 604 horsepower and the five other cars, called CLK GTR Super Sport, using a 7.3 liter making 655 horsepower. All of these CLK GTRs used a 6-speed sequential manual gearbox with gears that were so loud that the radio was hopeless in trying to drown out the noise. How much did these cost when new? $1,547,620. If you are wondering, yes, that was the most expensive price for any production car at the time. Just to put that into perspective, that is $3,255,285 in July 2018 money, which is right where a new Bugatti Chiron is priced.
Now that we have all that out-of-the-way, let's get to why we are here. This 1998 CLK GTR is car number nine of 25 that was originally sold in Germany before being shipped to Hong Kong for a while before moving again to the US where it will go up for auction next month. It has just under 900 miles so it is safe to say this one didn't get out much but that just means potential buyers will likely have another reason to send the bid into another league. How much is it projected to sell for? Well, you can cancel your order for your Chiron and still need to head down to the bank to withdraw a few more million from your checking account.
8 Comments