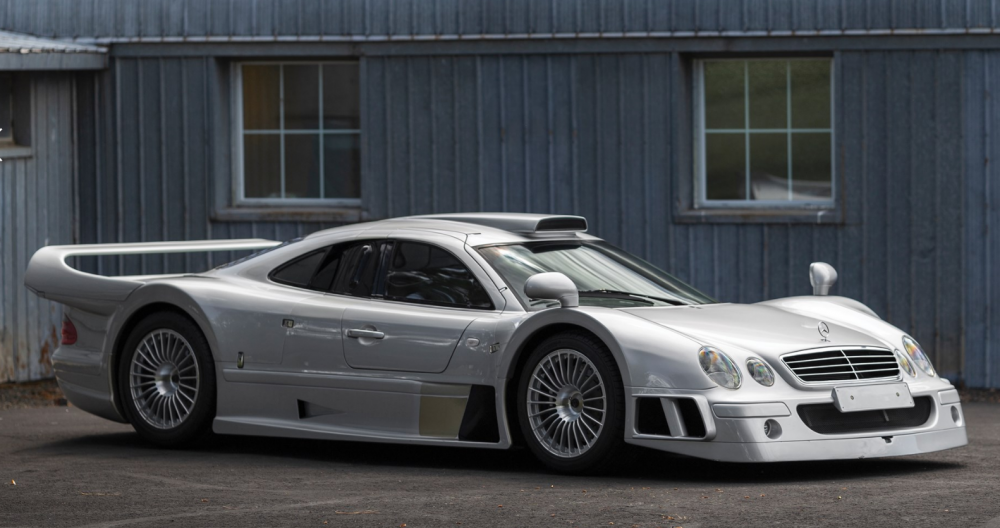 "The champ is here!"
This is it. The big one. One of the craziest road legal Mercedes-Benz ever produced and a car we probably won't see anything like ever again. The CLK GTR. The result of a homologation requirement from the 1997 FIA GT Championship, this CLK GTR, along with the Porsche 911 GT1, literally took grand touring cars and made them road legal. Only 35 CLK GTRs were ever produced by Mercedes and AMG. 26 of them being production cars, seven racing cars for the GT Championship and two prototypes. Out of those 26 production cars, six were roadsters that looked even wilder. All of them were powered by the M120 V12 borrowed from the W140/R129 chassis with 21 cars being 6.9 liter variants that made 604 horsepower and the five other cars, called CLK GTR Super Sport, using a 7.3 liter making 655 horsepower. All of these CLK GTRs used a 6-speed sequential manual gearbox with gears that were so loud that the radio was hopeless in trying to drown out the noise. How much did these cost when new? $1,547,620. If you are wondering, yes, that was the most expensive price for any production car at the time. Just to put that into perspective, that is $3,255,285 in July 2018 money, which is right where a new Bugatti Chiron is priced.
Now that we have all that out-of-the-way, let's get to why we are here. This 1998 CLK GTR is car number nine of 25 that was originally sold in Germany before being shipped to Hong Kong for a while before moving again to the US where it will go up for auction next month. It has just under 900 miles so it is safe to say this one didn't get out much but that just means potential buyers will likely have another reason to send the bid into another league. How much is it projected to sell for? Well, you can cancel your order for your Chiron and still need to head down to the bank to withdraw a few more million from your checking account.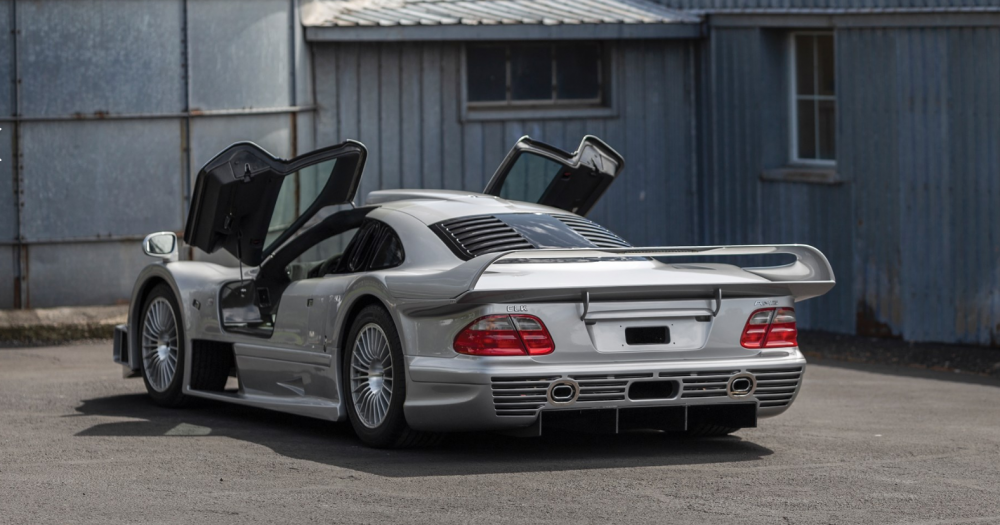 Year: 1998
Model: CLK GTR AMG
Engine: 6.9 liter V12
Transmission: 6-speed sequential manual
Mileage: 1,439 km (894 mi)
Price: Reserve Auction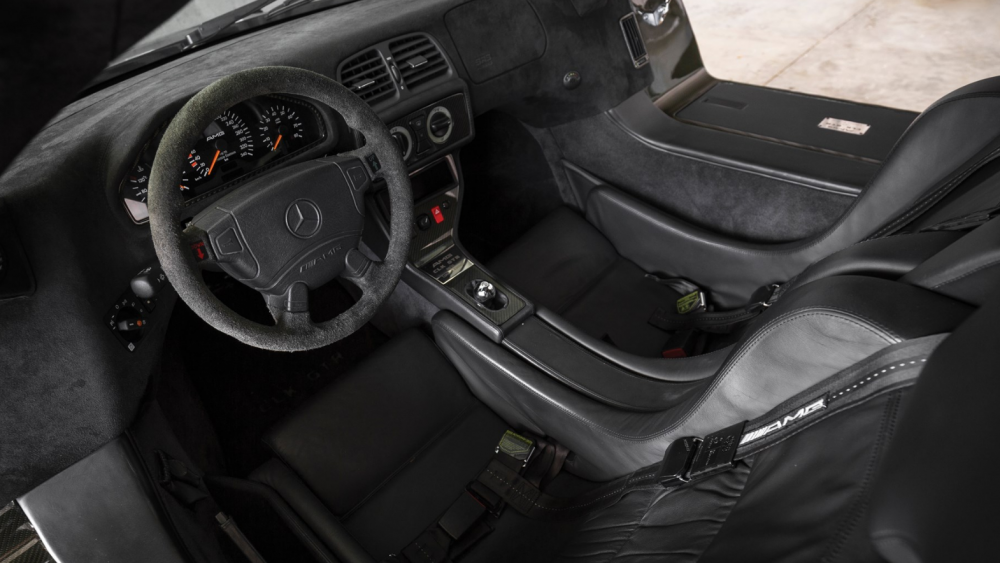 AUFRECHT, MELCHER, GROSSASPACH

AMG Motorenbau und Entwicklungsgesellschaft was founded by former Mercedes engineers Hans-Werner Aufrecht and Erhard Melcher in the late 1960s. The company's acronym was derived from Mr. Aufrecht and Mr. Melcher's names, as well as the town of Grossaspach, near Stuttgart, where they were headquartered.

After earning considerable respect tuning and racing Mercedes' durable engines, most notably in the European Touring Car Championship, AMG became an official corporate partner. Heretofore, the relationship between the two had been rather informal, with AMG supplying aftermarket upgrades for more discerning, performance-oriented drivers.

For the 1988 DTM season, however, the new Mercedes-Benz AMG team unveiled the sensational W201 touring race cars. The importance of AMG to Mercedes consequently increased, resulting in the acquisition of the tuning shop and the production of a limited number of AMG 190 E 3.2 road cars. At $90,000, the diminutive sedans carried an S-Class price tag and were capable of Autobahn-worthy speeds in excess of 250 km/h. This project evolved into the highly successful C-Class DTM cars that earned an impressive 84 wins in the 1990s. Such was the fabled start of AMG's entrance into production sports car manufacturing.

THE CLK GTR

By the mid- to late-1990s, however, there was ever-growing interest from Mercedes-Benz and Porsche to return to an ultra-exclusive form of racing, featuring homologated race cars in the tradition of the great Gran Turismo racers of yesteryear. The result was the FIA GT Championship, which commenced in 1997 to great fanfare and eager enthusiasm. Mercedes-Benz AMG would have to enter the top-level GT1 class and compete head-on with the astounding Porsche 911 GT1 and BMW-powered McLaren F1. In this sense, the upper echelon of FIA GT racing was essentially a battle between Germany's top three automotive competitors. In order to participate in FIA GT, however, 25 homologated road cars had to be produced by each manufacturer. Not surprisingly, these limited-production cars were instantly collectible and highly sought after.

The task was a monumental one; AMG had only four months to design, build, and test a viable and competitive race car and its road-going brother, with the intent of winning and doing so repeatedly. As there is no replacement for simple pencil and paper, the original designs were crafted as such and then perfected through the use of Computer Aided Design (CAD) before being translated into 1:5 scale three-dimensional clay models. Early in 1997, the proposed engine for the CLK GTR, a 6.9-liter V-12, was already undergoing rigorous testing from AMG's expert engineers.

By March of the same year, the other two components of AMG's three-pronged racing campaign were in full swing: the American CART series kicked off in Homestead, Florida, and the new McLaren-Mercedes MP412 made its debut at the Formula 1 Grand Prix of Melbourne, Australia, where its victory marked the first win of a Silver Arrow since 1955.

AMG, however, saved the best for last, as its mechanics worked round the clock on their most impressive product to date. Finally, only 128 days after the first sketches were conceived on paper, the very first CLK GTR took to the track in Spain.

Mercedes veteran Bern Schneider, along with AMG's young gun, Alexander Wurz, tested the car with extremely successful results. Norbert Haug immediately called Hans-Werner Aufrecht from the pits at the Brazilian Grand Prix to see how testing was proceeding in Spain. Mr. Aufrecht, grinning, understated the car's performance and said, "Er fährt . . . sieht gut aus" ("It runs . . . and looks good."). Needless to say, the project was green-lighted by Mercedes' board of directors.

The CLK GTR did more than just run well. After only four months, AMG had produced two race-ready CLKs and one homologated road version, with 300 prospective buyers eagerly waiting in line. This first CLK GTR for the streets was presented to FIA Head of Constructors Gabriel Katringer on Monday, 1 April 1997, only six days before its race-ready brethren would make their debut at Germany's home track, the Hockenheimring. Bernd Schneider not only picked up fastest lap honors, but also pole position in the CLK GTR's maiden voyage. After a slightly staggered start to the season, the new AMG supercars reigned victorious at the A-1 Ring, Suzuka, Donington, Sebring, and Laguna Seca, taking the team championship back home to Affalterbach, while Schneider secured the Drivers' Championship.

For 1998, however, the CLK GTR saw rather limited use, as the 630-hp behemoth was being phased out by its descendent, the CLK LM, which was conceived with the 24 Hours of Le Mans in mind. Race regulations and conditions at Le Mans required that Mercedes' entry receive certain upgrades in preparation for the world's most famous endurance race. Unfortunately, the race-proven M120 V-12 was replaced by another naturally aspirated engine, the M119 V-8. Surprisingly, the V-8 produced equal amounts of horsepower and was believed to be better suited for long-distance racing. Additional aerodynamic modifications were made in the way of a lowered roofline and nose and redesigned air intakes. Ironically, the two CLK LMs retired early in the race due to engine failure.

AMG returned to the FIA GT series unfazed, however, scoring six 1-2 finishes and securing the team championship, as well as the Drivers' Championship for Ricardo Zonta and seasoned Mercedes racing driver Klaus Ludwig. In 1999, the FIA GT1 class was cancelled due to lack of interest from Mercedes' competitors. As a result, Mercedes set about designing and building its CLR, a car that owed much of its design to the CLK GTR but was unrestricted by homologation requirements.

FIA HOMOLOGATION

McLaren's entrance into the FIA GT1 class required that its already outstanding McLaren F1 road car be outfitted in racing trim. By contrast, the AMG solution to homologation was quite the opposite. Instead of building a race car from an existing sports car, AMG set about creating an all-new GT1 contender whose homologated variants were essentially nothing more than road-going race cars.

As per FIA regulations, Mercedes ensured construction of 25 of these legendary machines, typically painted the historical German racing color: silver. AMG produced every car in Affalterbach, Germany, with minimal additional creature comforts, ensuring that each owner was delivered the next best thing to the race-proven CLK GTRs. Up front, next to the inboard suspension and radiator system, rested an air conditioning unit, while an anti-lock braking system was added for additional safety. The obvious lack of trunk space was slightly alleviated with two small storage compartments under each upward swinging door, while interior comfort was improved with leather appointments. Although no major aerodynamic changes were made, the car's rear wing was sculpted to fit the body more smoothly, and the front air dam was also redesigned.

Unlike the McLaren F1, the CLK GTR behaved like a bona fide race car on the street. Gear changes were lightning-quick, thanks to a paddle-operated six-speed sequential manual gearbox lifted directly from the GT1 cars. The mid-mounted 6.9-liter V-12 rested directly behind the driver, producing an utterly raw and menacing exhaust note. With the exception of four round headlamps and distinctive taillights, the CLK GTR shared little with its concurrently introduced passenger car, the Mercedes-Benz CLK.

CLK GTR 09/25

This exceptional CLK GTR is the ninth of only 25 examples built, of which 20 were coupes. It was first delivered to its original owner Hermann Eschmann in Gummersbach, Germany. Eschmann owned the car until 2005 when it was sold to the former owner and exported to Hong Kong. The car remained overseas in a private collection for 12 years until it was acquired by the current owner and imported into the U.S. Prior to import, the GTR was thoroughly inspected by marque expert Marc Kienle of Kienle Automobiltechnik on 29 March 2017, the report for which is included on file. His inspection outlines that serial no. 09 remains all original, including its original body, engine, and drivetrain. Furthermore, a comprehensive paint analysis was performed and determined that the GTR wears all of its original factory-applied finish. Though the car was fitted with an aftermarket front belly panel, the original carbon fiber panel was retained and stored for safe keeping to avoid marring during transport and is included. Additionally, the GTR had just been serviced with a new fuel bladder and filters and was showing only 1,439 original km at the time.

Imported to the U.S. under the Show or Display exemption at the end of 2017, the CLK GTR was entrusted to J.K. Technologies to perform the requisite import and federalization procedures, which were ultimately completed in April 2018. Invoices and records for this process are included on file. The conversion work by J.K. Technologies remains under limited warranty for EPA and DOT compliance so far as the car is driven on public roads for display purposes and is otherwise not raced or modified. Furthermore, J.K. has offered to assist the new owner with transferring the Show or Display allowance to the next owner.

Included with the CLK GTR are also its original AMG SPS tool chest, original owner's manuals and service booklets (in German and English), SPS service documentation, manual folio, original spare keys, and first aid kit. The car also retains the original air compressor and tanks, hazard triangle, and torque wrench, should you ever need to fix a flat on the concours field.

As presented, the CLK GTR is the closest a road-going car will ever come to its race-ready sibling. Its performance figures are downright mind-blowing. Considering its status as one of the rarest German sports racing cars ever produced, it holds true to the valued traditions of homologated GT racing and has cemented its place in history as an instant classic among classics.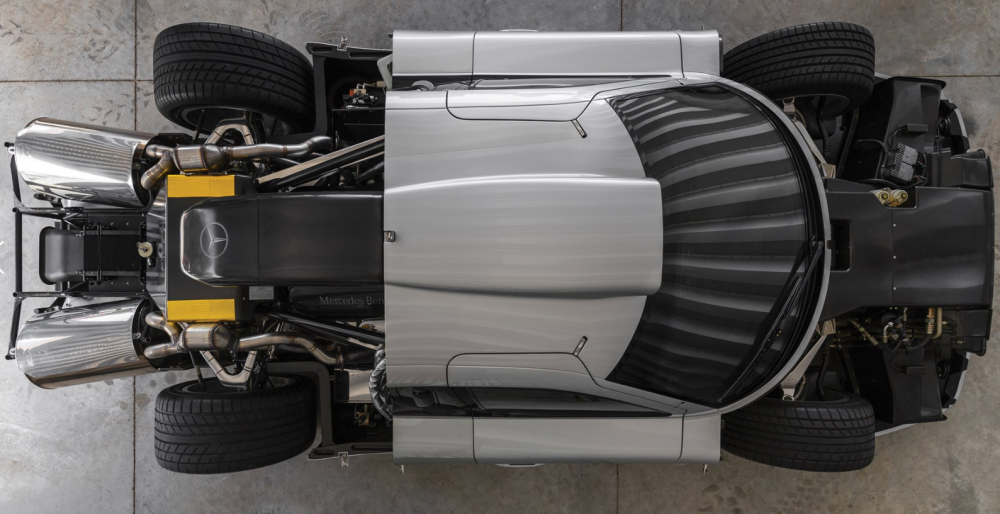 To say I am excited about this car is an understatement. I think there are only a few of these in North America and with their recent price explosion, it might stay that way. For a number of years, if you could find one of these for sale or at an auction, you were able to swing one for under for a million. At the time, that was really expensive but very few used, modern cars were bringing that kind of price tag and it was before the era of the modern hyper car. More recently, a coupe sold for 1.1 million at auction in 2012 and a roadster hammered at 2.3 million in 2015. Last year, another coupe was for sale in Germany for 2.7 million and I assume it sold for around that. Was is this one predicted at?
RM Sotheby's has an estimate of 4.2 to 5.2 million for this car when it heads to auction next month. That surely will be the next high water mark for the CLK GTR and I can see why. It is all about rarity and exclusivity when buying these cars now and the back story of it being a FIA GT Championship winner only makes it that much sweeter. The thing about this car is it probably is going to be a show piece from now on because of its crazy value and very low miles as it isn't worth it to actually drive on the road anymore. Surely if a buyer can afford over 4 million for a car, they have plenty of other cars to get their kicks from, so it isn't a big deal if it sits. I know I can't wait to see what it sells for and here is to hoping another one comes up for sale soon as well.
– Andrew