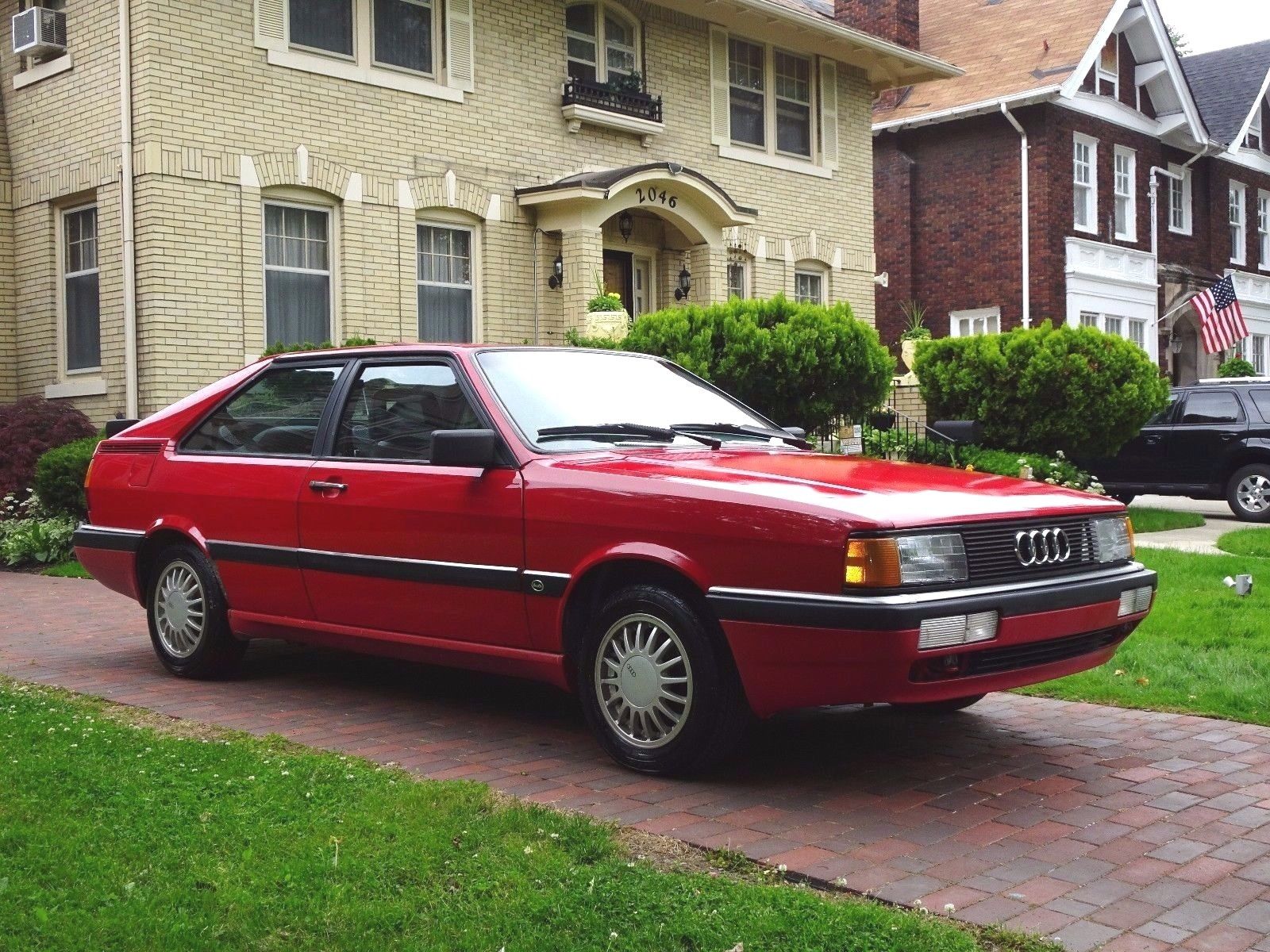 Edit 7/2/2017: This car has dropped to a $3,000 Buy It Now
The 1987 Audi Coupe GT is an interesting bird. Well, to be more precise, 1986 and 1987 Audi Coupes were a mixed bag and there are always little details that are interesting to see. In 1986, Audi offered the Commemorative Design model Coupe GT, which offered no performance upgrades but was a neat looker with unique red leather interiors. One of the other items the GT had which the 4000CS quattro Commemorative Design didn't was a digital dashboard. The lower center panel, which normally had three VDO gauges, instead held a VDO electronic display with only oil temperature and a voltmeter. There was no oil pressure gauge. Where the normal dash held analog gauges, instead the Commemorative Design had a three pane electronic display. On the left was a increasing scale tachometer with a lower section readout for the (standard on electronic dash) trip computer. The center display held the speedometer and the odometer only. Below were the standard array of warning lights. On the right, the display had a fuel reading up top, temperature gauge up amidship and a clock below. The trip computer's toggle functions allowed you to swap the dash readout between U.S. and Metric settings – always fun to surprise passengers when you announced you were cruising at "130" and comment on how quiet the car was. Using the dimmer switch, you could also engage "Night Mode", which would drop all but the speedometer display off the dash. Should a warning light appear or the fuel level get too low, the car would automatically revert to the full dash.
Was it a gimmick? Sure, but it was the 80s, and it was pretty damn cool at the time. Of course, it wasn't as cool as the full talking dash available on European Quattros, but we take what we can get, right?
The interesting part came in that the "digidash" was supposedly limited to the CD models. It was not. There was a strange allocation of '86s which also were built with the dash. In 1987, you had to get the later "Special Build" Coupe GT to get the digital, and slightly different colored, experience, right? No again, as randomly some early 87s had the 86 digital dashboard, too. This Tornado Red example is one of those latter examples: