The Ford F-Series and Chevrolet Silverado have been at the top of the list of best selling vehicles in the US for years. It's no secret Americans love their full sized pickups, but what if you live in the US and don't necessarily need the stump pulling torque and four-wheel drive many of these trucks offer? What if you just want something that offers utility, a cab that seats more than two (or three in some cases) but you still need a traditional, large truck bed? Your choices are slim. Compact pickups are disappearing from the landscape faster than a pack of smokes at an Alcoholics Anonymous meeting. Many of the versatile work vehicles offered around the world were not sold here, largely due to the chicken tax imposed under President Lyndon B. Johnson which slapped a stiff tariff on importers of light trucks.
So what to do, then? Well, we've seen a few Volkswagen T3 Transporter single and double cab variants crop up from time to time here at GSFSB, but this is the first time we've seen the workhorse version of its successor, the T4 Transporter. This T4 Transporter DoKa, or double cab, is on offer in British Columbia.
Year: 1992
Model: Transporter DoKa
Engine: 2.5 liter inline five
Transmission: 5-speed manual
Mileage: 237,510 km (~ 148,500 miles)
Price: Reserve auction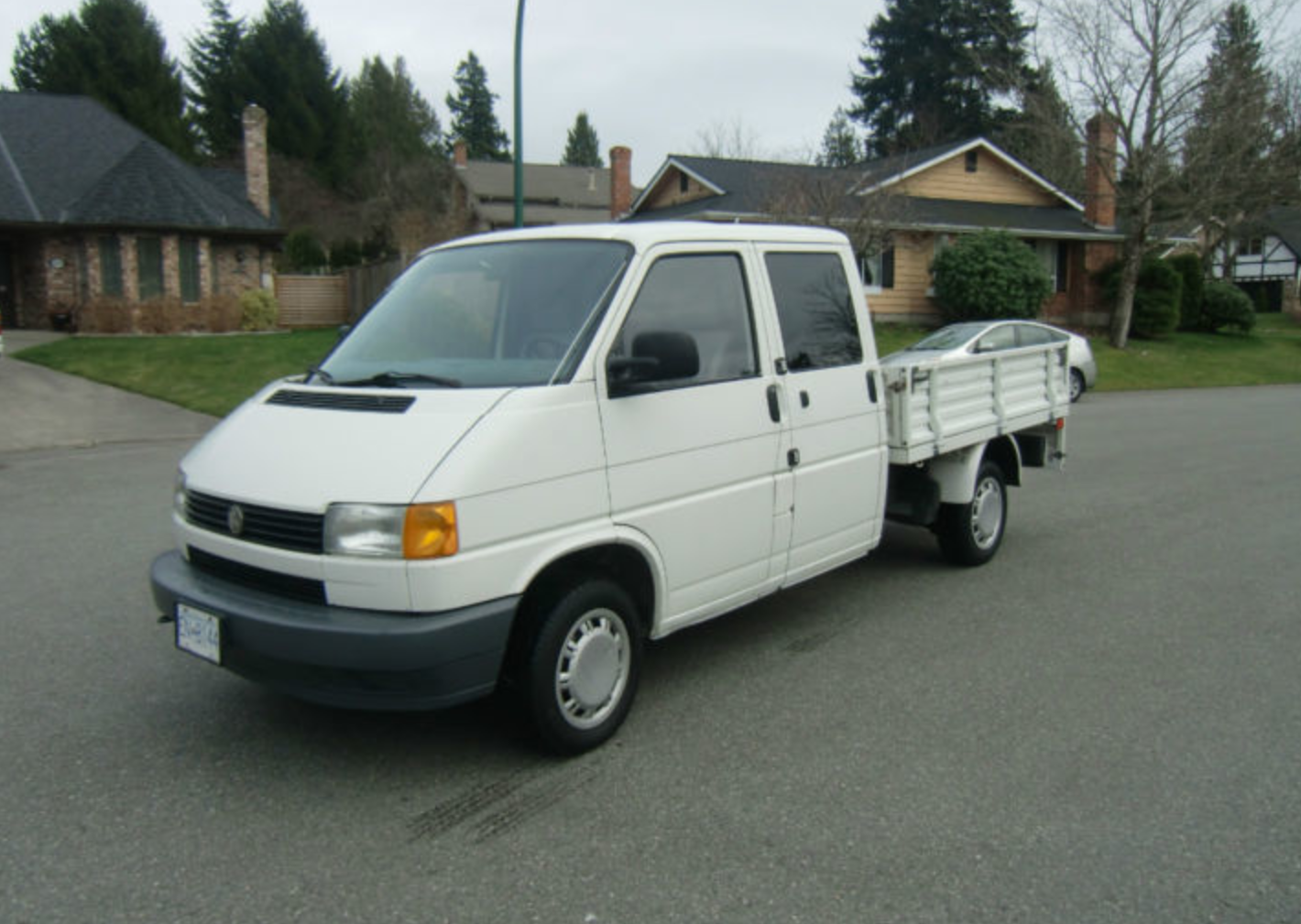 This 1992 VW Transporter Double Cab (Doka) is very rare in North America. Research indicates that only 22 were imported and all of those went to Canada. No Double Cabs of any other year in the VW T4 model run (1990-2003) were imported. Drivetrain and some body parts are readily available in North America as it was imported under the name Eurovan as a camper and passenger vehicle. This truck has the all-important USEPQ compliance sticker under the hood meaning that it can legally be exported from Canada to the USA.

This vehicle was first owned by a VW dealer in Victoria, BC and used for parts delivery. The next owner used it for his contracting company on Vancouver Island and the third owner also had a small contracting company located in Vancouver, BC. It spent its life in West Coast conditions with no salt used on the roads and shows no rust anywhere. The speedo reads in Km and shows 237,510 which is about 148,500 miles.

It has a few small dings and scratches in the original paint from its use over the 21 years but is very clean inside and out. The windshield and all other glass is perfect. It has a new wooden deck (Fir) which measures 6' wide and 7' long. Both sides and the tailgate fold down for access. With seatbelts for five, it can carry the whole crew. The rear seat can be removed for carrying tools etc.

The 2.5 litre in-line 5 cyl gasoline engine runs great and the 5-speed manual gearbox and clutch operate as they should. It is unusual in that it is a front wheel drive pickup truck. In Europe these trucks are known for being very rugged and lasting over 400,000 km. It has excellent Michelin tires, new plugs, cap and rotor and is ready for the road.

It is located in Vancouver, British Columbia, Canada but with proper documentation I can arrange exportation and shipping to the US at the buyer's expense.
This is another one of those cars that is hard to price, as they aren't uncommon in other parts of the world but are pretty much unobtainable in North America. The 1990 T3 single cab turbo diesel we featured earlier this month wound up selling for $9,500 after 33 bids. While this T4 adds a bit of versatility with the double cab, some may prefer the "wasserboxer" flat four engines, or the diesels that were available in some, like the one we featured. While it is being auctioned with a reserve, I'd suspect this car might bring $12,000 to $15,000 at the high end, considering the mileage is closing in on 150,000.
-Paul