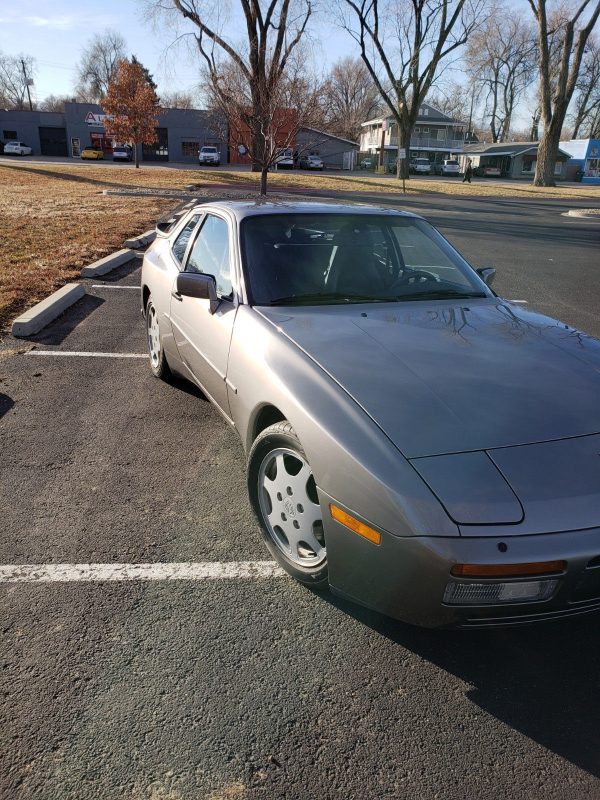 Update 1/17/19: This '88 944 Turbo S has been relisted at $27,000, down $2,000 from December.
Here's an interesting one. At first glance, you'd be forgiven for thinking that this was one of the very special and very limited 'Silver Rose' 944 Turbo S models. All painted in unique Silver Rose Metallic (F1) with multi-tone maroon studio cloth, and ushered in a long list of revisions to the standard Turbo. The new option M758 "Turbo S" included a new turbocharger with redesigned vanes and a remapped DME which increased boost to a max of 1.82 bar. The resulting M44/52 had 30 more horsepower and 15 lb.ft torque to a max of 247 and 258, respectively. But the "S" package was far more than just more boost, as the cooling system was revised, the clutch and transmission were beefed up with hardened first and second gears.
Brakes were borrowed from the 928 S4 and now measured 12″ in front with four piston aluminum calipers. Wheels were Club Sport 16″ forged, polished and anodized units measuring 7 inches in front and 9 in the rear. Suspension was also beefed up with the M030 package; this included adjustable rebound Koni shocks and adjustable-perch coilovers in front. Limited slip differentials (Code 220) were not standard, but a must-select option. So too was a beefed up radio.
But the interesting thing about this particular car is that it's not a Silver Rose. The original purchaser of this car ticked the $5,510 option box for the Turbo S M758 options, then paid a further $685 to have it painted Stone Gray Metallic:
3 Comments