Possibly my favorite car of all time, the 1984 US Spec Rabbit GTI is just an all around fun car to be behind the wheel of. The 94bhp Bosch CIS injected four cylinder is certainly not an autobahn burner, but coupled to the quick ratio 5-speed gearbox, it's a quick little car that can surprise a lot of others off the line. Unfortunately, it's all over by the time you hit 40 mph, but at least you had your moment of glory.
The true magic of the GTI isn't in a straight line, rather in the twisties. These cars were made for corners and when pushed to the limits remain poised and confident. Push them a little further and you'll get a slight lift from the inside rear wheel as a gentle reminder that you're approaching the limits. I've said it before and I'll say it again, the Rabbit GTI is by far one of the most fun cars I've ever driven, which is why I keep one in my garage at all times.
This well kept silver over blue GTI for sale in Calhoun, GA would make a great addition to any German car collection.
Year: 1984
Model: Rabbit GTI
Engine: 1.8 liter inline four
Transmission: 5-speed manual
Mileage: 106,000 miles
Price: No Reserve auction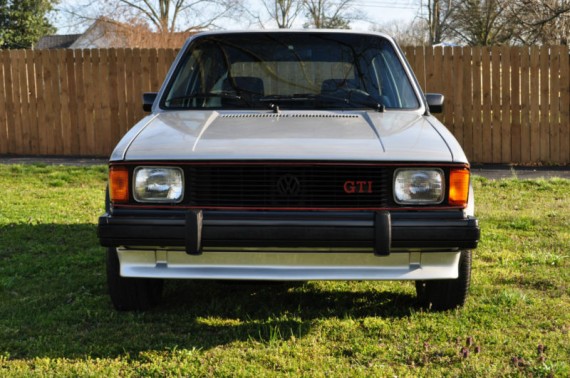 First of all, I cannot say enough about the excellent condition of this car. I have personally been a VW mechanic and enthusiast for 15 years and bought this car to be part of my collection just a couple years ago. When I ran across this car I was shocked at the over all condition.To start with its a very original, unmolested, rust free example. (Folks, the battery tray in this car isnt even rusty!)

Its easy to see that this car has been "adult" driven and taken care of. The car is very tight in all respects. The doors etc. open and shut like they should, and the car drives straight and true. There is no suspension noise whatsoever and the shocks/struts feel great. The clutch, shifter, and transmission operate flawlessly. In driving the car, its easy to notice that this one hasnt been abused. The odometer reads 106K and works.

The body of the car is as straight as can be. Upon purchasing I decided that the car needed to be "preserved" just the way it was, so, thats what had to happen. While I liked the original, sunburnt paint on the car, I knew that it something should be done to preserve it. I started by dismantling the car and taking it to the body shop. The car was properly prepped to accept clearcoat and was sprayed with PPG concept clear. I then had the trim re-dyed (not painted) and had the bumpers media blasted and painted with all of the associated hardware and brackets. I spent a great deal of time cleaning the grill and embelms and re-installed with new hardware. The headlights, turn signals, and tail lights are all NOS. While in the process, I had a new windshield installed. I used new window seals in the doors where necessary.

As far as the interior goes, the carpet is original and in very nice shape. I installed a new headliner and cleaned/detailed things a bit. The dash is nice, clean, and without cracks. I sourced a NOS shift boot and "golf ball" shift knob just for the cause. The seats are nice, vibrant and without any rips or stains. How long has it been since youve seen Rabbit Gti seats that were this nice????

Since the original wheels were in such nice shape, I decided just to leave them alone. The tires have a good %50 tread remaining. Mechanically the car is original and unaltered. Everything works as it should. I have installed a new fuel tank and pump recently. The engine doesnt rattle, smoke, or use oil. All of the motor mounts are tight, and in place. The transmission shifts great with no syncro grind or roaring. I converted the AC to 134a and it cools great. The heater works just as it should also. To make a long story short, the car really is a pleasure to drive and isnt a project like most of that are on the market today. Everything on the car works well and I really wouldnt be afraid to drive it anywhere.
This car has seen a mild restoration with regards to the finishes, which is certainly necessary for a car that has been abused by the sun for almost 30 years. While I understand the idea behind it, I feel like it would have been better either left alone or resprayed to silver, not the half way approach. That aside, this is a beautiful example of a well preserved GTI.
I like that the seller has this car for sale at no reserve to let the market speak. I think that when the market does speak, this car will see $6,500 to $7,000 when the perverbial hammer falls. These cars are great collectables and in this condition it's a great driver too. If I had the cash and the space, I'd be all over this.
-Brian