Probably one of my favorite cars of all time, the 1984 GTI is the most fun you can have behind the wheel of a car. It's peppy, nimble, and gives every bit of feedback you could ever want when driving it towards its limits. Finding a nice original car these days is becoming harder, as most of these cars were cut up to meet tuning trends over the past 30 years.
With a black exterior, and a rip free red interior, this '84 GTI for sale in Elgin, Minnesota is the poster child for '80s awesome.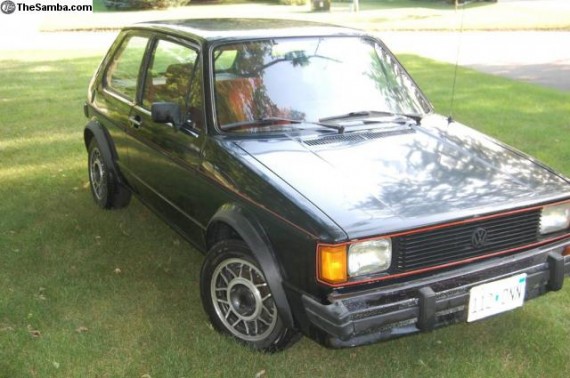 1984 VW Rabbit GTI – MK1 – 90K miles
Original 1.8L engine and 5 speed transmission Excellent condition, mostly original car Starts right up No interior rips No dash cracks Headliner is not sagging Map pockets are not ripped Package tray intact Excellent tires – about a year old Previous owner had the bottom end of the motor rebuilt (receipt included).
Modifications (done by previous owner): Neuspeed throttle body and intake Oversized valves    42mm Intake    35mm Exhaust Aftermarket radio with MP3 input – fit in original dash, not cut.
New brakes, fuel filter, muffler, passenger side axle / CV joints (driver side included)
Extra parts included : Drivers side axle w/ CV joints Front bearings Front hubs Rear shocks Rear drums Thermostat AC Belt Tach resistor
The good: The car starts right up and runs great. I drove this car to work daily. Interior and body are in great shape for it's age Almost completely original Strut towers are rust free For MN people, the tabs were renewed last month Clean title
The not so good: The car is not flawless, it is the original paint from 1984 Front wheel bearings are shot. New bearings and hubs are included. Some wear on seats and discoloration on dash – normal for a car of this age. Interior shifter boot is ripped. Muffler was replaced, but the car is still a bit loud. Tach doesn't work, but the resistor (most common cause) is included. AC belt is not hooked up, so I do not know if the AC works. A new belt is included. All AC parts appear to be there. Some rust around the hatch window Normal paint cracking, scratches, dings for a car of this age
Why am I selling it? I am just not able to do the work that the car needs anymore. I hate to see it go, but after two back surgeries my car-tinkering days are over. As you can tell by the list of parts included, I intended to dothe work myself. I have to give up the hobby.
The car is garaged and I strongly suggest that you come see the car in-person to make sure that it is in the condition that you are looking for. I do not want to sell the car sight-unseen if possible. I want the next owner to enjoy it as much as I do. There are lots of pictures available so that you can get a good look at it before you come. I can take more pics upon request.
There are 30 photos here – http://imgur.com/a/RkQt5#0
If you pay with PayPal, I have to add a 2.9% fee that PayPal takes from the transaction.
Please email with any questions. I am happy to answer!
This is a great car, and the main reason is that it's complete, and unmolested, 2 factors make this a rare bird. This car is a great deal, and is priced to sell at $2,950, prices that low on these cars are generally reserved for total basket cases.  Nice, clean and complete cars like this generally command upwards of $5,000 to $6,000. With a few parts and a lot of elbow grease, this would be a great car to add to a collection.
-Brian