The United States isn't the best place to live if you are a foreign car enthusiast. The Environmental Protection Agency, Department of Transportation and Customs and Border Protection see to it through draconian regulations that interesting collector vehicles newer than 25 years of age can not turn a wheel on this soil. So then, Freedom of Car Choice is not something you will be seeing on the Bill of Rights anytime soon.
But, there is a small consolation. Vehicles from 1986 are now legal in this country, since they are over the 25 year old mark for legal importation. About two weeks ago, I featured a rather rare Mercedes-Benz 280SL with a 5 speed manual, but I lamented the fact that it didn't include the later M103 inline six that saw duty in the revised 300SL that debuted in 1985.
Well, for anyone feeling bold, here's a chance to have your very own 300SL via a seller in Augsburg, Germany.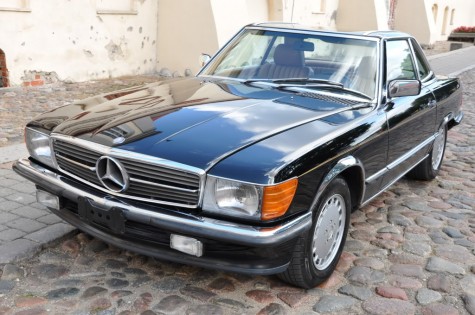 77 pictures can be found in the photo gallery: http://s1233.photobucket.com/albums/ff399/300sl1986/

You are bidding on a R107 300SL in excellent condition. The vehicle was imported from the USA to Germany. The engine and transmission work is done very well and the vehicle is cleared and has German TÜV (inspection). The hood is in mint condition. The Mercedes has 103,221 miles (166118 km) on the odometer. The vehicle has a hardtop, the seats are very nice. All the carpets are clean and the air conditioning works. Electric windows, heated seats and electric antenna. Non smoking vehicle.

The car must be picked up within 7 days of auction end. 10% of the final price must be auctioned within 3 days after collection before auction end will be transferred to my account. No guarantee. The SL can be inspected before bidding.
I find it interesting that this SL was imported back to Germany from America, but it's not too surprising, since a lot of gray market Mercedes-Benzes found their way stateside in the 1980s. This car is very attractive to me, because it eliminates a lot of the running costs associated with the larger V8 560SL, but retains all the classic looks of the R107. These vehicles weren't all about speed to begin with and even with the 3.0 straight six, you won't be lacking for power. Also, any vehicle that can pass Germany's stringent Technische Überwachungsverein (Technical Inspection Association) tests is sure to be in decent enough running order. In sum, this is one classy looking roadster with a legendary model number on its trunk that is capable of offering many more miles of fun.
-Paul