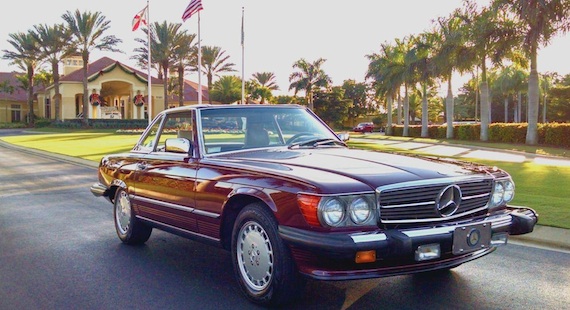 Two Mercedes-Benzes have been capturing the attention of collectors as of late. The high-performance W124 500E/E500, overlooked for years, is finally getting its due respect. Alongside that sedan with sports car poise is the last of the R107 roadsters, the 560SL. Seeing where values of prior SL generations have been headed, it seemed like it was only a matter of time before prices on good examples of this V8 roadster started to creep upwards. The R107 had one of the longest production runs of any Mercedes-Benz. The 560SL was the capstone model in the US to celebrate its departure before a new SL would debut for a new decade. This 560SL strikes a good balance between museum piece and driver, with reasonable miles for its age and records dating back to 1989.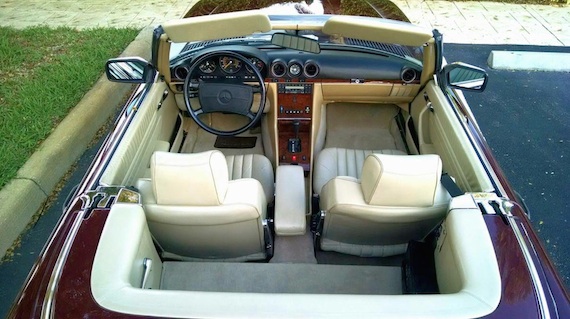 Year: 1988
Model: 560SL
Engine: 5.6 liter V8
Transmission: 4-speed automatic
Mileage: 85,442 mi
Price: $18,900 OBO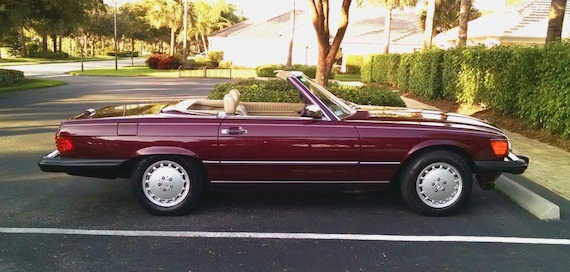 1988 Mercedes-Benz 560SL. Enthusiast owned. Pristine, maintained "by the book", fully documented, no accidents and zero rust car.

Up for sale is this beautiful 560SL with 85K actual miles on a rather rare color combination, which in my opinion, sets it apart from similar SL's out there.

This SL is spectacular (pictures don't do it justice); people aproach you at gas stations, kids wave at you from the rear seat of SUV's while their parents turn their heads when you drive by.

The engine purrs smoothly at idle … until you floor it and the massive 5,6L V-8 pushes your head backwards while the beautiful tune of pure naturally aspirated German muscle fills the cabin. So much fun!

Features that make this car stand-out from the rest are as follows:

– The car is ALL ORIGINAL, including paint, leather, carpets, dashboard and unused first aid kit.

– Chrome is shiny like day ONE. Rubber looks new.

– Original wood is spottless and it is not faded like most other cars of this age.

– Factory wheels look fresh with absolutely NO curb rash or pitting.

– Freezing cold A/C.

– I have every maintenance and history record dating back to 1989. This includes the original window sticker.

– The car comes with all owner's manuals and tags from when it was purchased new at the dealership.

– Original tool kit included.

– Original soft top (not aftermarket) that came with the car when new. In GREAT shape.

– Original hardtop, used only ONCE since car was purchased new (for the photos on this ad). Not one scratch on it. Includes original wheeled storage rack and its original roof storage cover.

– The car comes with a custom car cover (cut to fit), which is the main reason why the original paint job has been preserved so well. The photos don't do it justice.

– Also included, is another cover for the soft top, which has been barely used as the car is always stored indoors.

– Original set of FOUR keys included.

– This 560SL was wired for a Mercedes-Benz battery tender, included with the car. Installed at the dealership (with receipts).

– The factory Becker radio was retrofitted to play MP3 files from I-Phone, Android or similar device. This was done at the Mercedes-Benz dealership as well (with receipts).

– Virtually new Good-Year tires with 95% thread left.

– Maintenance done per owners manual, always at the dealership since new. Recent service includes thousands of dollars spent on new timing chain, cam shafts, bushings, tie rods and of course fresh fluids and filters. I have receipts for everything.

THIS 560SL HAS BEEN BABIED FROM NEW AND MONEY WAS NEVER AN OBSTACLE TO KEEP HER IN TOP MECHANICAL AND COSMETIC CONDITION.

This is a turn key car, ready for 30 more years of happy motoring.

There are three minor items that could be addressed by the new owner. I have not fixed them as they do not bother me at all:

1. There is minimal cracking on the dash (pictured). Not very obvious but it is there and I do not plan to cover the factory dash with a cheap dash cap.

2. A small dent, about 0.5 inch in diameter on the front bumper. Does not show in photos.

3. Minimal clear coat fading, about 1 inch in diameter around the top side of the front right fender. I tried to take a photo of it but it does not show on the camera. Chances are some light sanding and buffing will make it go away.

Please feel free to contact me with more questions if interested in the car.

I DO NOT NEED HELP SELLING IT, SO DO NOT MESSAGE ME TO OFFER ANY SERVICES OF THAT NATURE.

Thank you for looking at my ad.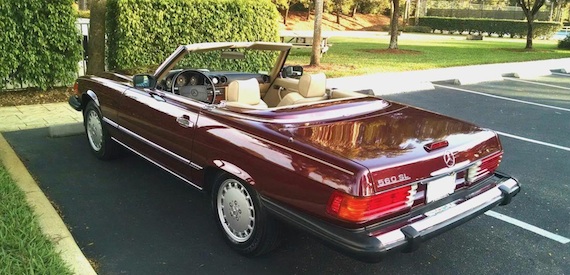 Cabernet Red is one of my favorite hues for the R107, as it lends a refined look without being too muted. This is, above all else, a roadster and as such, one would normally prefer a more playful color. As this car closes in on 30 years of age, it's rather remarkable that it has stayed mostly original. There's a few minor flaws expected with such use, but the seller is rather up front about these issues. This isn't being marketed as a museum piece, but rather a 560SL that has been well-kept over the years and one which could be enjoyed as intended. It's these kind of cars that I appreciate more so than the garage queens that people store away for investment purposes.
-Paul