A couple weeks ago we featured an 1984 500 SEC AMG. While it was a great low mile example of 1980's tuning, it was far form attainable at a $64K asking price.  Enter the logical alternative, the 560 SEC.  While not equipped with all of the AMG goodies, this 560 SEC is arguably a much better car. With the more powerful 5.6l V8 (279bhp and 317lb/ft) and oozing with luxury options the 1988 560 SEC was the highest evolution of the W126 coupes.
This black on black beauty for sale in Charlotte, North Carolina is a tribute to Mercedes Benz class and luxury.
Year: 1988
Model: 560SEC
Engine: 5.6 liter V8
Transmission: 4-speed automatic
Mileage: 134,180
Price: $15,995 Buy it Now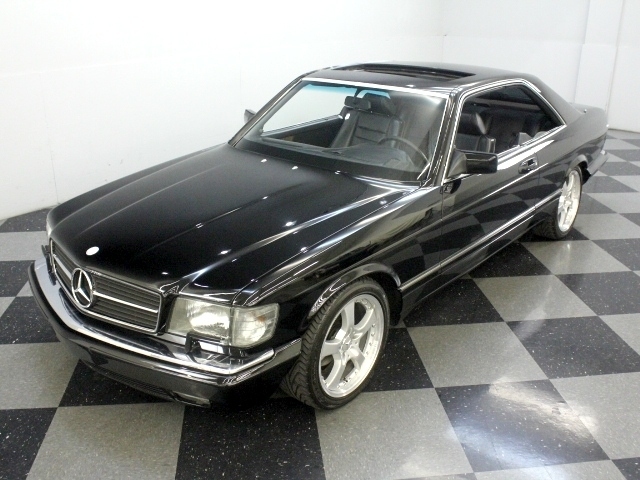 In the late-80s, the heaviest of heavy-hitters was the Mercedes-Benz S-class, with the dramatic 560SEC coupe at the very top of the hierarchy. Stunning luxury machines like this black-on-black 1988 example could hammer the Autobahn all day at triple-digit speeds, coddling their occupants like no other car in the world. Fresh off a recent service by a Mercedes-Benz dealership, this one is ready to impress today.

Few cars have a more commanding road presence than an S-class Mercedes, especially in sinister, inky black. With a recent paint job, this one doesnt look 24 years old, now rejuvenated and beautifully preserved thanks to an enthusiastic owner. The big coupe has style in spades, with a dramatic hardtop profile and sleek lines that definitely announce that this big Benz takes no prisoners. In typical German fashion, the design is restrained and the clean lines minimize the cars size, but theres no denying that this is a lot of car hammering down the road. A few bits of chrome, like the surround for the window opening emphasizes the cars best attributes, and theres just no mistaking the big 3-pointed star up front that moves lesser traffic out of the way like a snow plow. Experts will note subtle modifications like the clear parking light lenses and smoked taillights, both of which seem to further enhance the sleek shape.

Inside, the S-class got every luxury and convenience item Mercedes engineers could imagine in 1988. Power leather buckets are firm and supportive and in shockingly good condition considering the age and mileage on this coupe. Gorgeous door panels feature different materials and shapes that helped Mercedes break out of its cold, impersonal interior look, and the burled walnut on the center console warms it up inside nicely. White-faced gauges are a modern twist on the clear instruments Mercedes always offered, and theres a massive stereo system featuring a Kenwood head unit, speakers fitted throughout the interior, and a big subwoofer in the trunk. Heated seats, climate control, power windows, and a sunroof are all included, making this a first-class luxury liner.

The 5.6 liter V8 under the hood is one of Mercedes most reliable units, capable of running for hundreds of thousands of miles with little more than basic maintenance. Torquey and smooth, it moves the big coupe with the effortless ease of an electric motor, and the relentless push of torque makes it feel like it could accelerate forever. Beautifully maintained, the engine bay is spotless, from the big chrome air cleaner lid to all the hoses and wires that comprise what was, at the time, the worlds most technically advanced automobile. Obviously, someone loved this oneA LOT. Its the same deal underneath, where theres a 4-speed automatic with syrupy smooth shifts and a fully independent suspension that soaks up bumps like a hovercraft. Oversized 18-inch AMG wheels look simply awesome, and wear 245/45/18 performance radials.
Back in the late 80's this was the car that you drove when you wanted to say "I have arrived".  Whether on the stock market, rap game, or slinging coke this was the car that you drove when you made it big.  The one thing that  love about this car is that 25 years later, it says the same thing, except now you're a connoisseur, making this the perfect car to set you apart from the AMG driving "new money".
This car is priced fairly considering it's well kept and has only traveled a scant 5K miles per year its whole life. I'd be interested to see the ownership history and some maintenance records, but mainly for my own curiosity and piece of mind.  Considering the quality Mercedes-Benz puts in to their cars, it's no surprise that 25 years later this car will scream "I have arrived."
-Brian