Warning!
This post is in our archives. Links in this post may have been updated to point to similar cars available to bid on eBay.
The limos that have come through our pages before always attract a very specific type of buyer. They are a hard sell. The types that can afford a limo usually want a brand new one for status points. Old limos often show signs of abuse or have weak points if they were assembled poorly. We've seen old limos turned into campers, but really you have to want to be a chauffeur to buy one.
Year: 1987
Model: 560SEL Carat Duchatelet Limo
Engine: 5.6 liter V8
Transmission: 4-speed automatic
Mileage: 39,000
Price:  $29,500. Buy It Now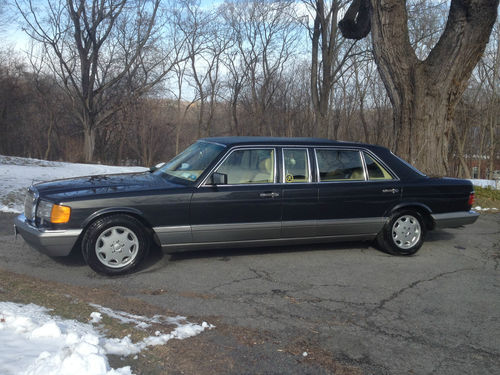 This Duchatelet customized Benz shows classic understated looks. Not nearly as ostentatious as a modern two tone Maybach or as crazy as many of the other 1980s Mercedes tuners. This style is something that Duchatelet was known for. The Belgian based company did extensive work on interiors of Mercedes vehicles, but their conversions we almost always done in a tasteful and functional manner. Though not their main job they did however offer gullwing door conversions.
The company, whose motto was "Nothing great was ever born of compromise," worked on the full line of Benz cars. They would do security and interior packages for stretched W126 cars or interiors on W124 chassis cars. The only thing they didn't do was performance modifications, instead they focused their energy on making some of the most exclusive and expensive interiors for very high end customers.
In looking at the pictures you can see that the fit and finish of the interior custom work looks like it came straight from the factory. The look is one of elegance and not cobbled together prom night limo. Custom touches extend to the door sills and gauge cluster. There is a lot of extra wood and leather and some extra electronics including a retractable divider. The car appears to have been updated with a more modern flat screen television screen which tells me that the car has been cared for. The ad states that several maintenance issues have been kept up so the car is ready to go. It does have the hydropneumatic suspension for a smoother ride, but look out for potential higher costs in terms of servicing if not maintained.
There are only 39,000 miles on the machine so it hasn't been used much. When you think what this custom work cost new some owner had some very expensive dollars per mile with this car. The setup of the interior is designed for the business person, not the party wagon with limited seating.
The ad listing doesn't provide much description about the car, it doesn't even say what model it is, but a look under the hood shows this is a 560SEL based car. Which makes sense since that would have been the top of the line Benz sedan of the day. The 5.6 liter V8 should be providing plenty of power to move the car along at highway speed despite the extra weight.
Not a bad car, and at that mileage it should have plenty of life left. If you want to be carted around, but can't let go of the 1980s this is your car. The price is a bit steep at $29,500. I doubt there will be any takers at that price. You could get yourself a really nice 750il or newer S class at that price. While they wouldn't have as much leg room they might be more practical choices unless you really want to run a livery service.
~Evan