As a child of the 80's it goes without saying that this very car graced the walls of my bedroom sandwiched between a 911 and a Countach. This was the sort of car I lusted after when I was young. Today I still have a soft spot for this look, as the monochromatic AMG look is truly timeless.
Whoever ordered this car new knew what they were doing and certainly spared no expense. With every AMG appearance accessory available in 1984, this car must have cost at least double that of a 500 SEC off the showroom floor. With such limited information in the ad, it isn't too clear if this car has the engine upgrades to back up the stunning looks. Either way this beautiful India Red over tan 500 SEC is the stuff dreams were made of in 1984.
Year: 1984
Model:Â 500 SEC AMG
Engine: 5.4 liter V8
Transmission: 4-speed automatic
Mileage:Â 3,300
Price: $62,500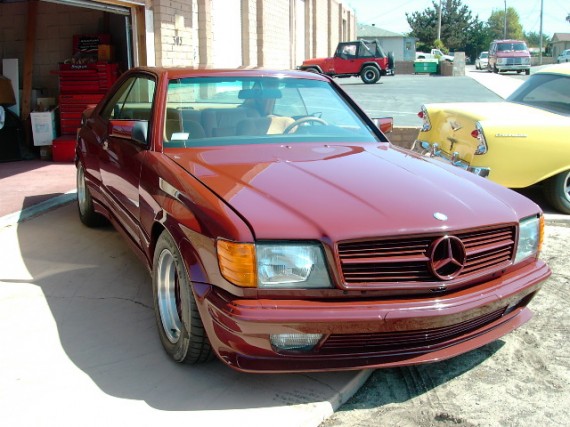 Full AMG steel wide body, 5.4 litre quad cam, four valve motor, every AMG option available.
This is certainly a rare car to say the least, as AMG cars of this era were custom ordered out of a catalog. This is in contrast to buying a full AMG car right off the lot as you can today. With 3,300 original miles, the all steel widebody, and AMG parts galore, this car certainly commands a high dollar price tag….but $62,500? That may be a little too high. Considering a mint 500 SEC is valued at $24,000 on the high side, it's tough to justify a full $40,000 premium for the AMG treatment. If this car had the legendary DOHC 6.0L I think the potential could be there, however, with the 5.4 V8, I'd be more interested in this car in the $40,000 to $45,000 range.
-Brian