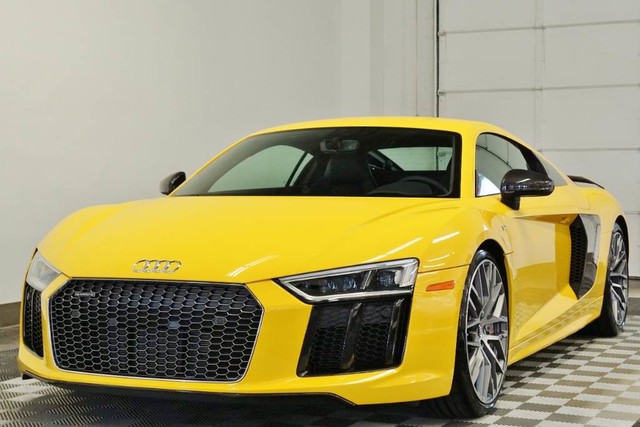 We're pretty used to the formula here: take a limited edition or special production 911, slap a neat color on it, and watch the price rise. Even brand new cars – ones that you can roll down to the dealership and order up yourself – are demanding a strong premium in the used marketplace. Insanity? A 'bubble'? Bad economics? It doesn't matter what the cause is, it's the way life is for the foreseeable future.
But it's not a trend which follows across the board. Take today's twin Audi R8 V10 Pluses. The 'Plus' adds a serious amount of sport to the standard V10 R8, itself no slouch. Kicked up 70 horsepower to 610 and driven through a 7-speed S-Tronic it's capable of sub-3 second sprints to 60, can obliterate a standing quarter mile in less than 11 seconds from a 5.2 liter normally aspirated V10 capable of spinning north of 8,500 RPMs. Both can hit 205 mph flat out. Both are presented in the searing shade of Vegas Yellow that will generate enough stares to make a GT3 jealous no matter how red its wheels are. . Both feature the upgraded 20″ wheel option and a host of other special carbon fiber touches that come along with the 'Plus' package. Despite being able to rip your face off and producing supercar performance from just a few years ago, both are also able to be used in a daily commute – even in winter. They'll even return above 20 mpg on the highway. They're astonishing automobiles.
And yet, both are 'affordable'.
Look, they're not really cheap. In fact, they're massively expensive for any car, but many would argue especially so for an Audi. The sticker price on the V10 Plus is $192,000 before options, taxes and destination, after all. Yet with less than 3,000 miles on each of their odometers, this duo hasn't appreciated like the 911 market – it's fallen quite substantially. And don't think I took the cut-rate approach here; I selected the two most expensive used R8s I could find from two of the most expensive dealers on eBay. And yet, combined their asking price is still $80,000 less than the 911 Turbo S Rob looked at over the weekend.