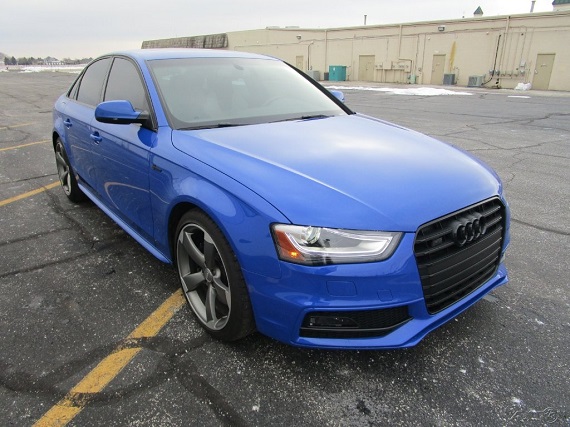 A good friend of mine rolled up for a visit yesterday in her B8 Audi S4. So much attention has been focused on the launch of the turbocharged M3/M4 that it's easy to forget that the S4 is still a very good choice in the sport sedan market. If you believe that all Audis drive the same with terminal understeer, you haven't been behind the wheel of the most recent generations from the four rings, whose clever computers, suspension and differentials have left them turning as well as they go. And they look as good as they go too, with signature top-tier interiors and lovely details. Audi recently offered a brief run of classic Nogaro Blue Pearl Effect on the S4 too, with a special edition that bathed the S4 in the purpley-blue. Today I have two such colored examples to look at – which is the one you'd nog off to?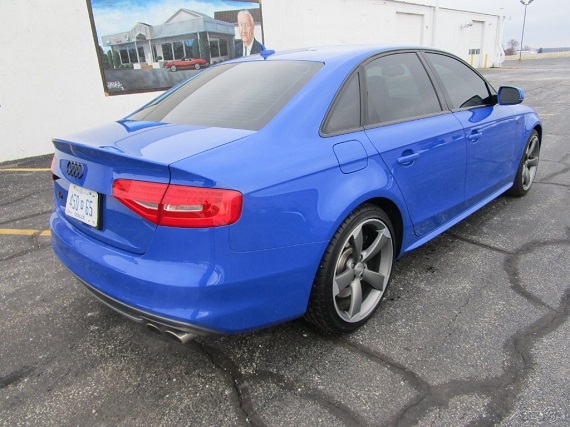 Year: 2014
Model: S4
Engine: 3.0 liter supercharged V6
Transmission: 6-speed manual
Mileage: 15,512 mi
Price: $43,900 Buy It Now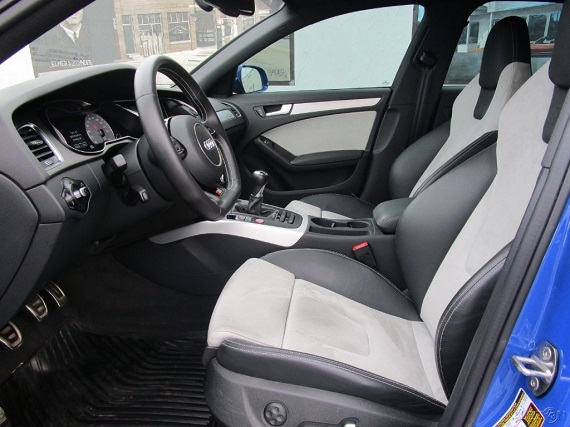 Experience our 2014 Audi S4 Premium Plus Quattro shown in incredible Nogaro Blue with Black/Lunar Silver Alcantara interior. This car is the ONLY ONE of its kind in America! Yes, you read that correctly, this car is the ONLY Audi S4 in North America with this exclusive paint, a 6-speed manual gearbox, and black on silver interior, and we even have a Certificate from Audito prove it! Driving enthusiasts agree that this All Wheel Drive Audi offers a balanced mix of performance, fuel economy and luxury. Under the hood sits a Super Charged 3.0 Liter 6 Cylinder that serves up 333hp and 325 lbs of torque and goes an amazing 4.7 seconds 0 to 60 while connected to an impressive and rare 6-Speed Manual gearbox. Incredible suspension makes this mild-mannered sedan perform like a performance coupe offering flat-out driving while looking amazing too. This isn't just any normal S4, this car has anExclusive Paint Job additional add of $3,900 of beautiful Nogaro Blue and with the High Gloss Black Out Package. This car is the only one of its kind in America! All of that means this car would look perfect in your driveway!

Our S4 Prestige Sedan exudes timeless elegance accented by a dash of sporty sophistication thanks to 19-inch Titanium finish wheels. Step into one of the finest interiors on the market, it is a beautiful Alcantara Leather black with silver inlays, and that great combination lives on top of super comfortable sports seats. That's not all this interior has to offer, it comes with Power glass sunroof with sunshade,Audi xenon plus headlights and taillights, SIRIUS Satellite Radio, and also a 3-spoke, flat-bottom multi-function steering wheel.

Those aren't the only wonderful thing about this car, it also comes with state of the art safety features, which include Driver and front passenger seat mounted side airbags and Side guard curtain airbags. Our sedan has earned an overall government safety rating of 5 out of 5 stars, so not only is it beautiful and luxurious it is also very safe Good cars go fast!

Every vehicle that Frankenmuth Auto Haus buys undergoes extensive safety and performance testing. The 125-point inspection includes: Engine, Transmission, Air Conditioning and Heating, Brakes, Suspension, Belts and Hoses, Major Electronics, and much more. And we take the extra steps to fix dents, scratches, tires, and any repairs suggested by the inspection; to insure you drive away in a like new vehicle.

Frankenmuth Auto Haus was founded on the belief that purchasing a vehicle should be an enjoyable experience. Gone from our model are used car salesmen attitude. I do not employ sales people. Instead I handle every aspect of the purchase process. I still like to do business with a handshake and my word. We bring perspective vehicles to you that have been hand selected by us to meet your specific needs. Each vehicle is run through our service check and repairs are performed accordingly. Not only are you purchasing a vehicle but a quality vehicle at that. I handle every aspect of the experience from sourcing, financing, and trade payoffs. Its truly a simple and streamline process. Give me a call today at 989-717-1201 to make an appointment and start down the path of a whole new vehicle purchasing experience unlike any other.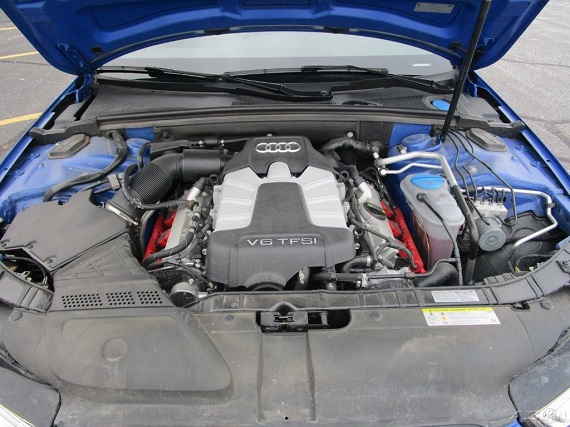 While Sprint Blue Pearl Effect and the more recent Sepang Blue Pearl Effect are certainly lovely colors, the selection of Nogaro Blue Pearl Effect on the S4 somehow just seems right. That's matched inside by the also classic combination of silver Alcantara on the black leather. All in all, it leave a feel of this manual S4 coming from 2000, not 2014. But the performance, styling and luxury – not to mention the prodigious thrust and better driving dynamics – will remind you Audi is three and a half chassis generations on. Unlike the M3/M4, pricing on the S4 hasn't gotten outrageous in the grand scheme. A new S4 still stickers under $50,000 and while that's not cheap, consider for a moment that the 1995 Audi S6 stickered at about the same amount. The Black Optics package added the awesome looking 5-spoke "Rotor" wheels in Titanium finish that is a nice match, but to me the blacked-out other details are over the top. Condition is close to new but could be cleaner and you'll have the top trump of claiming you've got a one-of-one configuration for this car, but you'll still enjoy a $11,000 discount over MSRP.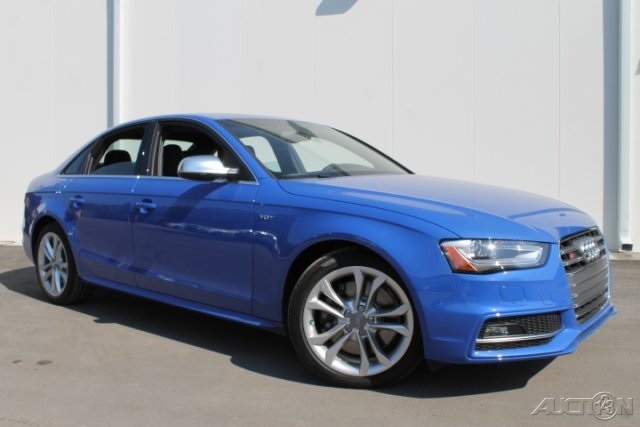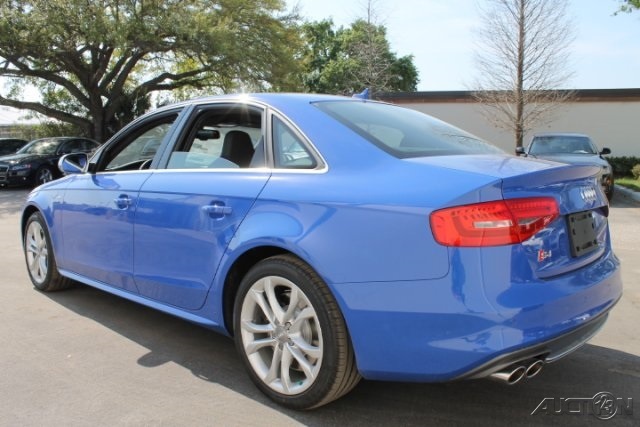 Year: 2015
Model: S4 Nogaro Blue Special Edition
Engine: 3.0 liter supercharged V6
Transmission: 7-speed dual-clutch automatic
Mileage: 301 mi
Price: $56,025 Buy It Now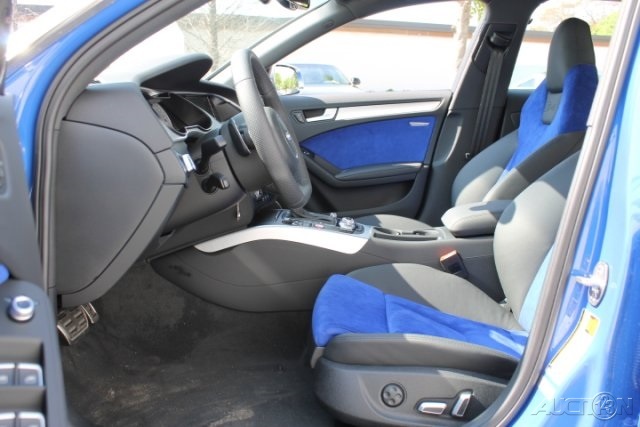 Here is a rare opportunity to own 1 of the "20" 2015 Nogaro Blue Limited Edition S4's

SAVE $10,000

MSRP $66,025

BUY IT NOW $55,025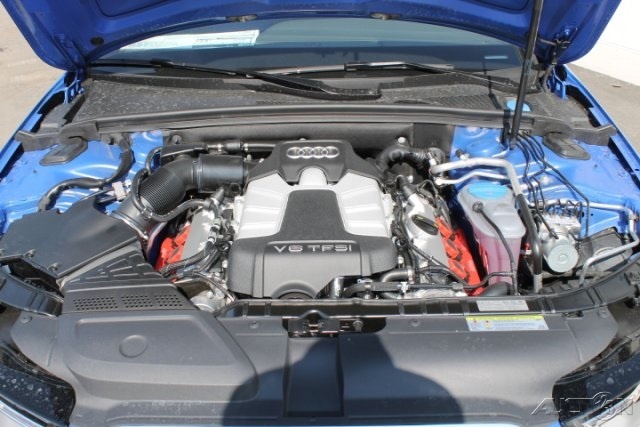 From the no-frills base 2014 S4, this 2015 is a higher-spec Prestige model which added adaptive lighting, MMI and navigation, side assist, Bang and Olufsen sound and parking system. That was a total of $5,900 added to the price, and the Nogaro Blue Edition included the Audi Exclusive Nogaro Blue with Nogaro Blue Alcantara inside along with "Race Aluminum" which was Euro-spec RS4 bits for $4,100. This car also included the sport differential and adaptive suspension, upping the total price to just over $66,000. Apparently only 20 were built in this configuration and it's surprising to see one still left over, as the spec is top-notch and one would think this would be snapped up quickly. But the pricing brings this S4 precariously close to M3 pricing, and in a brag-off the M3 still wins most cocktail parties. $10,000 off still makes this an expensive S4, but you're getting a lot of package for the buck here.
Which is the winner? I prefer the less-blacked 2015 and the interior a bit more as well as the fact that's it's a limited edition model rather than a special order car, but the no-frill manual with better wheels is more compelling. Return the matted badges to stock and get rid of the tint, spend a bit of time cleaning and you've got a special S4 for a lot less money than a new one would cost.
-Carter