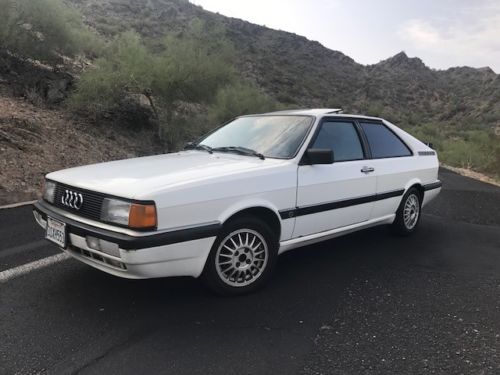 Update 11/16/18: This GT sold again for $3,474.
Update 11/2/18: After selling over the summer for $3,000, this fairly clean driver-quality 1985 Audi Coupe GT is back on the market. The no reserve auction is so far below $2,000, and the seller gives a very honest breakdown of the current status of the car and notes more problems with the car than the listing over the summer. Despite that, it's still fairly hard to find a clean GT, so this one might be worth grabbing!
Update 6/28/18: The best part of a year after originally being listed, this reasonably clean 1985 Audi Coupe GT is back in a reserve auction format. Since the Buy It Now was $4,950 last September, we can guess the reserve is probably at or over $4,000. The Coupe GT market has moved forward since last year, so will it sell this time?
The 1985 Audi Coupe GT debuted the aerodynamic B2 refinements in the 2-door version of the Type 85. Just like the 4000CS quattro I looked at the other day, smooth bumper covers front and rear were met with wide molding and new rocker covers. DOT-required 9004 halogen lights replaced the upright quad-rectangle arrangement on 1984 models, and the new grill sloped to meet stainless trim which surrounded the car. Inside was met with a revised dashboard with new softer-touch plastics, a leather covered steering wheel and few other changes. Mechanically, just as with the 84-85 4000 quattro, there were very few alterations between pre-facelift GT and the '85. The same KX 110 horsepower inline-5 and 5-speed manual (3-speed automatic available) drove the car, but the '85 up wore the same 4×108 hubs and brakes (in front, at least) as the quattro.
As with the 4000 line, most of the manual bits available in early B2s disappeared, and in you bought a late model it probably came standard with power locks, mirrors and windows. Most GTs also came equipped with a sunroof (manual and pop-out) and the rear wiper. Today's example follows that convention minus the rear wiper. The package proved to generally be considered more than the sum of its parts, and in 1985 Car and Driver tested eight GT cars and proclaimed the Audi Coupe GT the best package available, beating 'sports cars' like the Supra, Mustang, and Camaro. One of the 3,586 sold in 1985, this Alpine White example reminds of a more simple time when you could drive a car at 10/10ths and still remain (mostly) at legal speeds:
1 Comment