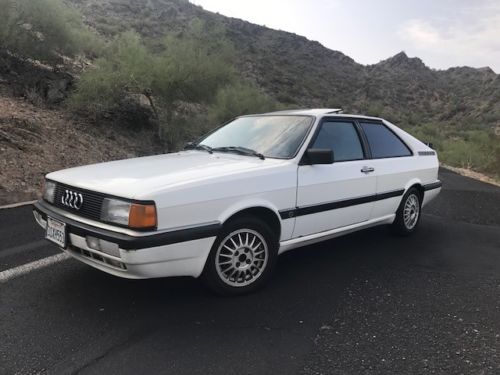 Update 11/16/18: This GT sold again for $3,474.
Update 11/2/18: After selling over the summer for $3,000, this fairly clean driver-quality 1985 Audi Coupe GT is back on the market. The no reserve auction is so far below $2,000, and the seller gives a very honest breakdown of the current status of the car and notes more problems with the car than the listing over the summer. Despite that, it's still fairly hard to find a clean GT, so this one might be worth grabbing!
Update 6/28/18: The best part of a year after originally being listed, this reasonably clean 1985 Audi Coupe GT is back in a reserve auction format. Since the Buy It Now was $4,950 last September, we can guess the reserve is probably at or over $4,000. The Coupe GT market has moved forward since last year, so will it sell this time?
The 1985 Audi Coupe GT debuted the aerodynamic B2 refinements in the 2-door version of the Type 85. Just like the 4000CS quattro I looked at the other day, smooth bumper covers front and rear were met with wide molding and new rocker covers. DOT-required 9004 halogen lights replaced the upright quad-rectangle arrangement on 1984 models, and the new grill sloped to meet stainless trim which surrounded the car. Inside was met with a revised dashboard with new softer-touch plastics, a leather covered steering wheel and few other changes. Mechanically, just as with the 84-85 4000 quattro, there were very few alterations between pre-facelift GT and the '85. The same KX 110 horsepower inline-5 and 5-speed manual (3-speed automatic available) drove the car, but the '85 up wore the same 4×108 hubs and brakes (in front, at least) as the quattro.
As with the 4000 line, most of the manual bits available in early B2s disappeared, and in you bought a late model it probably came standard with power locks, mirrors and windows. Most GTs also came equipped with a sunroof (manual and pop-out) and the rear wiper. Today's example follows that convention minus the rear wiper. The package proved to generally be considered more than the sum of its parts, and in 1985 Car and Driver tested eight GT cars and proclaimed the Audi Coupe GT the best package available, beating 'sports cars' like the Supra, Mustang, and Camaro. One of the 3,586 sold in 1985, this Alpine White example reminds of a more simple time when you could drive a car at 10/10ths and still remain (mostly) at legal speeds: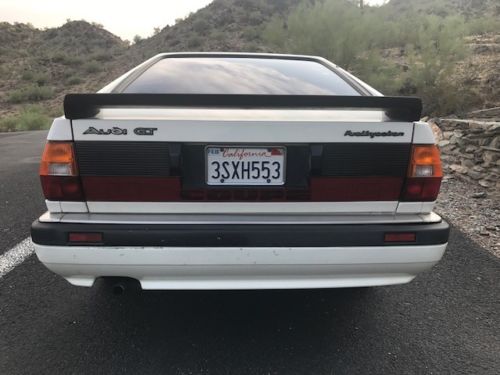 Year: 1985
Model: Coupe GT
Engine: 2.2 liter inline-5
Transmission: 5-speed manual
Mileage: 134,800 mi (TMU)
Price: No Reserve Auction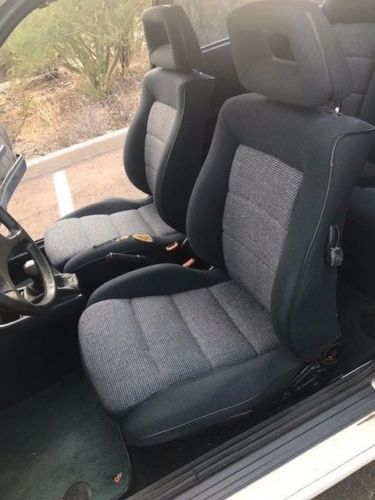 New Description

The auction is for a rare 1985 Audi Coupe GT, a vehicle named Sportscar of the Year by Car & Driver in 1985. I purchased this vehicle on eBay in July and had it shipped here to the Atlanta area. The seller had provided few specifics about the car's condition, with outdated photos. I decided to take a chance on it anyway, and will do my best to provide all the good and bad that I found after purchasing. I am selling the car because my son needed us to store his vehicle while he is deployed in the Army, and now I have no room for this one. Given the scarcity of these vehicles, I will probably regret selling it someday…

The car is registered here in Georgia, and I have a clear title in hand.

My goal with the car, if I kept it, was to bring it back to original condition. When the Audi arrived here last summer I took it in into a local Audi specialist (one that regularly works with 80's/90's Audis) to have it thoroughly checked out. All of the neglected services were performed & many items were repaired and replaced at a cost of $3,186. (Receipts included with sale)
– New Front Wheel Bearing
– Replaced Passenger Side CV Boot and Tie Rod End
– New Front Brake Pads and Rotors
– New Sway Bar Links
– Replace Upper Strut Mount Bushings
– Charge A/C System (Still holding the charge)
– Replace Shift Lever Bushings
– New Oxygen Sensor
– Replace Driver's Side Door Handle
– Replace Oil Sender Switch AND Brake Vacuum Pump Gasket
– Fresh Oil Change

THE GOOD:
– Car is straight and basically rust free. It came with an Arizona title and definitely appears to have been out west most of its life. (The only visible rust I have seen is where both rear wheel arches appear to have suffered some sort of low speed collision & the dented areas have formed surface rust that can be seen in pics.)
– Suspension is tight, car still handles admirably. Alignment is good, great cornering.
– Mechanically sound if not perfect – I would feel comfortable driving it on a 500 mile trip.
– Paint is still in serviceable condition, but would need to be painted to be perfect.
– Most of the original parts are still attached (but not all of them.)
– Sunroof works and removes easily to store in trunk.
– Stock radio/cassette is working.
– Dash is not cracked and in good shape, other than residue from dash cover adhesive.
– Original wheels all present, with new OEM Audi center caps. (Will need refinishing at some point.)
– All lights work.
– A/C is cold, heat is hot.
– Passenger side power window works. Instrument cluster lights up, gauges above shifter function.
– Original Audi floor mats look aged, but have really stood the test of time.
– Nice headliner.
– Fun to Drive, Everybody smiles when they see it.

THE BAD:
– Exhaust manifold has a crack and needs to be replaced or welded. The good news: once the engine heats up, you can no longer hear it.
– Very slow steering rack leak. (1-2 ounces of fluid per month at the most, doesn't seem to be getting worse)
– Driver's side window does not go down: the driver's side door is missing the entire power window hardware. (Something that was not disclosed when I bought it.) Will need to be sourced and replaced for window to function.
– Odometer doesn't work. (No idea how many miles it really has – but I doubt it's more than 150k or so.)
– Missing front lower grill inserts.
– Missing interior trim: door lock actuator cover, outside cap for driver and passenger seats, plastic cover over passenger side mirror, driver and passenger side map pockets.
– Ash tray lid is broken.
– Fabric of passenger seat bolster and center of rear seat bottom cushion torn.
– Passenger side seat won't tilt forward to let in rear passenger.
– Telescopic manual antenna is broken off (have been listening to mp3's with cassette adaptor)
– There is light denting and scraping around the bumper line of the car… looks like it was parked in a grocery parking lot regularly.
– Clutch pedal is a little squishy, but functions fine with no slipping. My mechanic did not think it needed service in August.

Overall, considering this is an Audi from over 30 years ago, it's very solid. Many of the missing parts are purely cosmetic, and only matter if you are wanting to restore this Coupe GT to its original condition like I did.

The reserve is set very low because I need the space in the garage… To the right person, someone searching for an original post facelift (1985+) coupe GT with a manual transmission, this is the bargain of the century.

Old Description
1985 Audi GT Coupe. RARE. White/ Gray. 2.2L Inline 5. 5 Speed Manual. 134,800 Miles. FWD. A/C. OEM Ronal Wheels

This Audi runs and drives good. Fun to drive. Has A/C. The clock still ticks. I take it to the local cars and coffee every month and get a lot of people who are in awe because they haven't seen one in ages. The body is straight. Rust free. All the moldings, trim pieces, lights etc are all in great shape. Wing is in great shape. Removable moonroof. The interior is super clean except for the passenger seat which has a small rip. Comes with Official Audi Factory Repair Manual for the 4000, 4000cs and GT Coupe model. Original owners manual. Comes with bag full of misc. tools etc.

Cons:

Has minor scuff marks as seen in picture below. Passenger side has paint missing due to scuff.
Has the common odometer issue. Stopped working.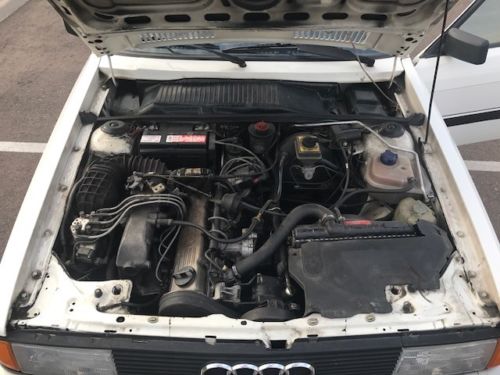 Alpine White is a great shade on these cars, and suits the design well. It's not as often seen as Tornado Red or Zermatt Silver, but certainly more frequent than Oceanic or Copenhagen blues. Inside the car has the '85 model year sport cloth, an option that would disappear for the '86 model year. The only other ways to note the difference between '85 and '86 models was that, generally speaking, most of the '85s lacked the full cover on the Ronal wheels (with a black octagonal nut in the center bore instead), they lacked the mandatory '86 up third brake light and '85s continued to pronounce that they were fuel injected with a badge on the right side of the trunk lid. This disappeared too for the '86 model year.
Generally speaking, this example looks to be a solid driver candidate. There's little information offered about the history or current mechanical state, but the car shows as better than most at this point of its life. The seller loses a few points by referring to the scuffs as "minor"; those were fairly substantial misjudgements of how wide the car was. In looking at those photos, it should be noted that the car is lacking the rear plastic stone guards on the leading edge of the fenders on both sides; there's the potential for a respray evident. Also, the seller mentions that all the trim pieces are in great shape, but obviously neglects that a few are missing; the lower grills being the most evident, but there's plenty of other cracked and missing items; the rear trunk release knob, the shattered shift knob pattern, half a missing map pocket on the driver's door, the passenger side reflector lens. The seats are a bit tired too, and oddly it's not the driver's one that has taken the brunt of age; instead, both the passenger and rear seats show rips, odd for one of these cars, but the sport cloth didn't hold up as well as the Kensington Velour that was standard in '86. The seller also lists the mileage in the headline of the car's features, but then discloses later that it has suffered typical odometer failure. However, as a Type 85 aficionado, I'd estimate it doesn't have a tremendous amount more than that – though all those miles haven't always been the most kind. Though the exterior looks decent, under the hood and in the jambs is quite dirty and a simple cleaning could do wonders. A West Coast car, it appears rust-free and overall still quite presentable in spite of the issues.
The price is fairly aggressive in light of the problems, though. Without knowledge of exactly what the mileage is or the mechanical state of everything, you'd be unwise to pay top dollar for a GT – and this is top dollar. The '85 model doesn't have anything particularly special about it and this one isn't unique in either it's specification nor its condition. For this money, I'd hold out for a more special and quicker 87.5 Special Build GT; better interior, paint trim, 4-wheel discs and collectability (plus, an electronic dash!) await you. To me, this car represents a realistic market value of $2,500 – $3,000 at most, so it's unlikely to change hands anytime soon.
-Carter