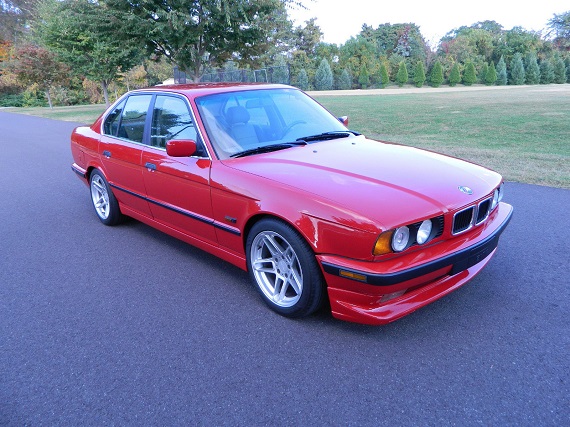 When I start to recount stories of my early driving years and my family's run of German automobiles, I'm sure it sounds like we ran a used car lot. Fair enough; before I was old enough to drink we were on to our 5th BMW with a Porsche on the way – and still a few more to come. One of my favorite cars would probably be a bit of a surprise to some, though; when the climate control failed on our E32 735i 5-speed it was replaced by a 1995 525i. Now, normally the 525i is a bit of a downer – too much car with too little motor. But several updates over the life of the 525i meant that by 1993, the 525i was a bit of a sleeper – especially when equipped with a manual. The update from the M20 to the M50 motor and then the addition of VANOS gave the car a mini-M5 feel. It screamed up the tach and felt much quicker than it looked. But for some the M50 just isn't enough motivation to leave the 525i alone: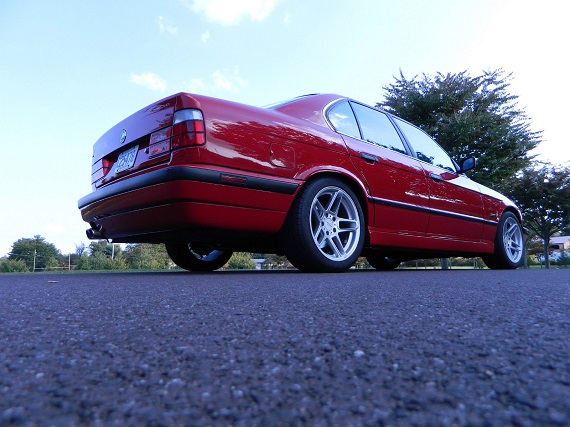 Year: 1995
Model: 525i
Engine: 3.2 liter inline-6
Transmission: 5-speed manual
Mileage: 271,000 mi
Price: Reserve Auction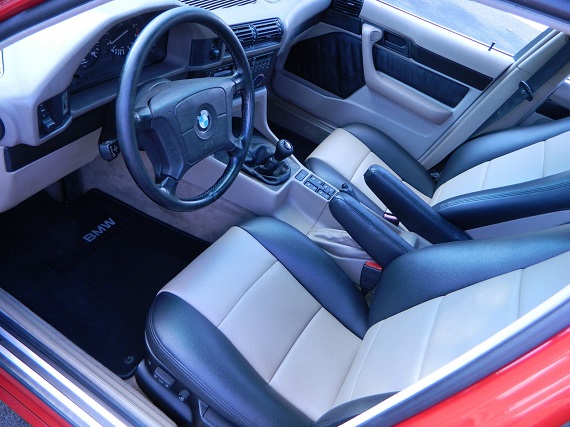 I have up for sale my 1995 BMW e34 525i – RESTORED. This car is truly amazing. Too much to mention. I bought the car a few years ago from the original owner who drove it to over 267,000 miles on it – with no accidents or bodywork or paintwork ever! He kept very good care of the car but it was showing its age. I took it on as a perfect project car candidate. The vehicle currently has 271,000 on it – but there is very little left to the car that has 271k on it – a lot has been replaced.

First things first, I bought a 1999 BMW M3 engine / transmission, also known as the most reliable M engine ever made, the S52. The donor car had 90k on the dash. I went to see the donor car and hear the engine run before buying, so I know the mileage because I saw the cluster reading.

Gave the engine/transmission to Bimmerworks in West Chester PA. Opened up the engine first and checked the condition and decide if anything needed to be changed while it was out. The engine condition was immaculate and so we decided not to waste money on a rebuild. Just de-greased and cleaned up the inside and made some minor adjustments and replaced all seals. Here is what was done to the car ALL WITHIN THE LAST 3,000 miles (in 2013).

Engine / Mechanical: (approx price tag $7500.)

Re-sealed the engine by replacing every gasket possible. OEM parts only.
New thermostat
Water pump
Knock sensor
O2 sensors
Spark plugs
Ignition coils
cleaned fuel injectors
New fuel filter, air filter, oil filter
all new motor mounts
all new transmission mounts
all new fluids OEM
Some wiring that was starting to age
All hoses and miscellaneous vacuum lines
Mass Air flow sensor
Many A/C components. AC blows ice cold.
New OEM clutch (all components)
We used the M50 (old engine) intake manifold as a bolt on to the S52 engine to add hp. This is a common mod done by M3 owners
Bimmerworks recommended an ECU upgrade that would add 10-15hp which was done as well. I cannot recall the brand at the moment
I'm sure I'm forgetting stuff

Suspension: (approx price tag $2000)

Bilstein Sport yellow shocks
H&R Springs 2in drop
Complete 16 piece control arm and bushing replacement
So virtually 90% of the suspension parts were replaced
Alignment
All 4 new brake rotors + brake pads + refinished calipers and rust proofed

Exterior: (approx price tag $5500)

Full body sand + rust proof primered. I have many pics to show this work.
All doors removed, glass removed, and trim, etc
Needless to say, everything including door jams and a lot more was rust proofed and painted
Several coats Factory Imola Red
Several coats of 3M clear
All new weather seals + sunroof seal
All new factory door trim moudling
Engine bay was painted flat black
All exterior lighting were changed to OEM Euro lights
AC Schnitzer style front lip spoiler

Wheels/Tires: (approx price tag $2500)

AC Schnitzer RARE wheels made for an e34. Wheels were re-finished before mounting 4 new tires. High speed balanced on machines used to balance race car wheels

Interior: (approx price tag $2000)

Seats re-wrapped in 2 tone new leather. New foam inserted where it was needed so the seats feel softer than brand new.
All door panel inserts were replaced with M5 door perforated door cards
Door panels were repainted with SEM tan oem match paint
Interior black trim was re-sprayed
Old wood trim was covered with carbon fiber overlay
ZHP shift knob
Short shifter
2 new window motor/regulators
New master window switch

Exhaust: (approx price tag $500)

Fully custom, hand made steel mandrel bent premium piping
2 to 1 piping straight back from engine to 1 middle silencer, and then the muffler
All new exhaust hangers welded on
No catalytic converters (vehicle is classic tagged so it does not require emissions inspection)

I'm sure I am forgetting things. This is not one of those cars I expect someone to just click buy it now and purchase without seeing it. I prefer you come see the car first before making an offer. Like any car of its age, you should see it in person. It is close to perfect but not perfect. Mechanically – it is perfect. Some minor cosmetic things you may or may not notice or even care about. If you are not super anal, you will say this car is perfect. The car is garage kept under a cover, but I do drive it here and there on weekends. Exhaust sounds nice and deep, but not too loud and annoying. Transmission and clutch feel smooth as butter. Engine purrs nice and quiet. Car is nice and fast.

The stereo is all original. That's how I wanted it. Factory CD changer in the trunk. The only bad part is some of the interior speakers are blown. I personally don't listen to the radio so it never bothered me.

The car currently gets 23mpg city and 27mpg highway. Tested and proven by me. Car is run strictly on Sunoco 93 octane and Mobil 1 Euro blend synthetic oil.

I have a clean PA title in my name ready to be transferred to the buyer. Sale will take place as a local notary. I accept bank certified check only.

If you were to do this RESTORE / REBUILD – it would cost you over $20k + the cost of the car. There was no expense spared when doing this project. I am not even mentioning the little stuff in this ad. Everything was all done by professionals in reputable shops. This is not a car built on someone's driveway on jack stands. The engine work was done by the best shop in the tri state area for BMW race cars. The interior/seats work was done by the best shop in Philadelphia. Please come take a look before you make an offer. Email me with your phone # to make an appointment. Lowball offers will be ignored.

Great chance to buy an appreciating classic. Thank you.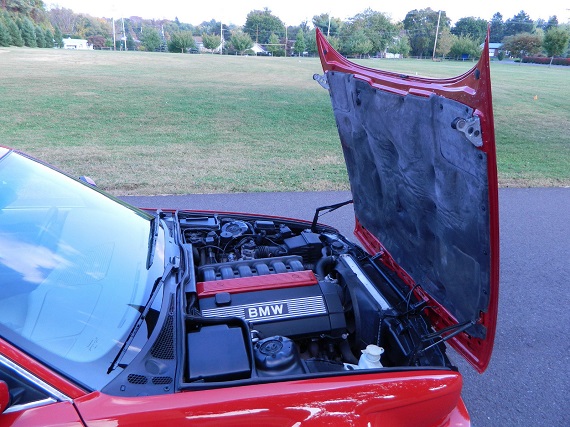 It certainly doesn't seem as though there are many stones left unturned here; the seller documents well the lengths that they've gone through to rebuild and customize this 525i. The Imola Red paint looks great and the AC Schnitzer wheels are a good match for the shape of the E34 overall. With the Bilstein/H&R suspension, the stance is much more purposeful without looking too low. Truth be told, I'm not sure I'm a fan of the replica Schnitzer front lip, but it's fairly innocuous in the grand scheme of modified BMWs. The choice of engine is reasonable too; the S52 ups the power notably over the stock M50 but much like the rest of the car isn't overdone. There are two things I'm just not fond of here; first,while I appreciate the seller spent some time and money on the seats they just don't look right in the car to me. That could be easily remedied with an interior swap; black or tan leather from a 540i would suit this car just fine, in my opinion. The second thing is the "M" badges. Again, I think this car would be just fine with the normal 525i bits in place or de-badged. It has nothing to apologize for as I think it's well built, but trying to be something it's not is slightly unbecoming. I guess the last bit that's slightly head scratching is that for much less than the invested amount in this car you could have had a very nice E34 M5 or 540i M-Sport at the end of the day, and unfortunately despite the nice execution I don't think this car is currently worth more than a nice example of either of those, nor is it more desirable.
-Carter