One of the best features of the German super-sedan is how much of a sleeper performance machine they are. In more recent years, that sleeper-status has decreased slightly in some marques, but in the late 1990s and early 2000s, you still needed to be an enthusiast to really tell the difference between some of the more potent models and their more pedestrian stablemates. Certainly that was true of the B5 Audi S4; yes, it had subtly refined front and rear bumpers and distinctive wheels, but aside from that the outside looked nearly the same as any other sport package A4. But the performance was certainly better than the typical A4, and the B5 2.7T V6-equipped S4 has proven itself to be a popular tuning platform. The ability to channel the power through all four wheels means that horsepower figures that would render other cars simply tire-shredding machines can be utilized by the S4. And some of those power figures are impressive; spec out a B5 S4 motor such as this and APR claims it's capable of getting within a riding mower's worth of 700 horsepower. Look at the outside and tell me you'd be expecting that at the lights when this stealthy sedan pulled up next to you: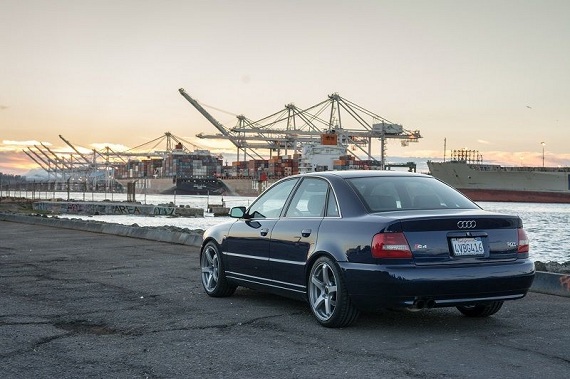 Year: 2002
Model: S4
Engine: 3.0 liter turbocharged V6
Transmission: 6-speed manual
Mileage: 30,100 mi
Price: Reserve Auction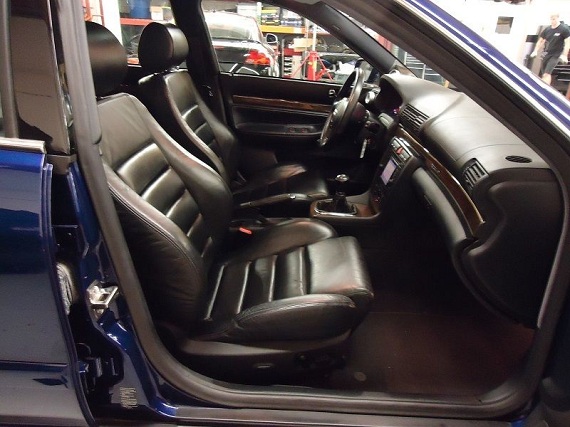 2002 Audi S4 Quattro 3.0L
Single Turbo 6-Speed

Background:
I am the second owner of this beautiful, very low mileage S4. Bought from the original owner after being garage stored for over 9 years. The entire car has been professionally built at 034 Motorsport in Fremont, CA. This IS NOT a test mule, this is the final result after months of testing and several prototype builds on various other shop cars. It features many one off and hand made parts unique to this build. This is a 100% turn key, ready to drive car and does not need any further maintenance, tweaking, or tuning. All of the OEM features have been retained on the car, such as OEM fog lights, brand new OEM belly pan, complete and working A/C, full size spare, charcoal canister cover (now covers two 044 fuel pumps), and OEM auto leveling headlights. It has been my daily driver, and is the most well built daily driven single turbo S4 in the country. The build specs are as follows:

Chassis Specs:
01.5 Build Date
31,XXX Original Miles
Second Owner
Santorin Blue on Black Leather
Base Model w/ Sunroof
Lightweight racing battery relocated to trunk
California car, immaculate chassis with ZERO rust

Engine: (all machine shop specs documented and provided with car)
OEM Audi 3.0L Crank (automatic donor, 55K miles)
JE 83mm Fully coated billet pistons 9.5:1 compression
H-Beam Rods with ARP hardware
034 Coated main bearings
034 Coated rod bearings
ARP Main studs
ARP Head studs
Big bore headgaskets
2.8 Heads w/ all new guides and seals, mild porting
2.8 Cam Shafts
Supertech 1mm oversize intake and exhaust valves
Supertech valve springs with titanium retainers
New cam chain tensioners
New Oil Pump
Fully balanced rotating assembly
Texture powder coated valve covers with -10AN welded fittings
Welded -10an valley pan outlet
New OEM EGT sensors on custom bracket
RS6 ignition coils hardwired into harness with individual valve cover grounds
OEM Metal thermostat housing
New OEM oil cooler
All new OEM sensors
2.8L exhaust manifolds Stainless
034 Single turbo up pipe, fully wrapped
New OEM O2 sensors
Precision 6266 ball bearing turbo
Shaved, mildly ported, coated intake manifold 034 Intake manifold spacers
All new OEM seals and hardware
Complete custom -10an breather system to custom baffled catch can with vacuum feed and drain back to engine
V8 034 Motorsport mounts, lowers engine .5" to clear larger turbo
Custom aluminum coated coolant tank

Engine Running Gear:
3.5" 034 turbo back stainless steel exhaust system, twin 3.5" muffler twin tip 3.5"
750hp Precision intercooler
Tial MV-R 44mm waste gate, 1 Bar Spring Black Anodized
Tial 50mm Recirculating valve, 1 Bar Spring Black Anodized
Twin 044 Fuel pumps mounted in charcoal canister location with .5L catch can, twin relayed off lift pump in tank, custom –AN and stainless hard lines
Fuel Lab Adjustable Fuel Pressure regulator with 034 Motorsport Gauge
EV 14 750cc injectors
034 High flow billet fuel rails, each bank individually fed, Black Anodized
Stainless charge piping
Electronic fan conversion
034 85MM Slot style MAF

Drivetrain:
034 flywheel with Tilton 7.25" twin disk ceramic racing clutch
Metal clutch line and slave cylinder
Fully rebuilt 01E transmission with new 1st and 2nd gear, hardened shift collar, all carbon kevlar (JHM racing) synchro's, all new seals, redline MT90 Fluid. Rebuilt at JHM.
JHM full short shifter kit with full spherical and poly mounts
034 Motorsport trans mounts
JHM drive train stabilizer
034 Rear billet diff carrier w/ apikol poly bushings
Apikol Rear diff billet/poly mount
Re-Sealed rear diff with redline 75W90 Fluid

Suspension:
Porsche 996 front brake calipers w/ apikol mounts, 321mm rotors
Stainless brake lines front and rear
KW V3 Coil-overs
H&R front sway bar with 034 Motorsport endlinks
034 Rear sway bar with motorsport end links
Adjustable front control arms with 034 density and spherical mounts
New front tie rods
Brand New Enki 18×8 Konjin wheels, 18lbs per wheel
Brand New Continental DW 225 40 18 tires
Aligned to OEM specs within .1*

Interior:
OEM Audi RS4 RNS-E head unit iPod/iPhone intergration
AEM A/F Gauge AEM 35psi boost gauge
New OEM LCD screen

Power Spec's:
Custom 034 Motorsport tuning featuring:

ECU #1 412whp on California 91 octane and 18psi of boost on 034's Mustang dyno, calculated to 500hp at crank. 5,000 RPM anti-lag programmed in as well. This is the daily driven tune.

ECU #2 500+whp on 100 octane, over 600 at the crank. 26psi of boost, 5,400rpm anti lag set up. This is an aggressive race tune, but is not too bad on the street either.

To put these dyno numbers in perspective, and supercharged B7 RS4 on 100 octane makes 505whp on this dyno, while APR rates this kit at 688whp. This is a "heartbreaker" mustang dyno.

Why selling:
This build was done to showcase the awesome functionality, power, and beauty the 034 STK has when it is properly put together and built up. It was also a showcase of my own craftsmanshift and fabrication abilities. I am selling it in order to fund another big project I am waiting to start. This is the second single turbo B5 S4 that I am offering up for sale. The first build was sold a little over a year ago; I am still in regular contact with the buyer, offering both technical support and suggestions for adapting the car to his specific needs. The same support is offered for this build.

This car is also built clean and completely reversible. The car can be returned to 100% stock if this is desired by the future owner. I can provide a complete parts list of what is needed to do the conversion back. I welcome buyers to come take a look at the car personally, serious buyers (cash in hand) I would be happy to take for a ride and show some of the cars features, such as anti-lag.

Feel free to call or text with questions: (630) Four Three Three 8 Seveo O 1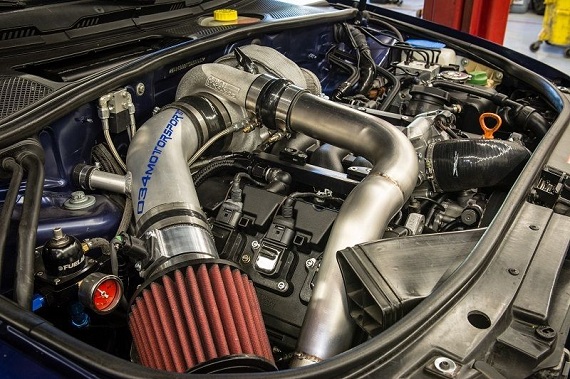 While the power figures are quite impressive, what's really notable to me is the retention of all of the stock items; there are no massive front intercooler pipes sticking out of the bumper cover as so many of these cars end up with, there's a factory A/C and even the factory belly pan has been retained. Switching to the single turbo built on the 3.0 liter bottom end means you can push some supercar power levels, but look at the build list and you'll quickly realize the amount of effort and money that went into making this car fast. It's brilliantly executed because it's so unassuming and really well built – characteristics that 034 Motorsport is becoming more known for. If probably would have done only one thing differently; I would have opted to run OEM Audi S8 18″ wheels rather than the ones chosen for an even more stealth look. B5 S4s don't get much more impressive than this car to me, and I hope the seller's attention to detail on this loving assembled example is rewarded with a bigger fraction of the price that was invested when the auction ends.
-Carter