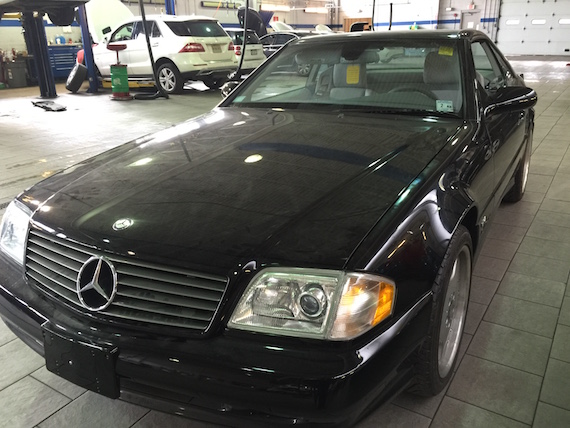 Anyone looking for a brand new 15 year old car? Here's your chance to buy what must be the lowest mileage R129 generation SL600 in the country. With 172 original miles, this car is probably as close to new as you can find. The R129 began production in 1989 as a 1990 model, and lasted until 2002; a pretty typical production life for an SL. To celebrate the final year of production, and to pay homage to the brand's racing heritage, Mercedes released the Silver Arrow spec SL. Available as an SL500 and an SL600, 1,500 cars were produced in total, only 100 of which were 600's.
While this car isn't a Silver Arrow, it is a second-to-last model year R129, and is fitted in a very desirable color combo of black on light grey. I spoke with a salesman at Mercedes of Cherry Hill who informed me that the car was purchased new there, and the owner stored the car with the hopes of it climbing in value and turning a profit down the road. Needless to say, that dude bought the wrong car. He probably paid in the vicinity of $140,000 for it, and I don't even want to know what he sold it back to the dealer for. The good news is that we have the opportunity to buy the car, in virtually new condition, for around $90K off the original price.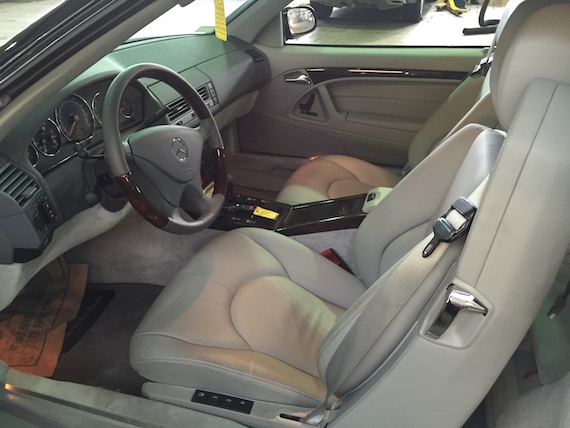 Year: 2001
Model: SL600
Engine: 6.0 liter V12
Transmission: 5-speed automatic
Mileage: 172 mi
Price: $59,995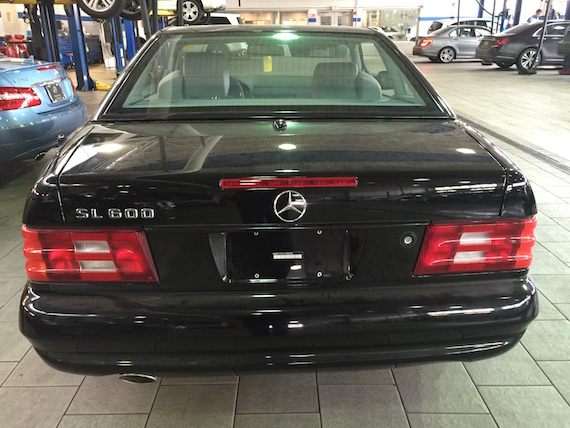 One owner
173 miles.
SL2 package.
AMG Monoblock wheels
Xenon headlights

Original owner bought it as an investment and never drove it. Pretty much all the history I have. Last registered in 2003 it appears. Still has all the warning labels and such in their original positions.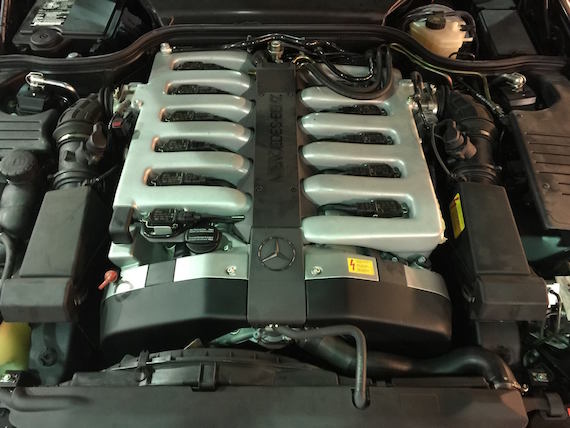 While very nice R129's can be had all day long for under $25,000, it's hard to put a value on this one given the mileage. I can't imagine there are many out there in this condition with such low mileage, but who knows? That sort of preservation seems to be more characteristic of Corvette owners than people who buy German luxury cars. Anyhow, I think the price is pretty reasonable. These days you could get a nicely optioned Audi A4 or BMW 3 series, or you could have a time-capsule V12 SL. R107's are currently fetching hefty prices, and I have no reason to believe that R129's won't follow suit in the near future. When R129's do finally become collectible, I imagine this is one that would be well-regarded in the collector world.
In regards to cosmetic or mechanical issues, there really isn't much material to cover. Obviously, the car will probably need new tires, and I'd recommend having an expert perform a PPI before moving ahead with any purchasing decision. It's a bit upsetting that a front license plate mount was fitted to the bumper cover, but that appears to be the only "uncorrectable" appearance infraction. The car looks pretty dusty in the pics and could certainly use a good detailing. Wayne Carini would probably be inclined to leave it the way it is, but I'm itching to see updated pics of this car all cleaned up.
-Andy (Cap'n Clean)