The 1998 release of the original Audi TT marks the second game-changing shift in the modern history of Audi. The first was obviously the advent of Quattro, and while four-wheel drive on normal cars changed the way every major automaker looked at traction, most Audis continued to be unassuming boxes that most of the world ignored. When the TT came out, it was unlike anything on the road. It referenced the Auto Union racers while taking sports coupe styling straight into the 21st century. With this progressive toy in their pocket, Audi was able to leap into the 2000s perceived as a cooler and classier car company than ever before.
Sure, cynics may choose to focus on similarities with the VW New Beetle (it rode on the same platform, after all), but while the Beetle will be smirked at forever, the TT will stand as remarkable design. Perhaps more notable than the styling is the fact that despite being 12 years old, this TT has covered fewer than 10k miles. Less than 800 miles per year! Combined with great choices like the 225hp turbo with quattro, blocky 5-spokes, and so-dull-it's-awesome Aviator Gray. You'd be hard pressed to find another TT with fewer miles than its price.
Year: 2001
Model: TT
Engine: 1.8 liter turbocharged inline four
Transmission: 6-speed manual
Mileage: 9,348
Price: $14,988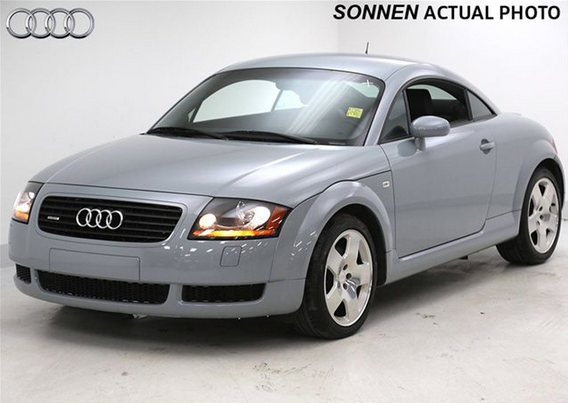 This 2001 Audi TT 2dr quattro AWD coupe features a 1.8L FI 20V Turbo 4 cylinder gasoline engine. It is equipped with a 6-speed manual transmission. The vehicle is Denim Blue Pearl with an other leather interior. It is offered as-is, extended warranty is available. One owner driven locally, super clean, air conditioning, climate control, cruise control, power steering, power windows, power door locks, power mirrors, clock, tachometer, tilt steering wheel, telescoping steering wheel, driver airbag, passenger airbag, side airbags, keyless entry, security system, ABS brakes, traction control, rear defogger, AM-FM, CD player, anti-theft, leather interior surfaces, heated mirrors
I'm not sure why they call it Denim Blue Pearl. Beyond that, this seems like an immaculate TT that has barely had a chance to have fun! $15k seems about right for a TT of this quality and freshness. If you fell in love when they came out but couldn't afford one, now is the time.
-NR