As long as there have been ///M cars from BMW, there have been rumors, hopes and dreams of a 7-series worked over by BMW's performance division. As BMW follows Audi and Mercedes towards racecar-ing every model possible, an M7 may be closer than ever before – but I'm not going to hold my breath.
Some people aren't willing to wait for BMW to finally release an M7. Some people know they have what it takes to make an M7 of their OWN. Some people are pretty sure that a body kit makes an ///M car. Today's seller is one of those people, combining a Koenig body kit and some badges to turn an E31 750iL into… something different. It's actually pretty awesome from the rear, but from the side and front the lines get all mixed up and make me dizzy and nauseous. It DOES have a V12, so there's some performance cred there, but open the hood and the filth and duct tape will quickly make you wish for something more maintainable.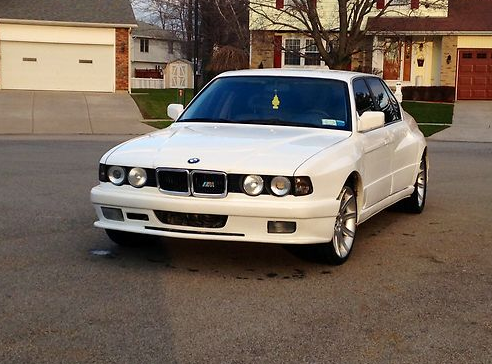 Selling a 1988 BMW 750IL with ///M7 wide body made by KOEING. The car comes with 112,180 original miles. The car is V12. The title is clear and never had any problems. If you want I can take it to the local dealer and let them inspect everything once again but you will have to pay for that. The car was just inspected by NEW YORK STATE Inspection and I have paperwork for it. The kit was ordered originally from Germany. It cost $8,500 USD and also comes with the 19″ BMW 750 wheels which there are 245/35/19 from and rear 305/35/19 at cost $2,200 USD. There was exhaust replaced from cutback at cost $1,600 USD and the list goes on. The interior and the leather is in very good condition. There is a cut in the rear seat about 1 inch long but easy fix.!! My Loss your Gain. The paint is not 100% The car is a head turner!!

Dont call me and waist my time please!!

Willing to trade for "2003 and up Silverado 2500 ONLY!!!!!!!!
Priced to sell at $5,000, this seller is avoiding the usual trap of adding up what he spent ($11,300 just in the kit, wheels and exhaust!). This scares me even more. Someone with as questionable taste does not seem like the same person to set reasonable prices; he probably knows needs to get rid of this car. Unless you realllllly like widebodies, don't "waist" your time.
-NR