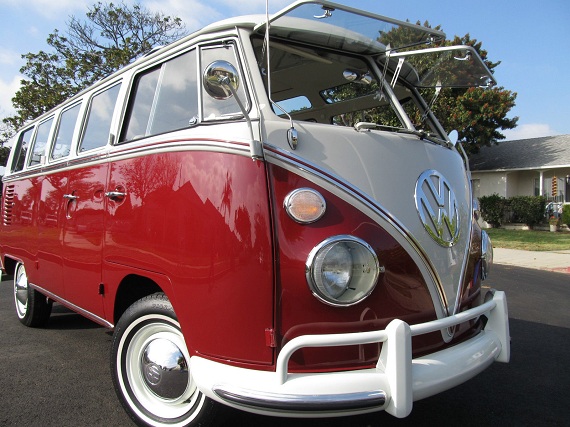 Let's be honest. While we all sit back and cry about the E30s and early 911s we should have bought, it's hard to predict which models – and which sub-models within a model range – are going to be the ones that really take off. You can be mad that prices have crept up, and you can think the people that pay $30,000 for an E30 or over $100,000 for an early 911 are crazy, but the market dictates the prices generally, and if people are willing to buy said cars, the Dude abides. Speaking of the Dude, few people have been as horrified as they are with the current trends when talking about the original market star – the Volkswagen Microbus, and specifically the 21 and 23 window variants.
Originally intended as Alpine tour models, these Samba models have been setting the market for T2s since the early 1990s. I remember flirting with the idea of getting one back around 1995; I was pretty young and I thought it would be awesome to cruise around in an old window-bus, since I had first learned to drive in one. Then I saw the price – then, from memory, around a shocking $30,000, and that dream quickly evaporated. Turns out it may have been smart to buy one then, after all: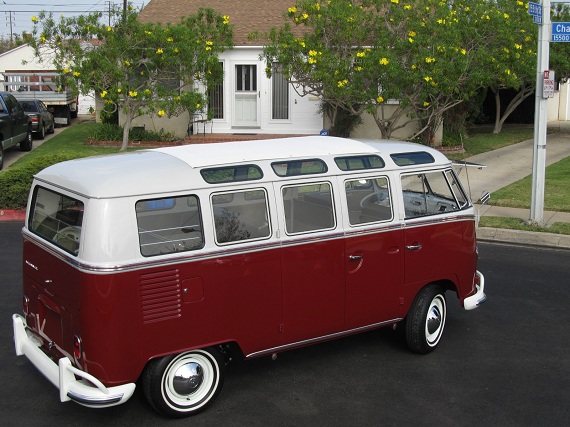 Year: 1966
Model: 21 Window Microbus
Engine: 1.6 liter flat-4
Transmission: 4-speed manual
Mileage: "12" mi
Price: $120,000 Buy It Now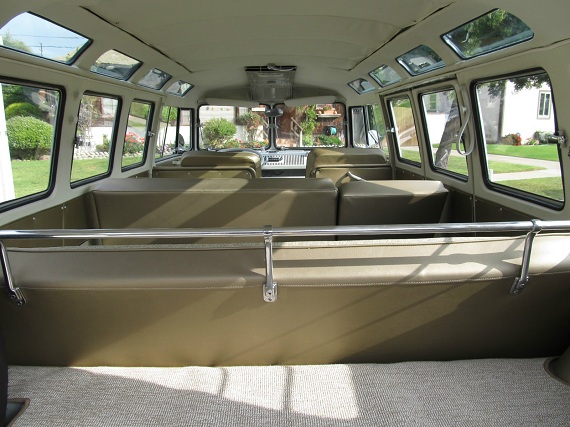 This is an exciting opportunity to purchase the most beautifully restored and factory correct 21 window bus this year! I personally think it belongs in a museum. It's a rare California original, final year 1966 21 window Deluxe walk through Samba, that has just finished a long and meticulous 2 year nut and bolt rotisserie restoration. The goal of this particular restoration was to bring back as close as possible, a factory original Samba to be enjoyed just how they were made originally. All of the work was completed by the best and brightest VW guru's in Southern California. This is the most beautiful original Titian Red/ Beige Grey with OG mesh platinum interior bus out there.

Some of the key highlights are:

~ All matching M code plates, Current California Registration and pink slip, Certificate of Authenticity from Germany showing the port of Los Angeles as the imported destination, Original Black and yellow license plate, All original glass, parts, frame, doors, locks etc., original T key that opens all locks including the ignition, original style white wall tires, Safari Windows, fully rebuilt sunroof kit, rebuilt original big nut transmission with reduction boxes, all original door handles and original front VW emblem re-chromed, Original steering wheel recast, New wire harness by Wireworks, rebuilt motor with original German case, new rubbers and seals throughout, Original year correct Sapphire III radio etc. All lights, buttons, clock lights, radio, and emergency switch work as they should! All doors and lids line up, open and close as good as they did the day they left the factory! ~

Click here for more detailed pictures at photobucket

More Detailed Description:

Sand/Media Blasting: I had every part, panel and piece on this bus media and sand blasted by a company that specializes in collectibles and sensitive aviation parts and planes. The outside of the bus was media blasted to ensure there was no warping of the metal, then any parts that had rust were sand blasted very carefully. Because this is a California original bus there was mostly only surface rust to begin with.
Front: Completely disassembled and rebuilt with only German parts, painted and replaced all bolts, nuts etc., Spindles rebuilt by Russ at Old Speed, sway bar, new German tie rods, new shocks, new brakes etc.
Transmission: Original big nut transmission with reduction boxes professionally rebuilt by Kevin at TransWest. All new linkage and seals, new emergency brake cable, wheel cylinders, etc.
Body Work : Replaced the front floor panels on driver and passenger side, new corrugated cargo floor, any rust was already sand blasted so no need to cut away metal. Old school hand torch bronzing was done to fill any holes or metal that was eaten away to ensure the least amount of bondo was used as possible! Underside and frame areas media blasted and then urethane primed and painted with PPG (the same paint used on Ferrari's). Every part on the body was painted inside and out. Original Sekurit windows and glass throughout the bus, new German Safaris installed, door assemblies rebuilt and painted as well. Gas tank was cleaned and sealed inside and painted in the original grey on the outside. Belly pan was removed for sand blasting and then welded back on the frame.
Engine: Fully rebuilt, 1600 dual port with period correct accessories. New: rod bearings, heads, fuel pump, distributor, carburetor, coil. Original oil bath air filter. New rear main seal and clutch plate. Original heater tubes, new German muffler and working heater boxes.
Brakes: All new metal and rubber lines, new master and wheel cylinders, new wheel springs and new brake shoes all around.
Electrical: Brand new wiring loom by WireWorks (converted to 12 volt), all flasher and relays rebuilt, new turn signal switch. Everything works: horn, wipers, turn signals, headlights, high beams, interior dome lights, brake lights, parking lights, radio, gas gauge, all dash lights, hazards flash and hazard knob lights up and flashes as well! The clock, speedometer and gas gauge were rebuilt. New German starter and battery. Engine has correct original rebuilt 12 volt generator system.
Interior: All seats were sand blasted and painted black. All have new Wolfsbug West coconut hair pads and soft upholstery padding. Brand new platinum upholstery throughout (this includes the chrome trim). Panels were fastened with correct push pins, screws and rivets where they were supposed to be. All of the doors, sides and cargo area were padded with noise reducer foam insulation. New pebble white headliner. New Wolfsburg West floor mats, Oatmeal carpet for the rear. Included is a brand new spare tire on original bus rim. Correct jail bars and luggage bar across the back seat. Middle bench is a 2/3 fold down with original side kick panel re-upholstered, new grab handles from WW.
Paint & Exterior: Everything was painted with the highest quality paint and clear (PPG), color sanded and buffed. All colors are factory correct inside and out. New 3-ply pearl canvas sunroof top. Sunroof assembly complete nut and bolt by VW sunroofs! Wheels were sand blasted, primed and painted as well as the bumpers inside and out. Wolfsbug West Deluxe exterior trim kit complete with rocker trim.

This bus underwent a true step by step restoration:

1. The bus was disassembled completely 2. I had every part, panel and piece media and sand blasted. 3. Replace and repair damaged or rusted metal (panels, floors etc) 4.Paint inside and out including the suspension parts and underside of the bus in original colors 5. Quality build up with original parts and glass or original VW German replacement parts. 6. Used original seat and floor upholstery 7. Fix the running gear properly, galvanized or zinc bolts, re-chrome parts etc. 8. Rebuild the engine with German Core. 9. Rebuilt transmission with original parts (reduction boxes etc) 10. Put it back together and she lives again!

A picture is worth a 1000 words, so I'll let the work speak for itself. Also, I have video footage cataloging the whole restoration process so you know exactly what we did (available to the final buyer). There is nothing hidden here and you will know exactly what you're getting which is rare in and of itself with these buses!

Serious buyers only! I have a wife and children so please don't call unless you are a serious bidder/buyer. Call me with any questions: (310) 245-7948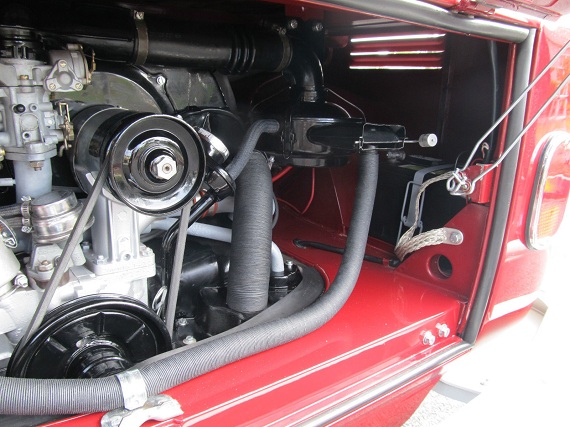 You're not reading a misprint, that's $120,000 for a VW Bus. Of course, just take a look at the photos – this particular model is as close to new as possible, and likely better than most T2s left the factory. It's also one of the desirable 21 window variants, and in a pleasing Titian Red over Beige Grey color combination. If you want one of these, it doesn't get much better than this. In terms of value, this bus far exceeds the top value listed by Hagerty; they top a 66 21 Window out around $70,000, but it's easy to see with the quality of the restoration on this particular model that the $50,000 premium may be justified for the right buyer. It's also important to note that this particular model falls an amazing $100,000 below the record Barrett-Jackson sale of $217,800 for a 1963 in 2011. While it may be shocking to see VW Vans in this price range, I'd expect to see more pristine restored examples of not only the T2, but the T3 heading that way as well. Take that, E30 crowd!
-Carter