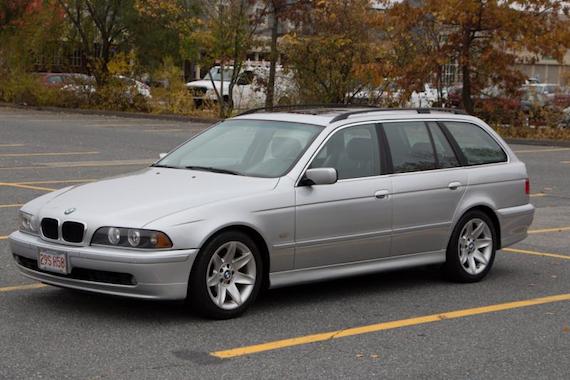 Walking home from work the other day, I spotted an E39 Touring on the street, which happened to be a 525i with a 5-speed manual. It was completely stock, resplendent in a dark blue metallic and I thought "has BMW ever had a more pleasing design than this Touring?" Even with lower mileage, these E39 Tourings are used car bargains nowadays, if you have the nerve and wherewithal to maintain them properly. This 525i Touring 5-speed manual for sale in Massachusetts is originally a California car and looks to have lived a well-cared for 150,000 miles.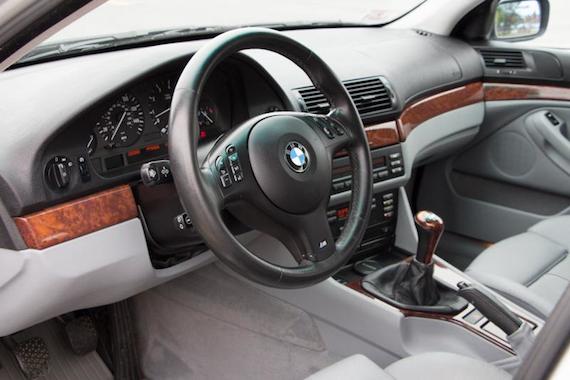 Year: 2002
Model: 525i Touring
Engine: 2.5 liter inline-6
Transmission: 5-speed manual
Mileage: 153,092 mi
Price: $7,900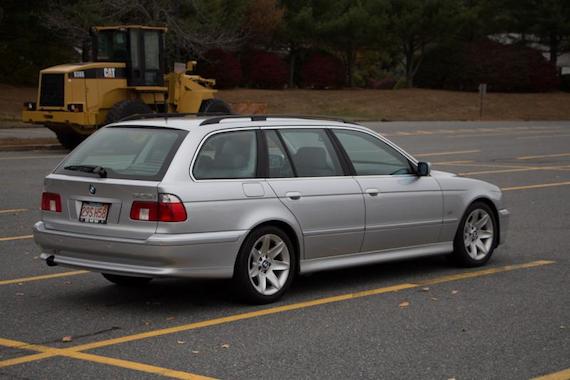 After eight great years (I'm the second owner), it's time for me to move on and hand over this beauty to someone who will continue taking good care of it and enjoing driving it as much as I did. Relevant info: Exterior: Titanium silver Interior: Gray leather Options: ZPP, ZSP, PDC, Xenon Birth certificate (look here for the complete option list): http://www.bmwarchiv.de/vin/gd50411.pdf

Mods: – Autodim mirror (wasn't available on 525s at that time) – Seat heater retrofit for driver's seat (passenger seat is wired, but has no heating pads) – Euro armrest with slide and storage – Euro taillights with clear blinkers (works great with silver color – just look at the photos) – Euro mirror glass driver side – Bluetooth TCU retrofit for handsfree phone calls (complete OEM functionality, including voice dial). – No mechanical mods. First owner had it from April 2003 to September 2005. The car lived in Carlsbad, CA. I bought it sight unseen (well, I had some photos actually), flew there to pick it up, put it on a truck to Boston, and then drove it daily for eight years. I'm selling it only because I felt I needed a change, so I moved to an X5 a couple of weeks ago.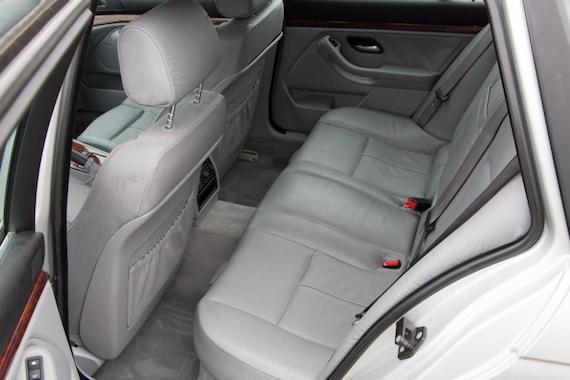 This two owner car has me thinking: at what point does mileage become a concern? Sure, the E39 isn't the most simple of vehicles when it comes to mechanicals and electrics, but I'd hesitate just to throw something like this away when it got old, especially given the cosmetics of this particular car. Who knows how much longer manual transmission wagons will be around, as every year that passes the third pedal becomes more of a oddity than a common option.
-Paul