Two years ago I would have come across the listing as I had been in the market for a performance German estate car and was following the online offerings. I was looking for something that gave the sporty German car feel, but also had room for things like my hockey gear or for a trip down to the home improvement store. This car, however was spotted and sent in to us by reader Wes.
The high performance offerings from the German car makers should convince you that estates are great, just don't call them station wagons. Cars like the Audi RS6 Avant, BMW M5 Touring, and Mercedes E63 Estate, really shouldn't be associated with a term that conjures up visions of the Wagon Queen Family Truckster. These cars offer nearly equal performance to their sedan brethren, but with added utility of spacious cargo or additional seating area.
Plus their limited production numbers and shape make them super stealthy. If the production offerings are still too common for you then a custom built wagon like the one featured here might be for you.
BMW didn't offer an E46 M3 touring, but that didn't stop many people from wishing it existed. It is only natural that some of those wagon fanatics, who had some ingenuity and/or some spare cash, bolted up a few one offs.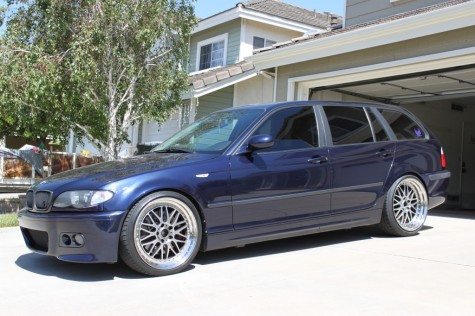 This car started life out as a typical 323i T, but the old driveline has been pulled and the running gear from an M3 was put in place. The chassis has 160,000 miles, but the engine has 68,000. 17,000 miles have been put on since the conversion so we can say it has been well shaken down at this point. Besides the engine and 6 speed he donor 2004 M3 also gave its suspension, brakes, exhaust, rearend, ECU, and gauge cluster. The car also has newer hood, fender, and headlights and a non-OE M3 look bumper.
This car looks well put together and the seller provides a nice description about what has been done and what still needs work. The rear fenders for instance need to be rolled to prevent rubbing on the 19″ rims with weight in the back. Since the point of a wagon is to be able to load up the back a new owner is going to want to do this or step down to 18″s. The intake could use some work as well to tidy up the under hood appearance, which will likely get shown off a lot at local cars and coffee events.
The stance of the car and traditional BMW M quad pipe exhaust hints at what lies beneath, but with the 323i badge still firmly in place this car would surprise a few folks out on the street.
Bidding is currently at $13,000, with no reserve. We've seen some German wagons sell for big dollars, as this type of car has a cult following. Combine the wagon aficionados with those who like unique custom German iron and we could see bidding on this run up past $20,000.
~Evan