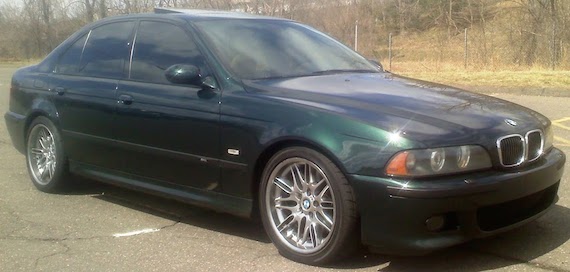 How do you like your M car? Loud, like the Dakar Yellow E36 M3 Sedan we featured last week, or perhaps a bit more subdued like this E39 M5 in the rarely seen Oxford Green? This M5 for sale in Connecticut is a three owner car with a tan leather interior that provides a warm look akin to an English drawing room. There's been a lot of snow late in the season this year (at least for us East Coasters), but it's never too late to contemplate that little bit of fun you promised yourself for the warmer months.
Year: 2001
Model: M5
Engine: 4.9 liter V8
Transmission: 6-speed manual
Mileage: 130,000 mi
Price: $16,700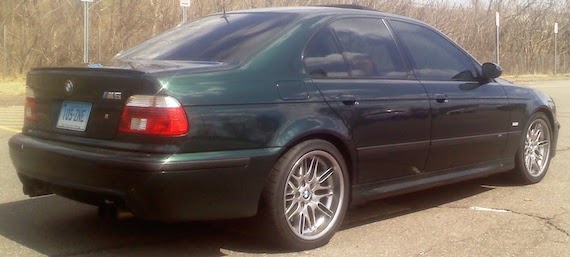 Re-listing this again, 2mos later – wasn't really sure was selling it before but have gotten closer to that decision

spring cometh… folks will be clamoring for hoonmobiles such as this

Luxury / Exclusive Full Carmel Heritage Leather, Powerchip alphaN MAFless tune, Powerflex polyurethane bushings, Koni adjustable front shocks, Porterfield R4S front pads, Pagid Blue rears.

3rd owner, had for 1yr/13k; PO was a mechanical engineer and had it from 53k and maintained it impeccably (he's currently DIY building a Factory 5 Cobra). He said clutch had been done just prior to his purchase. He replaced cam position sensors, rebuilt the VANOS units, pre-cat o2s, valve cover gaskets, ball joints, vacuum hoses, front diff seals, transmission mount, and guibo.

I'd put on rear tires (Dunlop Direzza 275/18s) when I'd bought it. Needs fronts, rears 50%+ remain. Currently running worn 235×17 Goodyear Ultragrips on Borbet 5 spokes with satin recessed spokes and polished lips.

I also did the front pads / rotors then, power steering lines & M1 fluid flush, as well as changed tstat & seals, coolant flush, and trans & rear diff fluids (Royal Purple). LiquiMoly 10w60 every 5k for both me and the PO (lives 2mi up the road from me, good friend).

Car was fully detailed and de-door-ding'd @ my purchase, and the entire interior was redone with Leatherique (Heritage Caramel is known to crack). Also had high quality 35% tint installed, 20% rear. I opened up the front brake ducts (blocked from factory), installed Daniel Stern HIR high beam bulbs, new fog lenses, and 4 new Bav Auto embroidered mats.

2-3 ribbons of pixels out on the cluster – barely notable, and really good compared to 99% of every other e39 out there. Everything else fully functional, except CD changer which is on my shelf.

Front bumper was rashed and had some cracks along the bottom, goes in for new OEM bumper, side undertrays, and ambient temp sensor this week.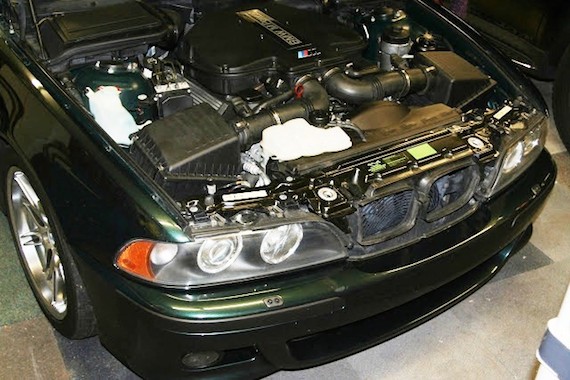 This M5 isn't exactly what you would consider a low mileage motor, but one must keep in mind that it has been more than a decade since the last E39 M5 rolled off the production line. We've seen M5s with 50,000 miles and under bringing very strong money, but it's nice to see one like this that's been enjoyed and looked after that can still be had for brand new compact sedan money. Sure, you won't have compact sedan running costs, but those who really want one of these beasts understand the costs associated with it. My guess is that the E39 M5s will keep on appreciating in years to come and it won't be long before we find ourselves saying "gee, remember when you could have an E39 M5 for under $20,000?"
-Paul