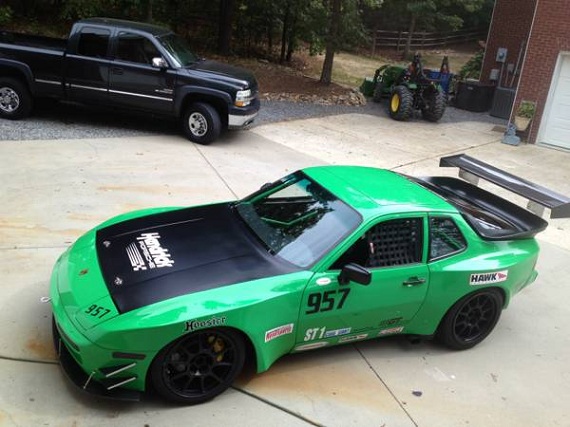 Back in December, I wrote up a 944 LS1 swap. I was disappointed that the S2 motor was gone and the car had some questionable wheels and graphics, but overall the smile per dollar ratio was pretty high. Today, I have another LS1 swapped 944; this time, it was a Turbo, and now it's a track monster. With near perfect 50/50 weight distribution for that sub-3,000 pounds, instant torque and a stiff racing setup, this car is ready to beat just about anything you show up in: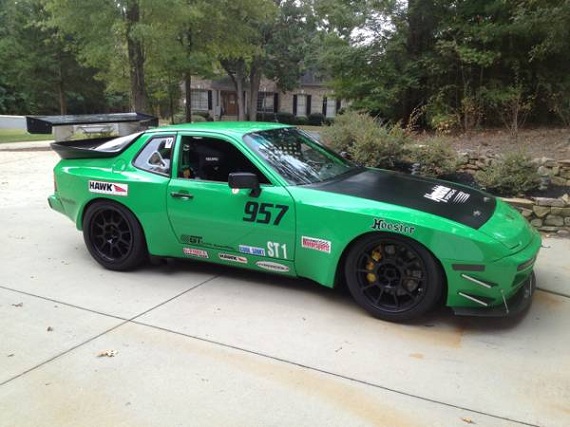 Year: 1987
Model: 944
Engine: 6.0 liter V8
Transmission: 5-speed manual
Mileage: Not Listed
Price: $39,750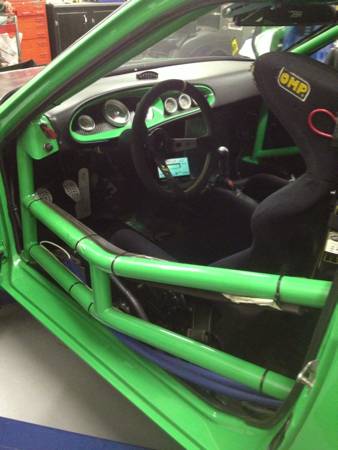 1987 Porsche 944T, ST-1/ ST2 LS1 conversion, over 400hp to the wheels on pump gas, 4 stage Avid dry sump sys. 2675lbs, cool box sys for head and shirt, custom roll cage. Auto meter gauges. Carbon OMP seat. OMP Steering wheel,In car two way radios, 2 in car camera video sys. One on the driver and one out the front windshield.
The car has a full fiberglass GT Racing body kit, 2 inch wider rear quarter panels. 2 inch wider front fenders. Fiberglass hood. Carbon fiber lower lip( 2 new carbon front lips) and dive planes. Carbon fiber Porsche Cup rear wing,18×11 and 18×12 wheels with 305 tires that fit very nice under the car. Suspension. Lindsay Racing tubular control arms, all front and rear bushings have been updated, newly rebuilt Triple adjustable Penski Shocks, 6 piston front calipers with GT3 Brimbo full flouting rotors, set of new rotors in the box, Custom-built sway bar, Custom-built gearbox with Quaiff differential, The list goes on and on. Lot of spare part, 2 sets of Wheels and tires. Wets, 2 sets of new ft brake pads and rear pads,Complete rear suspension. Transaxle. Matching Nitrogen tank for the shocks and air tank for the tires, several sets of coil springs, Torque tube. NASA log book, track set ups, and time sheets.
In 2010 the car finished 2nd in class in the NASA ST1 devision and then placed 3rd at the NASA Nationals at Mid Ohio. In 2012 it Won the south East Championship, this is the best prepared and maintained 944 LS1 conversion you will find, I also have a 26ft inclosed trailer that can be sold together or Separate, also included is a pit cart that can be part of the deal.
will Sacrifice for $39,750
This car is race ready, all you need to do is add GAS ( I also have 40 gallons of 100 Octane fuel) I can and would be willing to help get you up to speed with instruction!
Call 704-789-three05one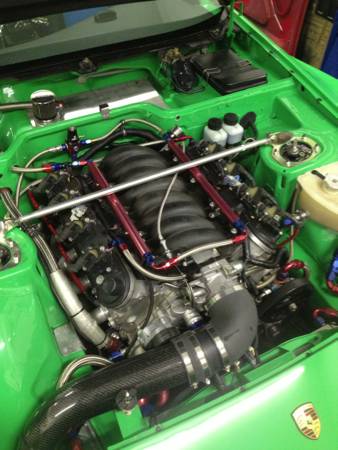 This car is quite well setup, all things considered, and I think it looks great in what appears to be Viper Green. The build sheet is impressive and likely only surpassed by the performance that the package delivers. The price for this amount of work seems high at initial look – nearly $40,000 for a 944 seems pretty far out of line. But when you consider what the performance per a dollar is on this package, this is likely one of the best setup, cheapest racing Porsches you can buy in this performance envelope.
-Carter