My cousin touched base with me yesterday and wanted my advice on mid-sized SUVs with a 3rd row seat. While I'm a car enthusiast, I'll admit, SUVs are never on the radar for me. I'm a sports car person. I'm not really sure what that Overland trim package on your Jeep nets you over the regular version for the proletariat. Nor do I really care. Interestingly enough, we both agreed that the Volvo XC90 is probably the best of the lot, but for me, it's akin to choosing which communicable disease I'd prefer.
Ever the helpful relative, I offered up the "what would Paul drive" scenario. And guess what? It's this car. The Mercedes-Benz W124 E class estate with the third row seat option. OK, so some people might be a bit nervous strapping their kids into a rear-facing seat, but there is no mid-sized SUV these days which can match this car's durability and sheer class. More than likely, it's a lot more efficient than most SUVs these days and you could even opt for 4matic all-wheel drive in this model from 1990 to 1993. This example for sale in Southern California is a final year 1995 model with 81,000 miles, which represents a barely broken in car when it comes to the W124.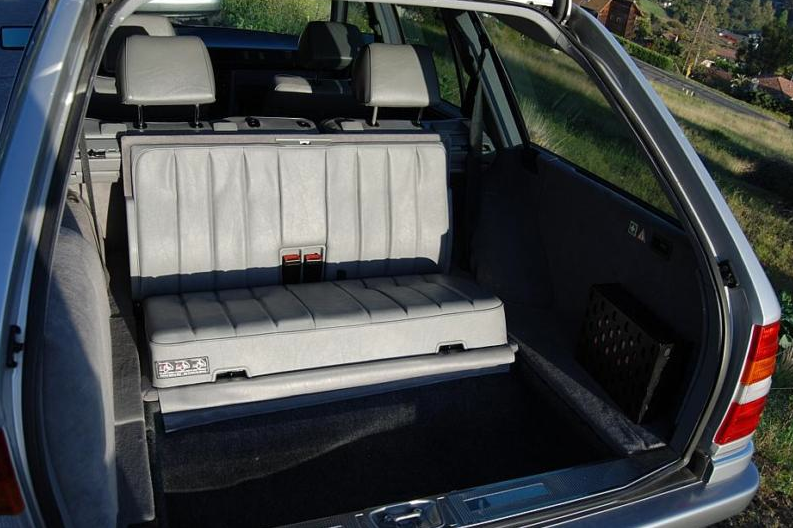 1995 Mercedes-Benz E320W Wagon. 6 cyl 3.2 liter, automatic transmission, traction control, climate control air cond, power windows, power locks, cruise control, beautiful non-smoker interior, factory sunroof, factory AM/FM stereo cassette and CD changer. Beautiful body and paint, always garaged. This vehicle runs and drives very strong and very smooth. All factory books, factory alloy wheels, roof rack, factory mats. This was grandma and grandpas car and they dont drive anymore. Zero rust one-owner Malibu California car, real buyers know how nice these wagons are.
…