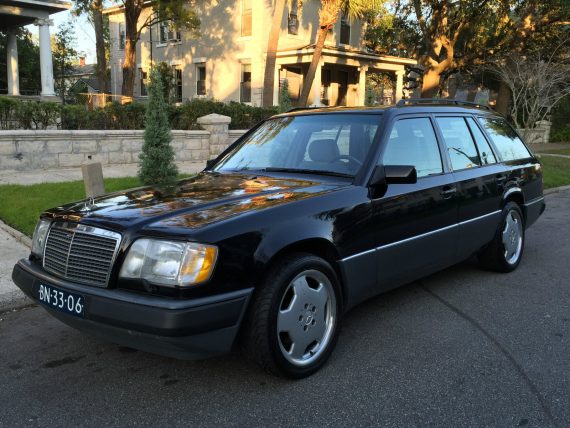 The W124 wagon is a Mercedes-Benz 'young classic' that is loved by many near and far. Wonderful build quality, handsome styling and a very reasonable to live with everyday car are the highlights everyone knows and have made the W124 a perennial favorite. But now that the youngest W124 is over 20 years old, finding a nice one for sale is becoming a little more difficult. When you do, be prepared to pay a premium over the sedans. Today's 1995 E320 Wagon for sale in Florida is a great example of that – but is surprisingly more affordable than you might think.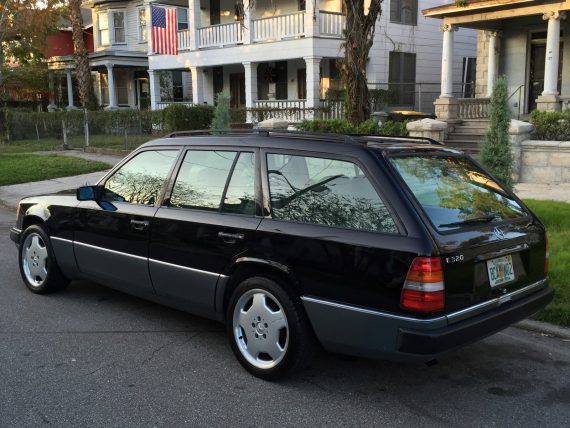 Year: 1995
Model: E320 Wagon
Engine: 3.2 inline-6
Transmission: 4-speed automatic
Mileage: 165,557 mi
Price: $5,400 Buy It Now
1995 Mercedes-Benz E320 Kombi/Stationwagon (W124)
DB 040 Black exterior (first and original factory paint that shows incredibly well!!!;, couple of small/barely noticeable touch-ups here and there). This car has never been repainted (not as a whole or any part/panel of it)!

NEVER IN ANY TYPE OF ACCIDENT!

Gorgeous and almost flawless Grey MB-Tex interior seats (strong and supportive, no rips, tears, cuts or any stains).

Excellent wood throughout. No cracks on the dash.

Headliner is flawless (like new).

Carpets are clean (no stains, no funny odors – no animals were ever inside of the car). Carpet in the trunk has couple of stains.

ABSOLUTE NON-SMOKER CAR.

Air-conditioning that is ice-cold.

Radio face plate is missing.

2 previous owners.

Clean CARFAX.

No rust of any kind anywhere (not on the undercarriage, or under the doors, or on the rear trunk lid)!

Excellent running/driving car. Strong and powerful engine (no smoke, no unusual noises).
Engine head was redone, as well as a new wiring harness was installed – the work done exceeded $9000 (all of this was done in July and September of 2015 at a local MB dealer, paperwork/records are available and come with the car).
Smooth and precise transmission.
Obviously used as a daily driver but mechanically a well maintained car.
Recent tune-up.
Good brakes.
No lights on in the dash display.

All the glass is original factory and is flawless.

All the power windows work the way they should. Sunroof is a little hesitant.

All lights, turn signals, gauges, power mirrors, horn and the clock work the way they should.

Wheels are OEM 17″ AMG wheels, tires are 225/45-17″ (about 85% tread left).

The exhaust is good.

Original jack, spare tire, first aid kit included.

Original owner's manual, booklets, 3 keys and service records are included and come with the car (including the service records from MB dealer from last year showing that the wiring harness has been exchanged and that the engine head was done).
*

This car is a regular daily driver.
It is reliable and in no need of repairs in order to be enjoyed immediately.

*

Due to the age sold as-is.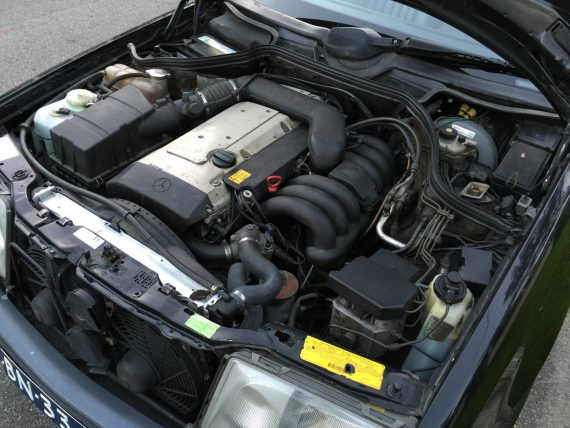 This 1995 looks like a real winner because of two giants reasons: the wiring harness being replaced and the head gasket being done. These two items are basically the only Achilles heels of these great wagons and having them taken care of already is a major plus. I love the 040 black paint and the 17 inch Monoblocks finishes this W124 off perfectly. Inside the interior looks well kept with no major flaws or issues. Having over 165,000 miles doesn't make me pause considering the head gasket being done, a laundry list of other repairs and maintenance being taken care of.
The $5,400 Buy It Now is entirely reasonable considering the condition and how well sorted this car is. You could buy this wagon and drive it another 50,000 miles and probably not lose much value at all if as long as you keep up on maintenance. The demand for nice Mercedes wagons will always be there and this one being a facelifted W124 will probably keep it in vogue for years to come.
– Andrew