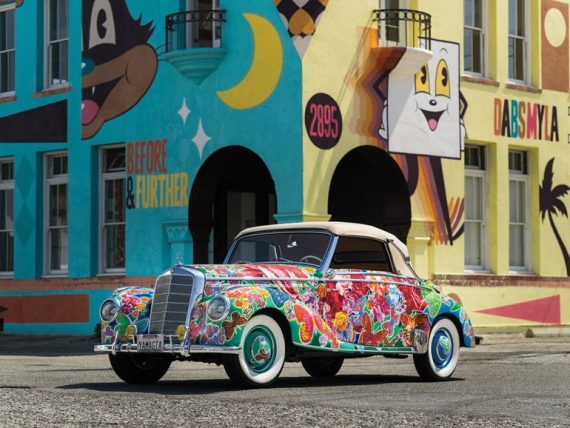 Art cars are hit or miss for me. Either they are really well done by a famous artist that ads to overall aesthetic of the car or "that hippie guy at the end of the street is in his driveway without a shirt on painting his car." Luckily, the car we are featuring today is the former. This 1952 Mercedes-Benz 220 Cabriolet A was done up by artist Hiro Yamagata, a fairly well known guy in the 'Art Car' circles as part of his Earthly Paradise series. So if you are still on board with this less than wicked garden, let's take a deeper look.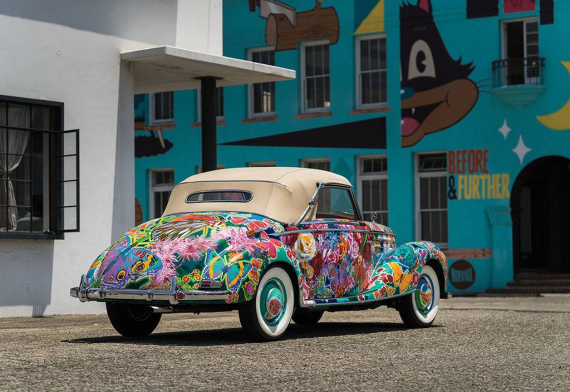 Year: 1952
Model: 220 Cabriolet A 'Rose Garden'
Engine: 2.2 liter inline-6
Transmission: 4-speed manual
Mileage: 40,000 miles
Price: Auction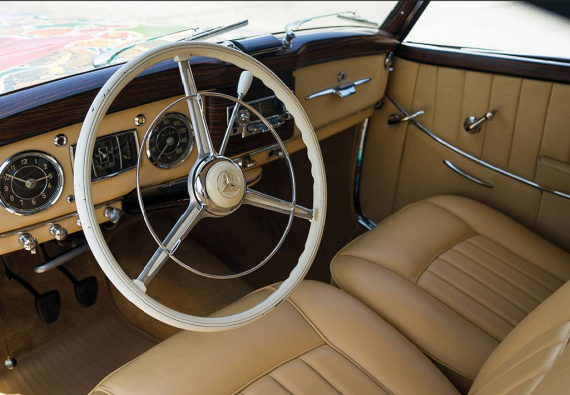 Description: 1952 Mercedes-Benz 220 Cabriolet A 'Rose Garden'
To be OFFERED AT AUCTION WITHOUT RESERVE at RM Sotheby's Monterey event, August 19-20, 2016.80 bhp, 2,195 cc inline six-cylinder engine, four-speed manual transmission, independent front suspension with wishbones and coil springs, swing-axle rear suspension with coil springs, and four-wheel hydraulic drum brakes. Wheelbase: 112 in.

Offered from the Estate of Vinnie Mandzak
Part of Hiro Yamagata's renowned "Earthly Paradise" series
An extraordinary art car on a fully restored 220 Cabriolet A
Hiro Yamagata can rightfully be called the foremost modern restorer of Mercedes-Benz 220 Cabriolet As. Since the early 1990s, Yamagata has worked on some three dozen of these cars, sourced from around the globe. Each is carefully restored by expert craftsmen, down to their properly finished bodywork, correct upholstery, and even accurate interior woodwork and radio hardware. Once the cars are completed, however, they are not driven or shown at concours d'elegance. They are used as the basis for Mr. Yamagata's vision.The bodies are finished in white matte acrylic and their surfaces roughened, providing a primer coat for Yamagata's artwork, from bumper to bumper, in designs – unique to each 220 – that art critic Sam Hunter claims have "reversed the symbol of the car as an industrial, automated machine and brought it into harmony with nature. He has transformed it into a magical art object through his poetic vision." Designs of bright, beautiful birds and flowers create an exotic tableau that recalls vivid jungles and tropical nights. "Some people say the scenes I paint are dreamy or psychedelic," Yamagata recalled. "I say, if you look closely at plants and animals—on land and in the ocean—the natural world is overflowing with psychedelic colors and creatures. I'm just painting from nature."Yamagata's cars, collectively known as the Earthly Paradise series, have been displayed as the focus of their exhibit at the Los Angeles Municipal Art Gallery, at the Venice Biennale in 1995, and on a tour of European museums that lasted through 1997. They were also the subject of a hardcover book, Earthly Paradise, the introduction to which was written by the renowned Beat poet Allen Ginsberg.VINNIE'S ROSE GARDEN The Yamagata 220 offered here comes from the collection of a man as unique, colorful, and easy to love as the car itself. Vincent Mandzak was known as "Vinnie the Car Guy" to friends and clientele alike, and his clients, more often than not, were his friends. The embodiment of California cool, Vinnie was a beloved figure of the Southern California automotive scene for three decades, initially as a wildly successful Mercedes-Benz salesman in Beverly Hills, and subsequently as an RM Sotheby's specialist. He loved Mercedes-Benzes and he loved colorful, thought-provoking art and design. It was only natural that he would come to know Hiro Yamagata, and that one of the "Earthly Paradise" cars would find its way into his ownership. "Rose Garden" has been part of his collection for well over a decade and is offered here on behalf of his family, with recent cosmetic freshening that included rebuilding both the brake and fuel systems. This car is true both to its creator's vision and to the eternally optimistic personality of the great Vinnie Mandzak. To view this car and others currently consigned to this auction, please visit the RM website at rmsothebys.com/.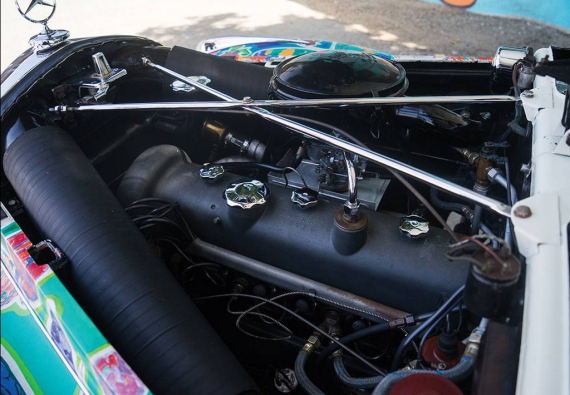 This car has a really cool history. Probably too long and specific to explain to the numerous people at the gas station who would constantly ask you about it, but the auction description does a fairly good job. It's a little disappointing that Yamagata would take a flawless concours-level car and go wild on it with his paint brush, but I guess this is the kind of thing that rich artists do. His quote of "Some people say the scenes I paint are dreamy or psychedelic. I say, if you look closely at plants and animals—on land and in the ocean—the natural world is overflowing with psychedelic colors and creatures. I'm just painting from nature." tells me all I need to know about what kind of guy this is. But hey, it looks well done and it brings a ton of money, so who am I to argue it?
When I first saw this car I was dreading how to come up with the a price range on it as the value of something like this varies wildly. I was in luck though as another Yamagata 220 A Cabriolet went for $187,000 in 2014. So it wouldn't surprise me if this car broke $200,000 — depending on how much wine the bidders are consuming.
– Andrew