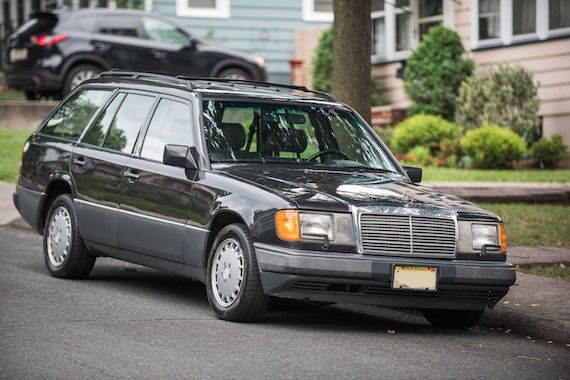 I daily drive an E34 525i. I have to admit that while I like the BMW, I don't love it. What I mean is: I haven't developed the kind of visceral emotional attachment to it that I shared with my previous car, a 2.6 190E. There's just something missing, and lately I've been thinking about getting back into an older Benz. It would have to be comfortable, safe, have a passenger airbag (a not unreasonable request from my wife), get fair gas mileage (ruling out V8s, sadly) and have that legendary Mercedes build quality that makes the doors close with a reassuring "thunk." A W124 keeps coming to the top of my list. We went camping last weekend and spent a gorgeous few days out in the far western reaches of Maryland. While the E34 served us well, when I got home I kept thinking about how cool it would have been to have had a Mercedes wagon on the trip.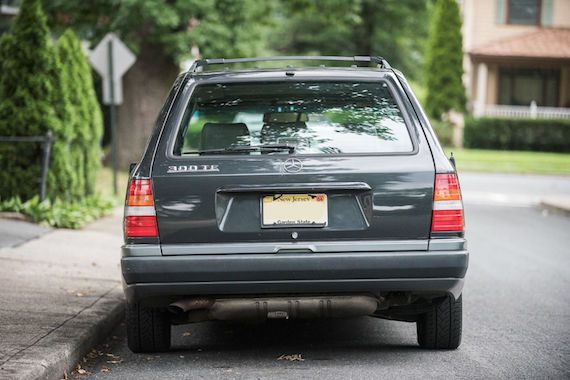 Year: 1992
Model: 300TE
Engine: 3.0 liter inline-6
Transmission: 4-speed automatic
Mileage: 185,811 mi
Price: $3,995 Buy It Now Best Offer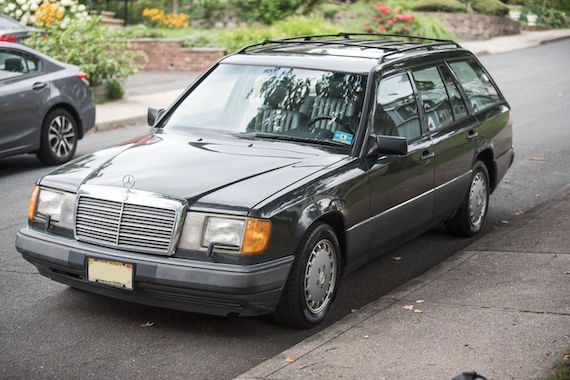 For sale is timeless elegant Mercedes Benz 300TE. The exterior and interior is in good condition. Comes with the rare seats (7 seats) and all is in good condition. There are some signs of wear and tear here and there, but overall this car looks great. I always loved Mercedes wagons, because of their timeless elegance and build quality. This car is build like a tank and that is why this model as sedan and wagon was the most popular car for taxi drivers in Europe in the 90th. I was in Berlin this summer and I still saw some of these driving as taxies. These cars are build to last. Besides some dints and smaller scratches, as you would expect with a 24 year car, it is in really great shape. There is no rust on the body I could find. I have included some photographs of the wear and tear I could find. I had this car for 13 years and it was my everyday ride until 2008. Since then this car was driven on a regular basis about 3-4 times every month. Since the car wasn't always driven, I installed a switch to disconnect the battery, when I was not driving it for several days to make sure it start up right away. Everything You find on pictures, The engine starts right up and runs very smooth. For a Mercedes it has low mileage, a 300TE with only 185,811. This car was always garaged. I put new tires on it recently. All wood and dashboard is in great condition. One of the speakers of the radio does not work but I believe it is the speaker fade switch which need to be cleaned or replaced. Power window, power locks, power seats, power sunroof all works great. AC works but needs a charge. I just bought a new Mercedes wagon and decide to sell this one because my wife said three wagons is one too many! It is a must see, and you are welcome to come and see for yourself if you are in the NJ/NYC area. I just realized that I can only upload 24 images, but I have 70 images to show more details and wear and tear of the car. Please messages me and I will send you a link to a images gallery.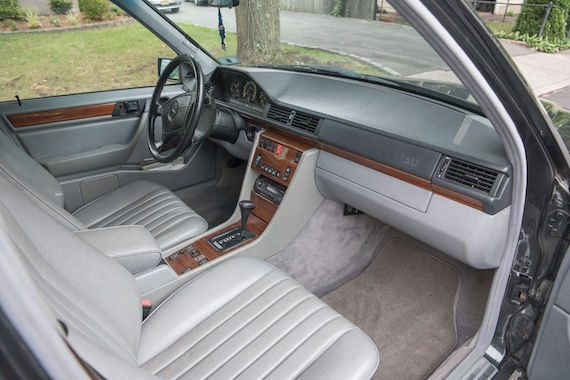 We've featured a couple of W124 estates recently (see here and here, for example). What I like about this particular car is that because the miles are high and it's a little scruffy around the edges, the seller is asking a quite reasonable $4k. That's not a lot of money for a practical and handsome car that offers plenty of space for hauling people. Or camping gear.
I think the Blauschwarz (blue-black) paint is one of the nicest colors available on these, and the outside looks to be in decent shape overall. The lower front bumper (missing its tow-hook cover) appears to have some cracks in it, the plastic housings covering the fogs look a little hazy and the paint on the plastic lower cladding panels looks a bit faded. But those are all relatively easy fixes. Inside you get electric seats, sunroof, passenger airbag and jump seats in the cargo area to carry two extra passengers when the need arises. The gray MB-Tex looks free of any rips or tears and the wood on the dash and doors looks to be in excellent condition.
Underneath the hood you'll find the 3.0 liter version of the venerable M103 inline six cylinder gas engine. Having owned one of these before, I wouldn't be too concerned about the 185k miles on the odometer. The motor should have a lot of life left in it provided it has been maintained properly (check for oil leaks that indicate a failing head gasket). The estates had self-leveling suspension at the rear, so potential buyers would want to look that over; at this age and mileage a suspension refresh might be in order, if it hasn't already been done. The seller also notes that the A/C "works but needs a charge." We all know what that means. I would just assume the worst and budget a grand for an A/C repair. If it turns out the car doesn't need it, count your blessings.
– Craig